Montreal the perfect fit, and boost to the spirits, for Edmundson family
It's nearly impossible to say whether Bob or Joel Edmundson is more excited about the latter joining the Montreal Canadiens.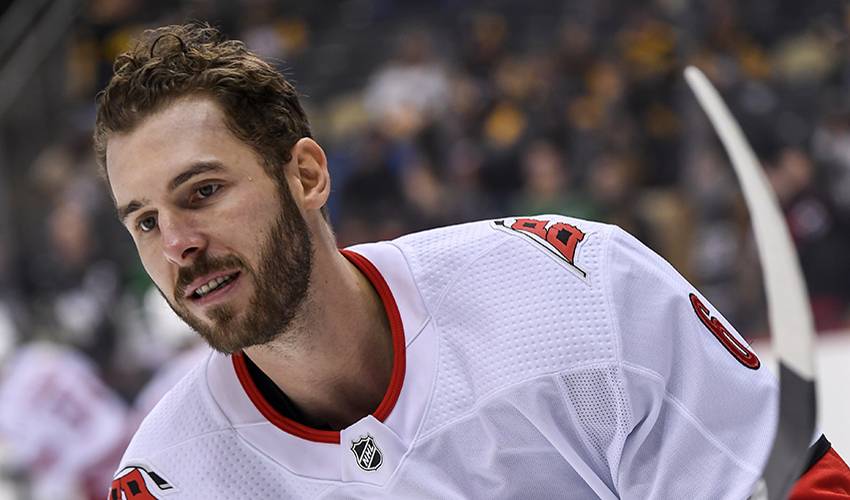 Feature photo: Getty Images
---
Every time Bob Edmundson receives a special delivery from his son, Joel, it puts a smile on both their faces.
It's nearly impossible to say who is more excited about the Montreal Canadiens 2020-21 season: the one who will be patrolling the blue line for the bleu, blanc et rouge, or the one who is a lifetime fan of Les Habitants.
September 12, 2020, Joel was traded from the Carolina Hurricanes to the Canadiens in exchange for a 2020 fifth-round draft pick. Four days later, he signed a four year, $14 million contract Montreal.
Since the deal became official, the 27-year-old defenceman has been sending his father all kinds of Canadiens gear. The shirts, sweatshirts, hats and other Habs swag have lifted the spirits of the elder Edmundson, who is battling lung cancer.
Edmundson's phone rings the moment his father opens each package.
"My dad's going through a tough time right now. Right before we went into the bubble for the playoffs, I found out he's got lung cancer. To be able to share the news that I got traded to Montreal – it's always been his favourite team – it brought me back to when I was growing up at home, and in his office, all of the walls are painted Canadiens colours. He has all of this Habs memorabilia everywhere. So, he's obviously thrilled that I'm playing with Montreal and that I signed a contract with some good term to it. Me going to Montreal, it put him over the top. It's been exciting for us."
For both father and son, it is a perfect fit.
Sometimes, literally.
"I've been getting him all of these Montreal hoodies, hats and everything. He's repping it non-stop now. He looks great in those colours."
Bob Edmundson isn't the only one excited at the idea of seeing Joel skating with the Original Six club.
As it turns out, plenty of other family members are just as pumped.
"My dad's side of the family, they've always been Habs fans. They're pretty excited. Growing up, Montreal was always one of my two favourite teams. We didn't have the Jets growing up, so Calgary was the closest team to me. Growing up, I was a mixture of a Calgary and Montreal fan.
"Everyone is excited. I've converted my mom's side of the family into Habs fans. Most of my family lives in Manitoba, so now that we have the Jets, everyone kind of cheers for them. I think everyone is really happy for me."
Joel, who won the Stanley Cup with the St. Louis Blues in 2019, has already heard from several of his new teammates, including captain Shea Weber and goaltender Carey Price.
"A bunch of guys either called me or texted right away. I'm living out in Kelowna right now, and I've heard from [fellow British Columbia residents] Shea and Carey. I skate with Webs all the time, and I see Carey here and there. I think he's down in Tri-City right now, so I haven't seen him this off-season. I talk to Webs a lot and he just tells me how good the guys are in Montreal."
There will be one familiar face in the locker room, namely, former Blues backstopper Jake Allen.
The 30-year-old New Brunswick native was traded to Montreal on September 2, and signed a two-year deal with the Canadiens on October 14.
"I've been talking to Jake quite a bit too. We're both excited to get there."
While he'll no doubt endear himself to Canadiens fans with his physicality and blue-collar on-ice presence, Edmundson will also bring nine years of French immersion education along with him.
"From kindergarten until the end of grade eight," he said of his second-language schooling. "Graduating elementary school, for our grade eight field trip, we got to go to Montreal and Quebec City. It was fantastic."
If the opportunity should present itself, he'll know what the PA announcer means when he says the words, 'la première étoile' (the first star).
"I do know that one," he said with a laugh. "Whenever I'm over at my grandma's house, and when she's on the phone with her relatives, she's speaking French. She speaks French to me, but I'll respond in English. My French is a little rusty now, but I'm looking forward to picking it back up."
The 46th overall draft pick of the Blues in 2011 is also looking forward to playing in a city that has long topped his list of favourite places to play.
"You ask the guys around the league and it's always one of their top cities to play in. It's such a historic city, an all-around great city, and there's a huge fan base. I can't wait to play for an Original Six team."
He's also excited at the thought of seeing his father decked out in more Canadiens gear.
"I'll be getting him some more Montreal stuff for sure. He could never have too much of that. I guess I should start looking into my Christmas shopping and look into more stuff for him. My dad, he's always happy when he gets something Habs-related in the mail. With what he's going through, all of this makes it extra-special for him."