Toews leading by example
When it comes to his contributions on the ice, Jonathan Toews always leads by example. He's no different when he's making a difference to future generations.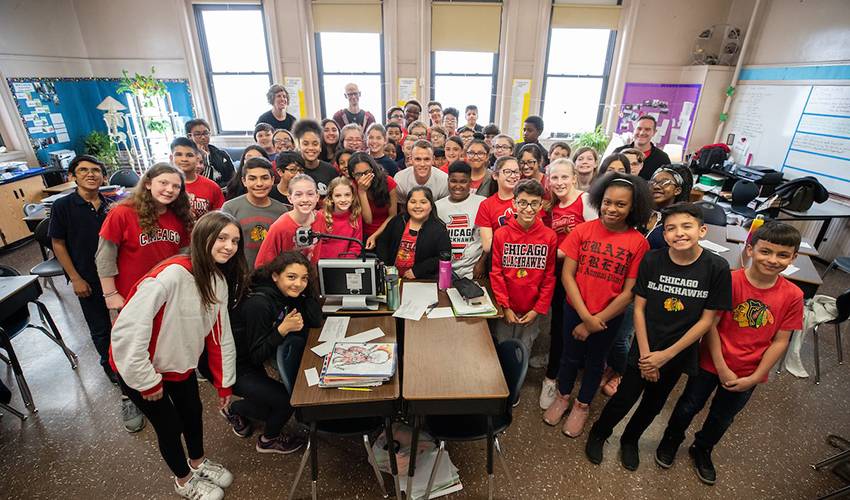 When it comes to his contributions on the ice, Jonathan Toews always leads by example.
As the leader of the Chicago Blackhawks, the 31-year-old captain is counted on to step up and deliver in key moments and is a player that's held in high regard by both his teammates and players across the NHL.
Off the ice, the Winnipeg native has earned the same reputation for his off-ice contributions through his work with Canadian Tire's Jumpstart and Green Bronx Machine.
Darryl Boynton, Associate Vice-President, Strategic Partnerships at Canadian Tire Corporation, can speak to that first-hand through Toews' role as a Jumpstart Ambassador.
Since 2010, the veteran of 873 regular season NHL games has participated in multiple campaigns and helped raise awareness for Jumpstart, a national charity dedicated to helping kids overcome financial and accessibility barriers to sport and recreation, while providing inclusive play for kids of all abilities.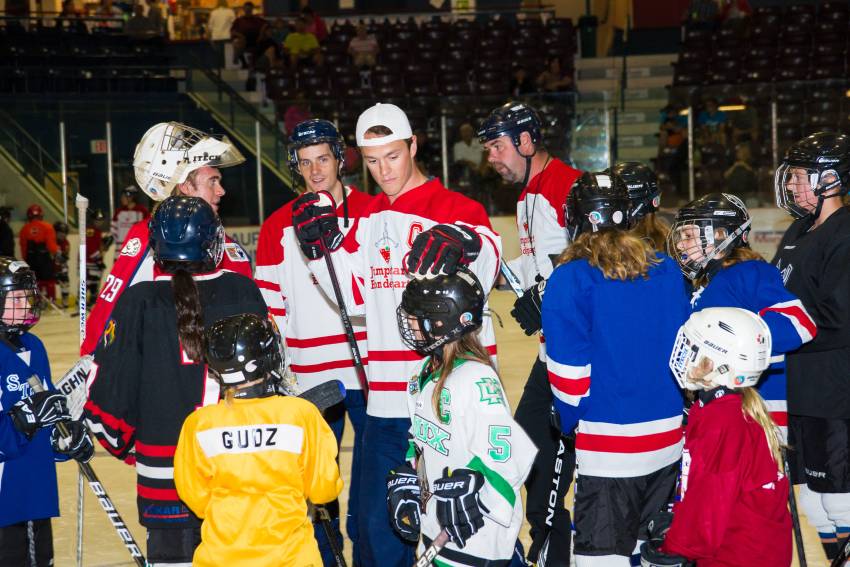 The program helps eligible families cover the costs of registration, transportation, and equipment and provides funding to selected organizations for recreational infrastructure and programming.
"I've worked for Canadian Tire for three-and-a-half years and have always worked with Jonathan in that time," started Boynton, who was part of Hockey Canada for over 10 years prior to his current role. "He's been amazing. He's an incredible ambassador for Jumpstart. It's something that I think comes very naturally to him and his family in supporting the charity. He's always been very willing and excited to do whatever he can to help."
Toews has been part of several television and social media campaigns for the charity, including a handful of hilarious television commercials that showed off the lighter side of the man dubbed "Captain Serious", playing off his serious ping-pong skills and dedication to healthy, clean eating (more on that later).

Regardless of what he does with Jumpstart, the three-time Stanley Cup champion embraces every opportunity to make a difference.
Boynton recalls a couple of summer days in Kenora, Ontario, as the perfect example of what Toews is all about.
"He's done so many different things to help Jumpstart," noted Boynton. "He's always very gracious with his time. Through our Canadian Tire national convention – we have one each year – we bring all of our store dealers [owners] together. We auction exclusive packages and Jonathan is always offering up his time for one of those.
"A couple of years ago, we hosted a group of dealers, and went up to Kenora. They spent a couple of days with him, his brother and his father, going out fishing. The letters we got from the dealers afterwards… they said they had the weekend of their lives. He's very comfortable in those situations and he's a very engaging guy."
Boynton serves up the same compliment for the entire Toews family.
"Jonathan has an incredible passion for sport and hockey, so this comes naturally to him. Whenever we've done media tours, he's very gracious with everyone. I've been on commercial sets with him and he's the first guy to come in and introduce himself to everyone on the set, shaking hands with the crew, then thanking everyone when the shoot is over. That's him. I think his parents, who we also spend a lot of time with, are certainly the same way. His mom and dad do work in Winnipeg supporting Jumpstart. We see them as a great extension of the Canadian Tire family."
And Boynton continues to see Toews' captaincy characteristics on display every time they meet up.
"We had Jonathan come to Toronto last summer to do a media tour to promote Jumpstart month. He got in late at night, did a TV sports appearance, and was up at 6 a.m. the next morning doing all the breakfast TV shows. He looks at himself in a critical way. He'll ask, 'Did I hit all the key messaging?' 'Did I cover all the bases you wanted me to?' He wants that feedback."
Next year represents Toews' tenth anniversary as a Jumpstart ambassador.
"In this business, to have a relationship this long is rare," said Boynton. "It says a lot about him."
---
Stephen Ritz, founder of Green Bronx Machine (GBM), a non-profit started in New York City that teaches kids how to grow their own healthy food that they can eat themselves, could gladly talk about Toews for hours on end.
When Toews launched his own foundation in 2018, he chose GBM as its first partnership.
Toews worked with GBM to bring a new indoor agricultural initiative to the Chicago Public Schools (CPS) system.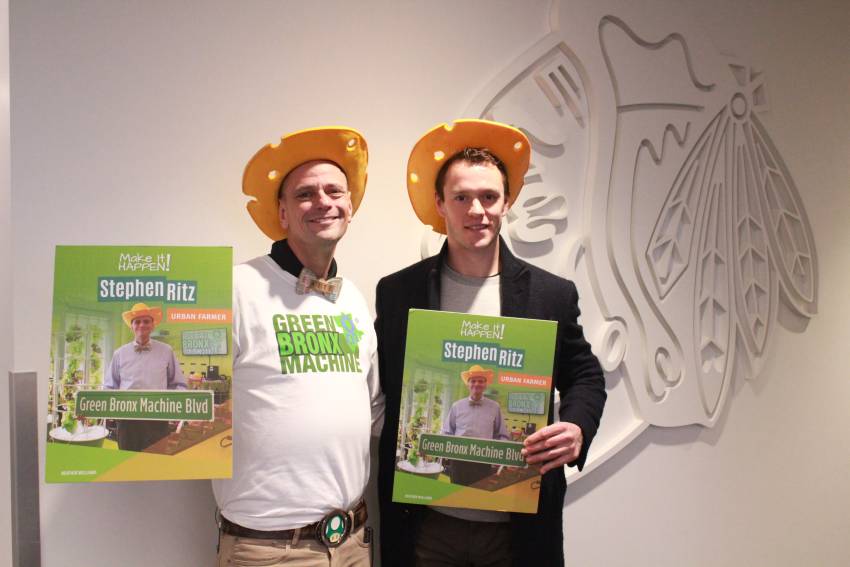 Each participating school receives a Tower Garden and the Green Bronx Machine Classroom Curriculum, a state-of-the-art nine-week curriculum as well as communication with Ritz, one of the world's foremost authorities on indoor agriculture who wrote the curriculum.
Now in its second year, the program has grown to provide 40 schools with the tower gardens and the Green Bronx Machine Classroom Curriculum, doubling the number of participating classrooms since it began.
"Jonathan understands the value of nurturing leadership," Ritz told NHLPA.com. "He gets what it means for youth to be involved in the most critical way and how powerful they can be. He looks for and brings out the best in people. GBM works to empower children to be the change agents of their lives, their families and their communities – Jonathan and GBM invest time and energy into young people so they grow up to be incredible adults, 'captains and stewards' of their own lives. The results we have achieved together are phenomenal – Top Ten Health and Wellness Program in America. It's a perfect fit."
Toews has met with students in Chicago to recognize their completion of his foundation's indoor gardening program.
"What impresses me the most about Jonathan is his focus and his leadership," praised Ritz. "He's one of the most serious and committed individuals I have ever met. As an athlete and an activist, he not only seizes every opportunity, but creates them and makes them happen. His whole life has been about team. This is an individual who is a hero in his hometown, home nation, his adopted city and nation, across the league and around the world. He leads quietly and courageously by example – what he does for his team, his sport and the league is incredible.
"Most inspiring, is that with all the accolades and accomplishments, many, including Jonathan, say the best and his personal best is yet to come. He has brought hockey, good health, opportunity, excitement and hands-on education to communities that have little exposure to all of the above…the ultimate power play. For him, this was not about writing a cheque and taking credit – he owned every step of the process – including changing his diet and working with the children and teachers as well."
He also turned Ritz into a hockey fan.
It's one more reason why the player who won Olympic gold with Team Canada in 2014 is golden in the eyes of Ritz.
"Simply put, the work that Jonathan has done with GBM is responsible for some of the most transformational school improvement and behavioral change in and across CPS, and we're just getting started. To have 100 percent teacher satisfaction and 94 percent student satisfaction is a game-changer for everyone.
"To walk into schools, see children and teachers wearing his jersey, placing photographs of him in their gardens, playing hockey in schoolyards and seeing his day-to-day involvement with the program, the children and these communities, redefines what influence and impact are all about. Without a doubt, he is our hero and our MVP."