The Stanley Cup Final Countdown
Steven Stamkos & Jonathan Toews lead their star-studded teams into what promises to be an exciting Stanley Cup Final series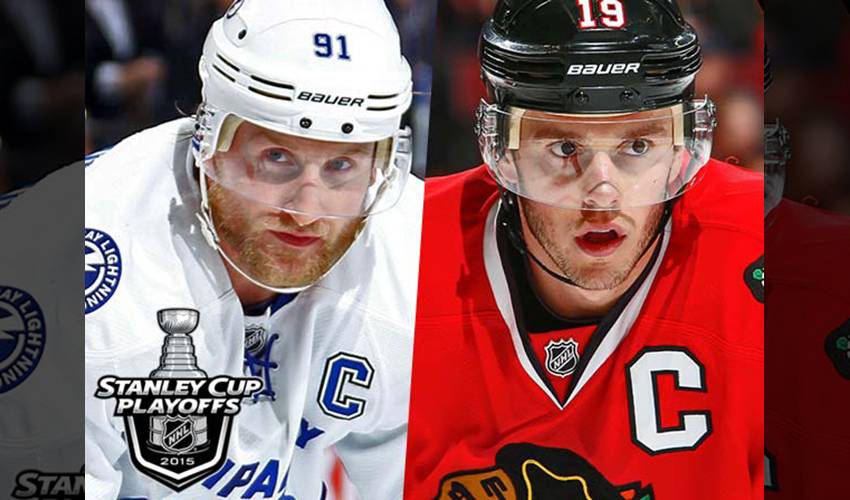 Two teams. One goal. Are you ready for some Stanley Cup hockey? The players on the Chicago Blackhawks and Tampa Bay Lightning are primed and ready to put on a show.
The puck drops for Game 1 on June 3, in a series that features some of the biggest names in the game, as well as some of the most unsung heroes in hockey.
Here are some of the players you'll want to keep an eye on as Chicago and Tampa Bay get set to face-off for the ultimate prize in all of hockey.
CHICAGO BLACKHAWKS
Patrick Kane (10G, 10A), Duncan Keith (2G, 16A) and Jonathan Toews (9G, 9A) have combined for 56 points.
Marian Hossa has four goals: one power-play tally, one short-handed marker and two game winners.
In 2004, Brad Richards was the Conn Smythe winner a Playoff MVP (26 points in 23 games) with the Cup-winning Tampa Bay Lightning. The savvy veteran has two goals and nine assists in 17 games this post-season.
Swedish defenceman Niklas Hjalmarsson (plus-5) and Finnish forward Teuvo Teravainen (plus-2) each have six points.
Hjalmarsson and fellow blueliner Johnny Oduya are tied for third with 43 blocked shots in this year's playoffs.
Bryan Bickell leads the playoff hit parade with 99. His closest rival has 78.
Keith (660), Hjalmarsson (644), Seabrook (633) and Oduya (615) are the top four leaders in shifts taken.
TAMPA BAY LIGHTNING
Tyler Johnson (12G, 9A), Nikita Kucherov (9G, 10A) and Steven Stamkos (7G, 10A) have combined for 57 points. Kucherov is tied for second (Johnson is the leader with four) in game-winning goals with three.
Ondrej Palat is tied for top spot with four power-play goals.
Two of Alex Kilorn's seven goals have been game-winning markers.
Valtteri Filppula and Ryan Johnson are tied for fifth in most face-off wins, each with 170.
Palat (61) is sixth in the most hits category, while Ryan Callahan is eighth with 58.
Victor Hedman is tied for seventh in most blocked shots (37). He's second (+11) in plus-minus ranking.
Veteran defenceman Braydon Coburn battled the flu, but has still managed to be a steadying force on the Lightning blueline.
Visit NHLPA.com throughout the Stanley Cup final for player features and more.