On Binnington: 'The only shot he cares about is the next one and that shows'
Binnington, who debuted with the Western Conference club midway through the season, has played a massive role in helping the Blues go from post-season longshots to Cup finalist.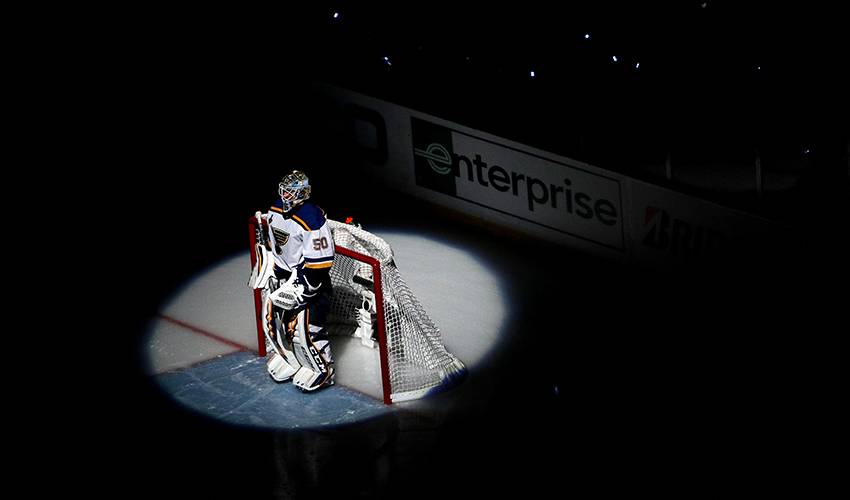 The goaltender "Digger" and "Red Dog" are watching right now is the same kid they saw work overtime to hone his craft in Owen Sound.
Dale "Digger" DeGray and Greg "Red Dog" Redquest, general manager and goaltending coach, respectively, for the Owen Sound Attack, have been following the 2018-19 Stanley Cup Playoffs with great interest, especially Jordan Binnington, the 25-year-old rookie between the pipes for the St. Louis Blues.
Binnington, who debuted with the Western Conference club midway through the season, has played a massive role in helping the Blues go from post-season longshots to Cup finalist.
The Ontario native finished the season as the team's starting goaltender while notching a miniscule 1.89 goals-against average and .927 save percentage.
In the playoffs, he's been just as solid, fashioning a 2.40 goals-against average and .915 save percentage.
It's reminiscent of his junior days when he helped lead the Attack to an Ontario Hockey League (OHL) championship in 2010-11, and earned most outstanding goaltender honours at the 2011 Memorial Cup. He also led the OHL in shutouts as the Attack's starting goaltender in 2013 while winning the league's goaltender of the year award.
"I remember Jordan as being a guy that was competitive and fiery," recalled DeGray, a former NHL defenceman who has been with Owen Sound since 2007. "He would challenge his teammates in a good way. It was a, 'If I'm going to tell you to be good, I'm going to be better than that.' He wasn't just a talker. If he went out after he said it and they scored three goals on him in the first period, you had a chance to win 4-3. That's one of things I really remember. He wanted to be a good goalie and he challenged himself to get better."
Binnington's path to the NHL was anything but a straight line.
A third-round pick of the Blues in the 2011 NHL Draft, Binnington, after finishing his junior career 2013, spent the next four seasons in the minors, appearing in only one NHL game - a 13-minute relief appearance on January 14, 2016.
After the Blues endured a disastrous start to their 2018-19 regular season, the backstopper, who was playing with San Antonio of the American Hockey League, got called up on January 5.
That's when the Cinderella story began.
"He's a fun kid to be around," praised DeGray. "He was competitive and his teammates knew what they were getting. He was a good-natured kid that came in here at 16 full of hope and promise. He's one of those stories where you saw improvement every year. That's what he was about. I was talking to someone else and they asked me if I was surprised at his success in the NHL. I'm not. I expected him to get there at some point. He's put his time and played well in the minors. Now it's his time and he's taking advantage of it."
Even in the most high-pressure moments throughout the playoffs, Binnington, much like he did with the Attack, has remained unflappable.
If the puck gets past him, DeGray knows exactly what his former goaltender and finalist for the NHL's rookie of the year award is thinking.
"His mindset is, 'That was yesterday.' The only shot he cares about is the next one and that shows. I see a guy that's put the goal that was scored on him behind him and is worried about the next shot. When you can do that as a goalie, it doesn't get much better than that."
Greg Redquest would know.
With the Attack since the beginning of the 2010-2011 season, Redquest spent his junior days with the Peterborough Petes, Hamilton Fincups and Oshawa Generals, and was the first goalie selected in the 1976 NHL Entry Draft, going to the Pittsburgh Penguins.
He currently runs hockey camps out of Newmarket, Ontario, and works with Binnington over the summer.
"Jordan was very patient and wouldn't let anything bother him," recalled Redquest. "You couldn't get under his skin and he was just so smart. And his hand-eye coordination is lights out."
The man with over 30 years of coaching experience likes what he sees in Binnington as St. Louis chases its first Stanley Cup in franchise history.
"He was a leader," said Redquest. "If you were supposed to run 10 miles, he'd run 10 miles. He was the first one at the rink. He was always prepared and always backed his teammates. If someone got a penalty, he would step up to be the last line of defence."
Just like Binnington is doing with the Blues.
"I just talked to him a little while ago before the Final started and asked him, 'How you doin' Binny?' and he said, 'Just chilling… waiting for it to start.' I'll tell you this: you don't score on him too often in the same spot twice. He just fixes everything in his mind right there when he goes back in the net."
Redquest is enjoying every moment of it all, even beyond the glove saves and blocker stops.
"He's just a great kid. We all see what he's doing on the ice, but there's stuff we don't see, like him giving pucks to kids before the game. He'll do that with the kids, nod and smile at them, making them feel part of the game. I'm just loving all of this. We all are."