Player of the Week | Jordan Binnington
Jordan Binnington capped off a near-perfect week allowing only one goal through three starts and helping the St. Louis Blues add to their lead in the Western Conference.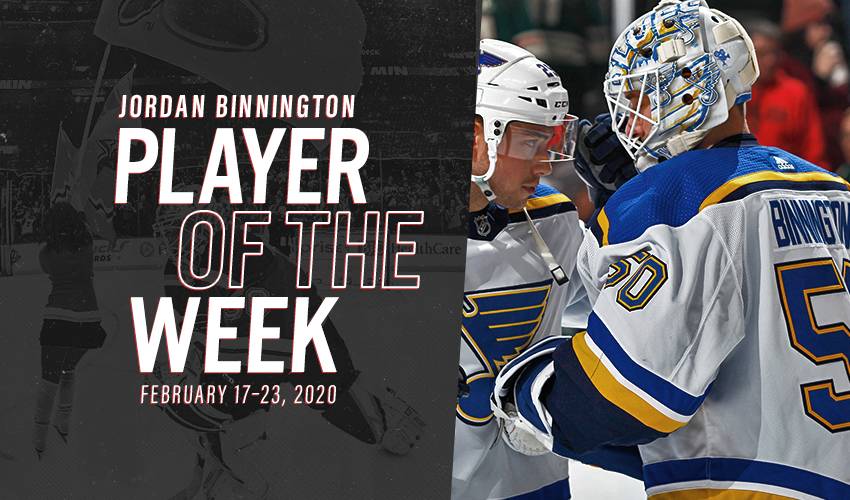 Feature photo: Getty Images
Jordan Binnington
FEB. 17–23, 2020
3-0-0 OVER 3 GP
2 SHUTOUTS
.984 SV%, 0.33 GAA
63 SVS, 64 SA
---
Jordan Binnington capped off a near-perfect week allowing only one goal through three starts and helping the St. Louis Blues add to their lead in the Western Conference.
Binnington became the seventh-fastest goalie in NHL history to win his 50th career game, which came in Thursday's shutout win. The 26-year-old has allowed just two goals at even strength over his last six starts.
This helped St. Louis overcome a tough five-game losing streak as they turned things around, allowing a total of two goals over four games for just the eighth time in franchise history. The recent return to form for the reigning Stanley Cup champions has helped increase their lead in the Central Division over Dallas and Colorado.
The Blues would end the week on a high note as the NHL announced that St. Louis will play the Minnesota Wild in the 2021 Winter Classic at Target Field in Minneapolis.
In honour of joining the St. Louis sporting family, the St. Louis BattleHawks of the XFL decided to sport some Blues gear ahead of their game against the New York Guardians.
LOOKING BACK

FEB. 18
W, 17-SAVE SHUTOUT, GAME'S SECOND STAR
---
STL 3
NJD 0
Binnington made 17 saves to record his second shutout of the season in the Blues' 3-0 win over the New Jersey Devils Tuesday night at Enterprise Center.
Binnington only faced 11 shots through the first two periods, but did have to come up with a key save on Devils forward Wayne Simmonds with less than five seconds left in the second.
''A win's the priority, but you know, we'll take the shutout,'' Binnington said after the game. ''It's a good feeling for the team just knowing that we really locked it down.''
Picking up their first win since February 4, the Blues were determined to get back in the win column and had a special visitor to get them ready for the game. Defenceman Jay Bouwmeester was at the team's morning skate a week after suffering a cardiac episode February 11 against the Anaheim Ducks.
''I was really happy, really happy to see him,'' Ivan Barbashev said about seeing Bouwmeester. ''Just talking out there, some jokes, and he's in a good mood so everybody was happy to see him.''

FEB. 20
W, 14-SAVE SHUTOUT, SECOND STRAIGHT WIN & SHUTOUT
---
STL 1
ARI 0
Binnington made 14 saves to record his second-straight shutout in a 1-0 victory over the Arizona Coyotes at Enterprise Center Thursday night.
It was a milestone for Binnington who picked up his 50th career win and became just the 10th goaltender in NHL history to do so in 77 or fewer games. This was also the second time in his career that he has recorded consecutive shutouts.
Blues forward Ryan O'Reilly scored the only goal of the game with his 11th goal of the season.
This was the second straight game where Binnington faced less than 20 shots and, despite the lighter workload, he believes it increases the pressure to be perfect.
''It's kind of the game inside the game as a goalie,'' Binnington told media about staying focused. ''It's your job to be there when the team needs you. I just tried to do that and be prepared if anything came my way.''
O'Reilly had a lot of praise for Binnington's performance and how it gives the team a lot of confidence playing in front of him.
FEB. 23
W, 32 S, 33 SA, THIRD STRAIGHT WIN, GAME'S SECOND STAR
---
STL 4
MIN 1
Binnington's shutout streak came to an end as the Blues prevailed 4-1 over the Wild at Xcel Energy Center Sunday night.
The Wild would end Binnington's streak at 143:01 on a weird goal that popped high up in the air and rolled off the netminder's back and into the net. In his last three starts, Binnington allowed only one goal on 64 shots.
Sunday's victory over the Wild was the fourth straight win for St. Louis, while outscoring their opponents 13-2. For Binnington, a lot of the team's success has come from their ability to come up with the right plays at the right time.
"I think it's important we find ways to win," said Binnington after the game. "Stuff's not always going to go your way. We had some timely goals and some timely penalty kills. I think that was huge tonight."

LOOKING AHEAD
Binnington will look to keep his hot streak going during the Blues' three-game homestand when they host the Chicago Blackhawks February 25 before finishing the week off against the New York Islanders February 27 and the Dallas Stars February 29.