Walker embracing unofficial NHL Global Series ambassador role
Nathan Walker knows that the players at the NHL Global Series in Melbourne will be be embraced by a proud community hungry for NHL hockey.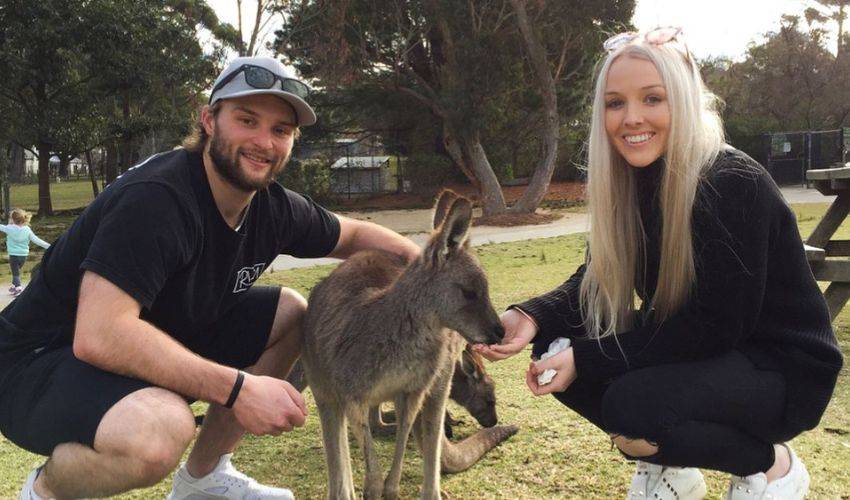 Feature Photo: IG / @walks__12
---
While he won't be there to see it all play out in person, Sydney-raised Nathan Walker knows that NHL hockey and Australia are a perfect fit.
The St. Louis Blues forward was born in Cardiff, Wales, and moved to Australia as a young child.
"I haven't been to Melbourne a whole lot," said the 29-year-old, who grew up in Sydney. "Every time I've gone there, it's been for hockey. So, I really haven't had the chance to explore the city outside of that. I heard that there are great cafes, and the restaurants are fantastic. I don't think there will be a bad place to go."
Walker's dedication to his hockey career led him to the Czechia in 2007 at just 13 years old. After six years in the country, he signed with the Youngstown Phantoms of the United States Hockey League in January 2013 and finished with 27 points in 29 games.
He spent most of the next four seasons with the Hershey Bears of the American Hockey League, before making the Capitals roster at training camp in 2017. He became the first Australian player drafted by an NHL team when he was selected by the Washington Capitals in the third round of the 2014 NHL Draft.
Walker is embracing his unofficial ambassador role for the games. With a reputation for being a beautiful city with a lot to offer, Walker can offer a bit of advice for the players when it comes to Melbourne.
The key to the local food scene?
"Try a bit of everything. I wouldn't stay away from anything," said Walker. "I think Melbourne is quite diverse. The Chinese food is very good, the Thai food is very good and all the different cuisines are worth trying. It's just different. You can have a little bit of everything, which lends to the appeal of the city. Keep an open mind and try everything. You can't really go wrong with the food scene in Melbourne."
With NHL training camps officially underway, Walker is making preparations for his season in Missouri with the Blues, but he did his part to help the Kings and Coyotes players feel welcome by helping arrange welcome packages with the NHLPA.
Walker, who was given the nickname "Storm" at a young age, has since applied his upbringing to some off-ice ventures – creating a clothing line alongside his wife, Tayla, that plays on the nickname . He was more than happy to outfit the players with some stylish apparel, among a few other Australian staples also included, but he knows one item in particular is going to catch the players' attention.
The Budgy Smuggler, as it is known in Australia.
"They are actually speedos, so that's going to be funny," explained Walker. "I hope someone gets a video of their faces when they open it and see those. I haven't been home in the summer a whole lot, but I know my buddies rock them. It really is an Australian thing. You need some confidence and own it. But it's pretty normal back home."
While hockey is not the most participated in or watched sport in Australia, the country of over 25 million certainly has an affinity for the game that only continues to grow.
In 2022, Australia accounted for 7.7 million visits to NHL digital platforms, seventh among countries outside of Canada and the United States. It has ranked fifth among countries overseas in purchasing NHL gear from Fanatics International since 2015. All that was before the arrival of the NHL Global Series.
Walker has nothing but fond memories of his introduction to the game during his playing days as a young kid in Australia.
"It's obviously different than what you would experience in Canada and the U.S., and other places where hockey is big. But the hockey community back home is very proud. It's not a big one, but it's a proud one. I played my hockey at Blacktown Ice Arena. It's not there anymore. … That was pretty much the hockey hub for New South Wales hockey players. That's where I started. I was very fortunate that a company, Skaters Network, provided gear for the majority of my career until I made it to the pro ranks. They still look after me when I go home. I was very lucky to have so much support from them and a lot of other people back home."
With his parents and brother in the crowd, Walker made his NHL debut for Washington on October 7, 2017, scoring his first NHL goal in a Capitals victory. Walker became the first Australian to play in and record a point in an NHL playoff game after he made his Stanley Cup Playoffs debut in Game 6 of the Second Round against the Pittsburgh Penguins in 2018.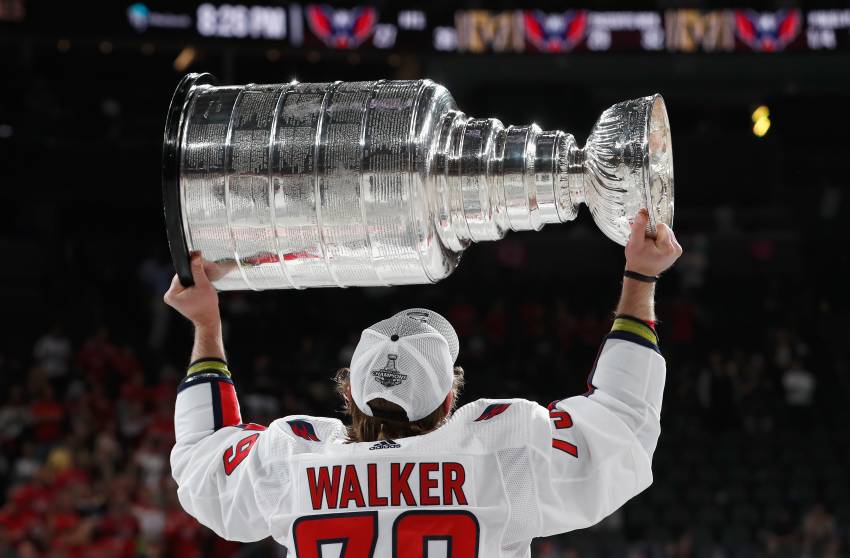 "There are a few things, really," said Walker, as to personal highlights from his hockey career. "I was fortunate enough to play on the Australian team when I was young. We won one of the gold championships to move up a division, which was special. My first NHL game was also memorable as well as scoring my first NHL goal. Obviously, being on the ice when we [Washington Capitals] won the Cup in 2018 and holding the trophy over my head was something I dreamed about as a kid. They all go hand-in-hand with each other. Being able to do all of that is special, but even more so when you come from a non-traditional hockey market. It's something I'm proud of."
Walker is looking forward to finding out how the players enjoy the experience. The husband, and father of two, who splits the year between his NHL city and Australia, anticipates a certain destination will earn rave reviews.
"It's the beaches and the sunshine for me. You really can't beat it. There's no place like it. It's truly incredible, the beaches, and I'm sure everything that goes over there, if they have a chance to go to the beach at some point, they are going fall in love with it. The landscape of Australia is beautiful. As a kid living there, coming home from school at three or four in the afternoon, and begging your parents to take you down to the beach for a quick surf until it gets dark. … it's something I will always treasure. I'm looking forward to my kids growing up there and getting to have similar experiences."
The Arizona Coyotes and Los Angeles Kings landed earlier this week in Melbourne for a pair of preseason games to be played as part of the 2023 NHL Global Series at Rod Laver Arena on September 23 and 24.