Travis Hamonic on supporting Indigenous youth
Travis Hamonic talks about the importance of making a difference in the lives of Indigenous young people through The Northern Project.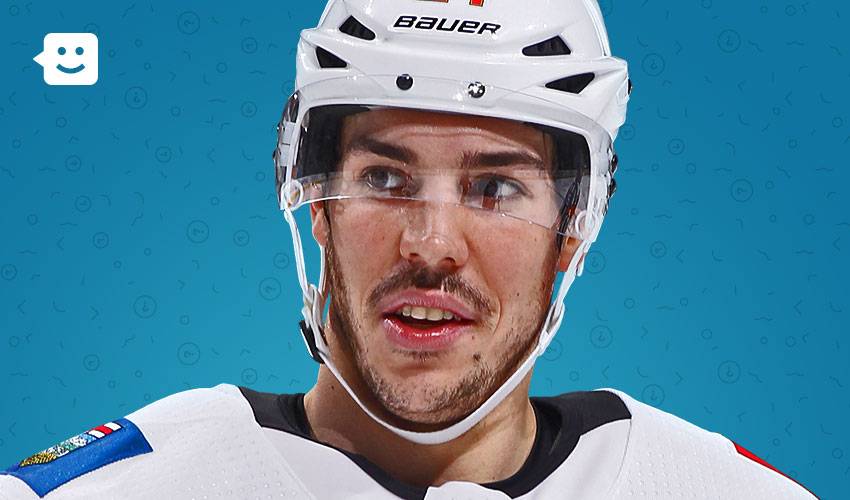 For Travis Hamonic, working together with his wife, Stephanie, to help make a difference in the lives of Indigenous youth is both deeply personal and immensely rewarding.
Throughout his NHL career, one that's now in its ninth season, 28-year-old Travis has been held in high regard in hockey circles as a respected teammate and first-class professional.
The veteran defenceman, in his second season with the Calgary Flames, has also earned the same reputation for his numerous contributions to community and charitable endeavours.
So, it came as no surprise when, in 2017, the couple announced a new off-ice initiative, one that resonates with Travis, who takes great pride in his Métis heritage.
Known as The Northern Project, this not-for-profit provides Indigenous youth from the Northwest Territories, Nunavut and Yukon with opportunities to experience the benefits of sport and education in their communities. The program also gives them the chance to visit Calgary for an all-expenses paid weekend trip courtesy of the Hamonics.
"My wife Stephanie and I are extremely excited to host Indigenous children and their families who may otherwise not have the opportunity to see an NHL game," Hamonic said as he and the Flames introduced the program. "I hold my roots very close to my heart and hope this initiative provides the children and their families with a bit of light and hope for their future."
Inspired by the legacy left in the northern communities by The Tragically Hip frontman Gord Downie before his passing, Hamonic pointed to lack of accessibility in some of the most remote areas where these communities reside.
"A lot of those communities are just so remote, and so far up there, the logistics of travelling are certainly hard and it's very expensive. So we're just trying to open our hands."
In partnership with Hockey North, coaches, volunteers and teachers were asked to nominate kids who they felt were deserving of the experience, with the winner receiving a phone call from the couple.
"It's a pretty neat thing for my wife and I to be able to do," said Travis. "It's something that we talked about a few years ago, finding a way to help make a difference in the lives of Indigenous children and their families. To see how grateful and happy they are, for them to get a chance to experience Calgary, it's really wonderful."
"I think the cool part for us is that we get to know the kids, their families and their stories. When we have a chance to talk to them, to discover where they are from — it's a whole different culture and way of life up north — it's a great learning experience for us. To find out what they do in their everyday life, how that impacts who they are, all of it has been very eye-opening for us."
Since he joined the Flames in 2017, Travis, along with Stephanie, has made a huge impact away from the rink. Aside from The Northern Project, and the D-Partner program (for young people who have lost parents), the Hamonics created Charlie's Children (support for low-income families or single parents expecting a baby), named after their young daughter.
In recognition of his community efforts, Travis received the 2016-17 NHL Foundation Player Award, presented annually to the player "who applies the core values of hockey — commitment, perseverance and teamwork — to enrich the lives of people in their community."
Travis has also worked with the "Hit The Ice" TV show to help Canada's most promising young First Nations hockey prospects as they take part in a two-week NHL-format training camp to showcase their talents for junior hockey scouts.
"Being Métis, my roots are very important to me," said Travis. "We hope that The Northern Project has a positive effect on the kids and their families, and gives them optimism when they look towards the future."
What impact has he seen on those he's met through The Northern Project?
"When you say impact, I think of the impact they have on me," said Travis. "You are grateful to be in the position to be able to help others, but with everyone we meet and every story we hear, you take so much away from those experiences. That makes you feel very fortunate and happy."
It's something he's reminded of every time he sits down with the people he meets through The Northern Project.
"Honestly, it's the best feeling. Whatever it is you do, whether it's charity work, helping someone out on the street; if you can make someone smile, that's the best feeling in the world."
"With The Northern Project, you see how grateful and excited they are — their eyes are wide open — but it's one of those things where you realize how grateful you are to make that connection with Indigenous people. In our eyes, the world we want to be in is one where we try and help people."
---
Travis Hamonic is truly dedicated to giving back to Indigenous young people and helping them find inner strength and courage. Travis shared these experiences with Kids Help Phone to help identify — and share information about — the types of resources that are available to Indigenous youth in Canada.
Remember, First Nations, Inuit and Métis youth can reach out to Kids Help Phone 24/7 for confidential professional counselling, information and referrals and volunteer-led text-based support.
Check out Finding Hope: Kids Help Phone's Action Plan for Supporting First Nations, Inuit and Métis Young People for more information on how you can support Indigenous youth.
This article is a part of a series for the NHLPA's partnership with Kids Help Phone.