Giving back comes from the heart for Hamonic, Gardiner
Beginning a five-part series highlighting the NHLPA's partnership with Kids Help Phone, NHLPA members reflect on the importance of giving back.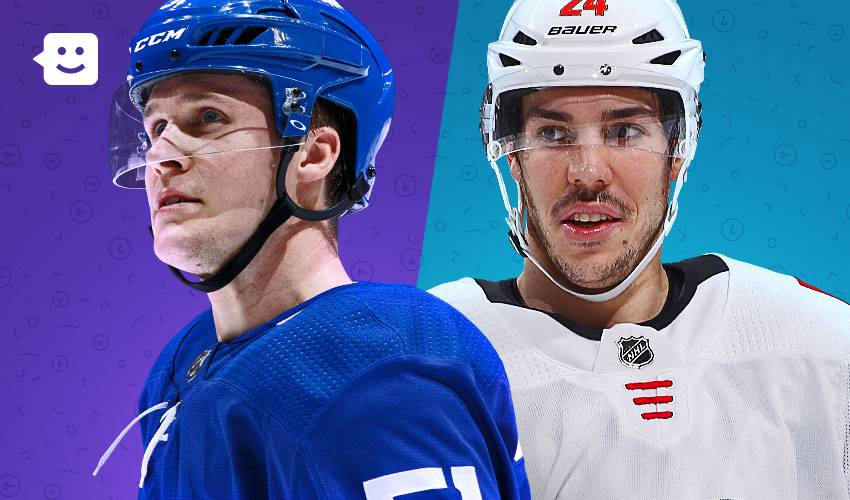 For a pair of defencemen who make their living being stingy on the NHL blueline, it's giving back in their personal lives that best defines them.
NHLPA members Jake Gardiner and Travis Hamonic know that being a professional means being engaged on and off the ice to make a difference at the rink and in your everyday life.
"When you are able to meet fans, or with people that work hard to make the community a better place, it's very inspiring," said Gardiner, who has played in over 500 NHL games.
In his off-season, you can find Gardiner back in his home state of Minnesota playing summer hockey in a tournament known as Da Beauty League. Gardiner doesn't just participate in the tournament for a good cause, though the game's ticket sales do benefit worthy initiatives such as United Heroes League and former NHLPA member Paul Martin's Shine A Ligh7 foundation. Post-game, young aspiring hockey players often get the chance to meet with their favourite home-grown players in the familiar community setting of their own local rink.
"When you are able to meet fans, or with people that work hard to make the community a better place, it's very inspiring," said Gardiner, who has played in over 500 NHL games.
"It's important to give back to your community and to make sure you do your part to help others. It's something I've always enjoyed doing, having that chance to meet some really amazing people."
Realizing the importance of helping others and playing their part to build a strong connection with the community has helped each player appreciate the positive impact a person can have through acts of kindness. For both Gardiner and Hamonic, having the opportunity to assist in their respective communities has been a game-changing experience.
"The world we live in, not everyone is given the same opportunity," said Hamonic, who received the 2016-17 NHL Foundation Player Award for his D-Partner Program. "I do believe when you help out, it's contagious. And that's a great feeling."
The D-Partner Program was inspired by Hamonic's personal loss of his own father at just 10 years old. Since beginning the program during his time with the New York Islanders, Hamonic has brought out hundreds of children who have lost a parent at a young age to one of his home games.
"It's honestly the best feeling," said Hamonic. "In any walk of life, whether you're doing charity work or helping someone on the street, if you can make someone smile, it's the best feeling in the world."
Hamonic's first community initiative since joining the Flames, the Northern Project, also draws from causes close to home. Of Métis descent, Travis, and his wife Stephanie fly and host Indigenous children from the Northwest Territories, Nunavut, and Yukon in Calgary for a weekend to take in a Flames game on an all-expenses paid trip.
"Helping others, it puts a smile on your face," noted Hamonic. "It's been something I'm grateful for. The way my wife and I were both raised — very similar families, in a small town, humble beginnings — we were taught the importance of getting out into the community and helping out. I think it's super important. In our eyes, the world we want to live in is one that helps people."
Since the Hamonics have become three with the recent arrival of the couple's first child, Charlie, the family quickly found further inspiration to help those in need with Charlie's Children. The program, supported by the Calgary Flames Foundation, will assist low income families and single parents who are expecting a newborn with resources and supplies.
"Whether it's in your school or helping out a friend or neighbour, it's something that makes your community and world a better place," said Gardiner. "It doesn't matter if it's something big or small, just remember what you do can make a huge difference in someone else's life and in yours."
"Even if you spend a little bit of time helping someone or your community, it can go a long way in making a huge difference in that person's life," noted Hamonic.
---
This article is a part of a series for the NHLPA's partnership with Kids Help Phone. We hope these NHL players' words inspire you to do your part, help others and get involved. If you're looking for ways to give back in your own community, you can learn more at KidsHelpPhone.ca about sparking a kid's courage and supporting youth mental health and well-being.