Hamonic and Foundation Ready to Jump to the West
How's the summer of Travis Hamonic so far? Busy, but anything but boring.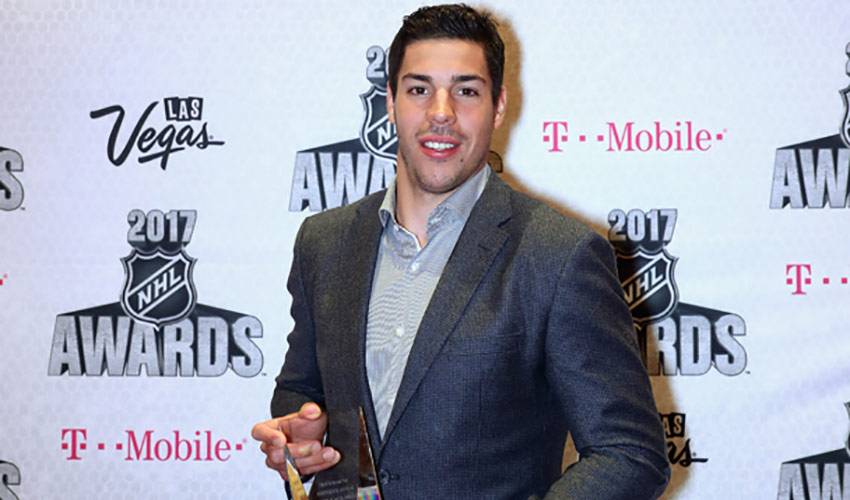 How's the summer of Travis Hamonic so far? Busy, but anything but boring.
In the span of four days, the 26-year-old defenceman was named the 2017 recipient of the NHL Foundation Player Award (an annual honour given to a player "who applies the core values of (ice) hockey – commitment, perseverance and teamwork – to enrich the lives of people in his community") and was traded from the New York Islanders to the Calgary Flames.
"It's been busy," Hamonic said with a laugh. "But it's also been a lot of fun. It's been really good."
The Manitoba native, who spent the first seven seasons of his NHL career with the New York Islanders, will now make the jump to the Western Conference, where he'll join one of hockey's strongest defensive corps.
Hamonic, who was in Calgary for a recent press conference along with goaltender Mike Smith – another key Flames acquisition – has already heard from several of his new teammates.
"It's been awesome," said the veteran of 444 regular season NHL games. "Whether it's the players, staff or management, everyone has been very welcoming to me, to my wife and my family. We've been treated so well. We're really excited to be with the Flames and we're really excited to get things going."
Hamonic is also happy to have Smith in Calgary colours.
"I got to meet Mike and his wife when we were in the city to talk with the media," he noted. "My wife and I got to meet them. He's a great guy. I'm really looking forward to getting to know him better on a personal level. As a goalie, he's very talented. He's exceptional at playing the puck – he's got to be the best puck-playing goalie in the league. I'm excited to play in front of him. I was joking with him and told him he was probably going to save me getting rammed into the boards about 8-10 times a game."
Outside of the rink, Hamonic will continue to make his mark in the community, something he did during his time with the Islanders.
Through his own personal experiences, Hamonic created the D-Partner Program, helping more than 200 children who have had to deal with the loss of a parent. He's spent more than $50,000 hosting D-Partner Program participants at Islanders games, providing VIP treatment as well as special meet-and-greets.
Hamonic has also been an event ambassador for the Children's Wish Foundation and helped lead several Islanders community functions, including the team's school and hospital visits.
"It was a special moment for me and my family," he said of the Foundation Player Award. "I was glad to share it with them. There are so many people behind the scenes that don't get the recognition, but they play such a big part in our program. We had a couple of staff members running the program in New York and they did a tremendous job. I owe a lot of it to them. They were in Vegas for the awards and I was happy to share it with them, too.
"My charity is special for obvious reasons," continued Hamonic, who was 10 when his father passed away. "For the children who I get to meet, that they are so forthcoming and trust me to share their stories, it's very special for me. To be able to be recognized for it was very humbling, but at the same time, there are so many guys in this league that do so much great work, that any one of them could have won the award. But it was a pretty memorable night and I'm looking forward to starting the program in Calgary."
He's also looking forward to the start of the new NHL season. Calgary drops the puck on October 4 against provincial rival Edmonton in another chapter of the Battle of Alberta.
Former Islanders teammate Ryan Strome, who was dealt to Edmonton, reached out to Hamonic right away when he was traded to Calgary, reminding him to circle the date for the curtain opener for both teams.
Don't expect Hamonic to go easy on his good friend.
"Never," he said. "He's one of my best buddies. I look back at my time in New York very fondly and happily. Part of the reason I enjoyed it so much was the group of guys in that room. You build up a big bond after that time."
With a prestigious award to his name and a new chapter in his hockey career ready to begin, Hamonic is hopeful the adage of 'good things come in threes' rings true in 2017-18.
How does a Stanley Cup championship sound to round things out?
"Let's hope you're right on that one," said Hamonic.