MacKenzie touching, helping change lives through NOFCC
Derek MacKenzie has never believed in giving up. Through his work with Northern Ontario Families of Children with Cancer (NOFCC), he found out he's not the only one.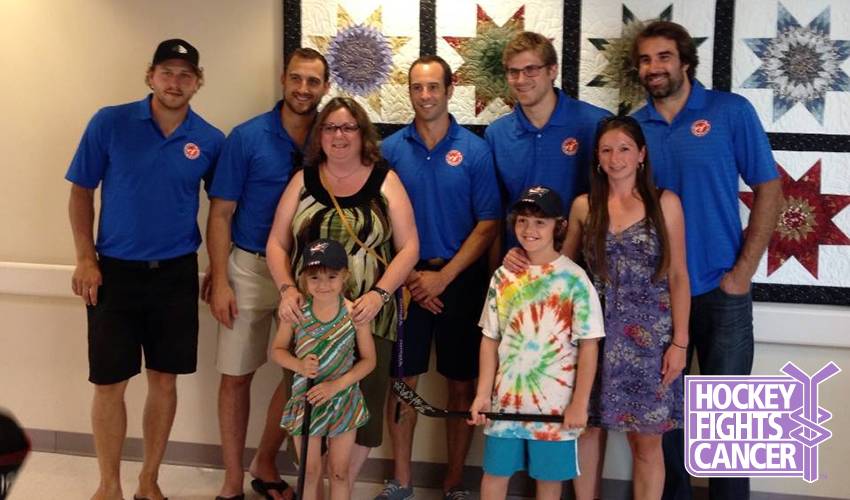 Derek MacKenzie has never believed in giving up. Through his work with Northern Ontario Families of Children with Cancer (NOFCC), he found out he's not the only one.
A fifth-round pick of the Atlanta Thrashers in 1999, MacKenzie worked tirelessly to beat the odds and see his NHL dream come to fruition, a player that's earned a reputation as someone who can always be counted on.
That characteristic has also followed the 37-year-old beyond the arena, most notably in his association with NOFCC, a unique cancer charity that focuses on the family as a whole.
Established 20 years ago, NOFCC was created by a group of parents of children battling cancer. The parents were seeking a way to provide assistance and support to families, which wasn't available through other programs.
The organization serves families who have been affected by childhood cancer, families with a child on active treatment, those off treatment or receiving follow up care, and bereaved families. Through numerous channels, including the NHLPA's Goals & Dreams program, NOFCC also helps the families with some of their immediate needs.
In 2014, MacKenzie and the Goals & Dreams program teamed up to distribute new sets of hockey equipment for diagnosed children and their siblings. In the first round of Goals & Dreams distributions for the 2017-18 hockey season, NOFCC received 15 new sets of equipment, which will be duplicated again in 2018-19.
"I had an aunt that worked at the cancer centre in the Sudbury hospital her whole life," MacKenzie told NHLPA.com last November. "I got talking to her and she introduced me to the head nurse that has been there about the past 15 years, working with these kids. They started talking about NOFCC and it just hit me that it was the perfect fit."
During November, the program takes on special significance for MacKenzie and for those the native of Sudbury, Ontario, has helped over the years.
Hockey Fights Cancer, which began its annual campaign on November 1, is a joint initiative between the NHLPA and NHL as well as a program of the National Hockey League Foundation and NHL Foundation.
Uniting the hockey community in support of cancer patients and their families, the initiative features ceremonies, observances, and fundraising efforts throughout the month, with participation of all 31 member clubs and the players.
This month is especially meaningful for the Hagger family.
"Hockey Fights Cancer month affects my family because we've been a part of the reality of what childhood cancer is and what it can do to your child and your family," said Ryan Hagger. "We know what people are going through and the struggles they face on a daily basis. Without help and support from family, friends and other outside agencies, the effects of cancer can really take a toll on your life."
He would certainly know.
Abigail Hagger has gone through two different battles with two different types of cancer, the first when she was just four-years-old.
"She was diagnosed with Stage 4 Neuroblastoma," noted Ryan of the cancer that forms in certain parts of nerve tissue. "She went through chemo, radiation, stem cell transplant and surgery only to have a couple relapses over the next couple years. She was finally given the all clear when she was about 10. Then when she was 13, she collapsed at home and was diagnosed with a sarcoma of the brain, a brain tumor.
"It was a very scary time for us. Things could have been much worse if it wasn't for the doctors and my daughter's will to fight for her life. She makes me proud every day. She's my hero. Today, she's doing well in school, is starting to drive and has a love for food and cooking. She hopes to become a chef one day and open her own restaurant."
The Haggers have witnessed, first-hand, how life-altering MacKenzie's efforts with NOFCC can be.
Not surprisingly, they are big fans of the veteran forward who has played in over 600 regular season NHL games.
"Derek is one heck of a guy," said Hagger. "The way he gives back to the community and the kids at the cancer centre shows how grounded he still is to his roots and that he wants to give back to a community and a cause that is so dear to his heart. What he does for NOFCC with the help of the NHLPA is amazing. They're helping so many kids like my son Jacob get fitted and all geared for the hockey season. Jacob is a big fan of Derek's. We met him a few times at the hospital and him and Jacob hit it off, talking hockey.
"I would just like people to know that Derek's a great guy who has a big heart. No one asked him to do what he does. He took it upon himself to get involved and arrange the funding to help kids and their siblings. All I can say is that we are forever grateful of Derek's generosity, and if there were any way we could help give back the way he does, we would do whatever we could. We're thankful to Derek and the NHLPA for everything they do to put a smile on those children's faces."
It's a sentiment echoed by Marilyn Harasym.
Harasym's grandson, Landen, was diagnosed with leukemia at the age of two-and-a-half. He was on treatment for three-plus years, with countless visits to hospitals and doctors' offices.
"Medication, needles, hospital stays, doctors' appointments – it became the norm for him," said Harasym. "He was an active boy who wanted to play hockey. Once his treatment was finished and he was able to have his portacath (an implanted venous access device for patients who need frequent or continuous administration of chemotherapy) removed, he was able to play sports again. We heard about Derek and what he was doing to help the children through NOFCC, having Derek and Goals & Dreams distribute hockey equipment to diagnosed children and their siblings.
"Landen played his first year of hockey as a player and then decided he wanted to be a goalie. Goalie equipment is very expensive and thanks to Derek, Landen and his sister Hailee both received hockey equipment in 2014. He outgrew his equipment and also decided he wanted to be a player this year and was provided with player equipment through Derek and Goals & Dreams."
MacKenzie's generosity has also given Landen and the Harasym family a reason to smile over the years.
Despite the demands of an 82-game schedule and commitments beyond the rink, one of the game's most persistent players – MacKenzie skated seven seasons between the minors and NHL before netting a full-time roster spot – always has time for those he's met through NOFCC.
"I think that everyone should know what a kind and generous man Derek is," offered Marilyn. "He gives a lot of his time helping diagnosed children and their families. He is a family man who appreciates what he has and helps others who aren't as fortunate. Derek has personally impacted our children's lives as well as many other children going through a difficult time."
Jamie and Chanda Cresswell are also grateful for MacKenzie's acts of kindness, and the bond he has forged with their son, Mathieu.
"Mathieu was diagnosed with brain cancer in 2012 and has had two brain surgeries to remove the tumor, one in April of 2012 and the last in August 2013," said Jamie Cresswell. "At this time, my wife quit her job to take care of Mathieu, running back and forth to Toronto for treatments every second week for a year from Sudbury. After the first year we were still required to visit SickKids in Toronto every three months for check-ups. We are now almost six years past the original diagnosis and we are still visiting SickKids now every six months for check-ups. Mathieu is doing great, just recently getting his driver's license and now preparing his applications for university next fall."
They remain grateful for all MacKenzie has done, not only for them, but also for the other families that have been affected by cancer.
"Derek's continued support of NOFCC through his annual golf tournament has raised hundreds of thousands of dollars that many families, including ours, have needed to ensure we are able to focus on our kids when they are faced with this terrible disease," said Cresswell. "Mathieu was the guest of honour at one of Derek's golf tournaments and the whole family was asked to attend and spend time with Derek and his fellow participants. That night, I don't think any of us will forget… Derek had Mathieu speak to the group about his story. There wasn't a dry eye in the club that night as Mathieu shared his experience. There was no doubt that Mathieu was the guest of honour and Derek made sure of this, spending part of the day allowing Mathieu to golf and drive the cart. Mathieu was thrilled.
"His support, year after year, will not be forgotten by our family, as well as the many others he has supported."
The ultimate team player, on and off the ice, MacKenzie is grateful for the friendships he's made through NOFCC.
"Teaming up with NOFCC, it was one of the best decisions I've ever made."
---
A new NHLPA and NHL joint initiative that complements this year's Hockey Fights Cancer program features Phil Kessel and other NHLPA members as part of a nine-player, limited edition Upper Deck hockey card set.
The special offering showcases cancer survivors Kessel, Brian Boyle and Olli Maatta, as well as Alexander Ovechkin, Henrik Lundqvist, Zdeno Chara, Connor McDavid, Auston Matthews and Devan Dubnyk.
The cards, specifically designed to raise awareness and funds for Hockey Fights Cancer, will be available soon.