MacKenzie champions support for NOFCC
There aren't many days, if any, that the Florida Panthers captain doesn't think about the many kids and families he's met through Northern Ontario Families of Children with Cancer (NOFCC).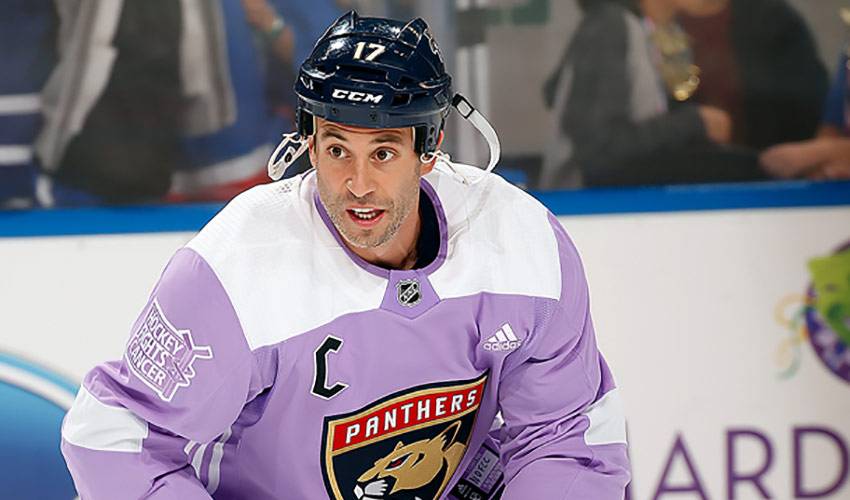 Derek MacKenzie has seen the smiles time and again, the ones he never expects to see, but is always moved by every time he does.
"They may enjoy what we do as hockey players, but it's us who ultimately learn a lot from them," started the 36-year-old NHL veteran. "I'm always a little surprised – I don't know if surprised is the right word – when I speak to the nurses and they tell us how excited the kids are that we are coming. And then you see those smiles. We forget just how much it means to them for us to visit. It means just as much, if not more, to us."
There aren't many days, if any, that the Florida Panthers captain doesn't think about the many kids and families he's met through Northern Ontario Families of Children with Cancer (NOFCC).
During the month of November, those thoughts take on extra meaning.
Hockey Fights Cancer, a joint initiative between the NHLPA and NHL as well as a program of the National Hockey League Foundation and NHL Foundation, launched its annual campaign on November 1.
Uniting the hockey community in support of cancer patients and their families, the initiative will feature ceremonies, observances, and fundraising efforts throughout the month of November, with participation of all 31 Member Clubs and players.
"The Panthers had our Hockey Fights Cancer night in the first weekend of November and it meant a lot to our team and our organization," MacKenzie said. "Our club teamed up with a local cancer research leader, Sylvester Comprehensive Center. We've worked with them for several years and I've been involved with them both through the Panthers and through the golf tournament they put on with the Miami Dolphins. They do amazing work and Hockey Fights Cancer is such an important initiative."
For MacKenzie, it prompted remembrances of how his bond with NOFCC began.
NOFCC was established in 1998 by a group of parents of children battling cancer. The parents were seeking to provide assistance and support to families, which wasn't available through other programs.
The organization serves families who have been touched by childhood cancer-families with a child on active treatment, those off treatment or receiving follow up care, and bereaved families. Through several programs, NOFCC also helps the families with some of their immediate needs.
"I was approached by a couple of friends back home to do a charity golf tournament and it was right around the time I was with the Columbus Blue Jackets," recalled MacKenzie, a native of Sudbury, Ontario. "We were doing some work with a charity called Hats for Heroes (founded in 2000 to support the fight against pediatric cancer). I tried to participate in as many events as I could.
"We were looking for a way to bring Hats for Heroes back to my hometown and what would be the best way to help out the kids. I had an aunt that worked at the cancer centre in the Sudbury hospital her whole life. I got talking to her and she introduced me to the head nurse that has been there about the past 15 years, working with these kids. They started talking about NOFCC and it just hit me that it was the perfect fit."
It has been exactly that for both MacKenzie and NOFCC.
"You have to definitely get that right mindset before you walk into that room," he said. "I think if you're not prepared for certain things, it can kind of catch you off guard. It's important when you go in there to bring some positivity into their lives. But it is tough. There aren't always happy endings. There have been a few kids we've lost along the way. I've always said that it's been very important to learn from just how strong they are and how optimistic they are in the battles they face."
It's a big reason behind MacKenzie's decision to get his children involved with both the NOFCC and the annual golf tournament he holds each summer in Sudbury to raise money and awareness for the organization.
"They've started coming out with me to events," he said. "Whether it's my daughter (Reese) on the day of an event coming out and helping, or on the day of the golf tournament, my son (Greyson) will spend time out on the course and we usually bring one of the kids out to play a few holes – I think it's important.
"Sometimes, you can't help but look at your own children and hope you never have to go what these families are unfortunately dealing with. I want my kids to understand that it could happen to anybody."
Through his efforts as an ambassador for the NHLPA's Goals & Dreams Fund, the largest grassroots hockey assistance program in the world, MacKenzie has also been able to share his love of hockey with NOFCC.
In 2014, MacKenzie and Goals & Dreams teamed up to distribute new sets of hockey equipment for diagnosed children and their siblings. In the first round of Goals & Dreams distributions for the 2017-18 hockey season, NOFCC will receive 15 new sets of equipment.
It's a perfect example, said MacKenzie, of how hockey brings people together.
"It sure does," he offered. "It's nice to know if they've outgrown equipment or need new hockey gear, they can have that. To be able to get them back on the ice, or just them having the thought of that stuff sitting there, waiting for the day that they are cleared to get back to playing hockey – it makes a huge difference in their lives.
"It's really hard to explain that when you come from a small town, you really do know everybody in some way, shape or form. I think it's (Goals & Dreams) such a generous program. To know that it's truly helping kids, it's so appreciated. I look forward to continuing my association with it. We've had so many different scenarios and situations over time – to know that any kid that's sick that wants to get back on the ice can have that opportunity, we always want to take care of them."
That's what MacKenzie continues to do, guided by NOFCC's vision: That every child and family affected with childhood cancer enjoys the best quality of life possible, from the time of diagnosis, through to the completion of treatment and beyond.
"Teaming up with NOFCC, it was a way to know exactly where the money was going and exactly how things would work in our small community. It was one of the best decisions I've ever made."
A thought that always puts a smile on his face.