NHLPA Goals & Dreams to donate $150,000 in equipment
First round of 2017-18 G&D donations provides over 250 sets of equipment to 12 youth hockey programs.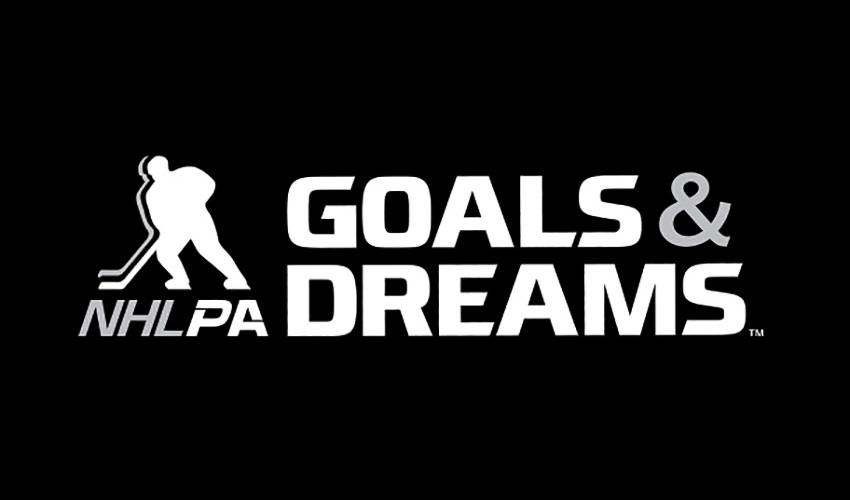 TORONTO (Oct. 26, 2017) – The National Hockey League Players' Association (NHLPA) is pleased to announce that the players' grassroots hockey initiative, the NHLPA Goals & Dreams (G&D) fund, will donate a total of $150,000 worth of brand new hockey equipment to 12 different youth hockey programs throughout the first round of G&D distributions for the 2017-18 hockey season.
These donations will further help children worldwide play the game of hockey. G&D is funded entirely by the members of the NHLPA, and was launched in 1999 as a way for the players to give back. Over the past 17-plus years, more than 70,000 children in 34 countries have benefited from the donations, totaling more than $24 million.
"It means a lot to give back to future generations through our NHLPA Goals & Dreams program," said Brooks Orpik, NHLPA member, Washington Capitals defenceman and G&D ambassador for the Tucker Road Parent Hockey Organization in Fort Washington, Maryland. "The first step to being able to play is having the right equipment and G&D does a great job outfitting children in grassroots programs around the world."
Many current NHLPA members have teamed up with G&D to support youth programs in their hometown or NHL city, which will enable more children to play hockey. Throughout the season, G&D will continue its regular giving cycle by donating hockey equipment to grassroots programs around the world.
"I am proud that our NHLPA Goals & Dreams program has focused on helping more children play hockey by distributing equipment at the grassroots level, because we know that not everyone is afforded the same opportunity," said Derek MacKenzie, NHLPA member, Florida Panthers captain and G&D ambassador for the Northern Ontario Families of Children with Cancer in Sudbury, Ontario.
"Since beginning operations in 2000, HEROS has worked with more than 7,500 boys and girls achieve their goals on the ice and assisting in their dreams off the ice. The NHLPA Goals & Dreams fund has been there from the beginning," said Norm Flynn, founder and executive director of HEROS, a G&D donation recipient program. "For more than 17 years the program has donated over 450 sets of equipment to children across Canada in the HEROS program."
G&D will hold monthly events across North America, from November through February, to celebrate some of these donations in their local city. Each of the events will feature current NHLPA members who will engage with children from the youth hockey programs in on-ice and off-ice activities. The details of these donations and events, as well as additional G&D hockey equipment distributions from the Players will be announced throughout the season.
G&D 2017-18 EQUIPMENT DISTRIBUTIONS – FIRST ROUND
| Youth Program | Location | G&D Donation |
| --- | --- | --- |
| Tucker Road Parent Hockey Organization | Fort Washington, Maryland | 23 skater sets, 2 goalie sets |
| Orebro Hockey Club | Obrero, Sweden | 5 skater sets, 5 goalie sets |
| United Heroes League | Hastings, Minnesota | 21 skater sets, 4 goalie sets |
| Northern Ontario Families of Children with Cancer | Sudbury, Ontario | 15 sets |
| Deux-Montagnes Police Force Hockey Program | Deux-Montagnes, Quebec | 20 skater sets, 4 goalie sets |
| HEROS | Surrey, British Columbia and Winnipeg, Manitoba | 46 skater sets, 4 goalie sets |
| Ice Factor Hockey Program | Thebarton, Australia | 25 sets |
| Herb Brooks Foundation | Blaine, Minnesota | 50 sets of skates, 50 helmets, gloves and sticks |
| RCMP/Parliamentary Protective Services Hockey Program | Ottawa, Ontario | 23 skater sets, 2 goalie sets |
| Hawthorne Power and Force Hockey Program | Hawthorne, California | 25 sets |
| Pioneer Park School Hockey Program | Kitchener, Ontario | 23 skater sets, 2 goalie sets |
| Yonkers Force Hockey Program | Yonkers, New York | 23 skater sets, 2 goalie sets |
-30-