My Top 5 | Connor McDavid
The GM of the OHL's Erie Otters offers up why the Connor McDavid, Edmonton Oilers captain and two-time Ted Lindsay Award recipient, is the real deal.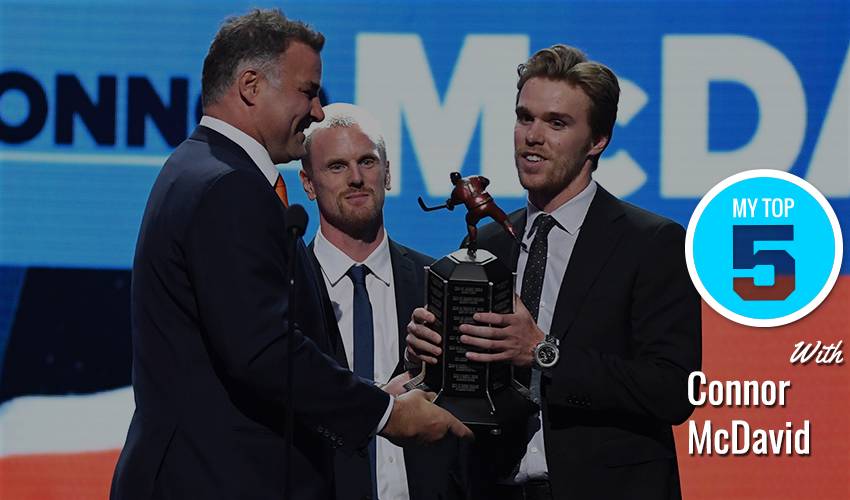 What makes one of hockey's biggest stars such an elite talent? When it comes to Connor McDavid, the list could be endless. Dave Brown, in his fourth season as GM of the Ontario Hockey League's Erie Otters, offers up five reasons why the 21-year-old Edmonton Oilers captain and two-time Ted Lindsay Award recipient is the real deal.
While playing with Erie, McDavid won OHL and CHL Player of the Year honours in 2014-15, when he netted 44 goals and 120 points. He also won a second straight Bobby Smith Trophy as the OHL's top scholastic player. In 2013-14, as an OHL rookie, he won the William Hanley Trophy as the league's most sportsmanlike player.
McDavid's top qualities
---
1. Never satisfied
"One of the first things that comes to mind is his desire to openness, to always push himself and improve. His willingness to venture outside of his comfort zone – a lot of guys, you have to really push them. He has a willingness to go into uncharted waters and do some different things – whether that's in his off-season training or when the season is on – with the focus of translating that onto the ice. He does that on and off the ice. He's open to venturing outside of the box."
2. Self-awareness
"He has a great sense of self. He's an elite self-evaluator. I think that skill allows him to continually grow and improve himself. His performance, game-to-game, shift-to-shift, even in-shift – he's so good at evaluating what he should be doing. Maybe there are some guys that when you say, 'When kind of game do you think you had?' and they respond, 'I think was okay tonight,' you don't get that true self-assessment. If you ask Connor how he played, he's a little harder on himself than his coaches or others are. If he said he played well, you know he was probably amazing that night."
3. Team player
"Another thing I thought of was the relationships he built with teammates and the staff here in Erie. He genuinely cares about people and wants them to succeed in the same manner he does. In turn, his teammates then become fully engaged in helping him achieve what he wants to achieve. I think you can call it great leadership or being a great person. I'm not sure which is which, but I know excels at both."
"You see his ability to use his explosiveness in tight with limited space and then use his elite puck skills to elude defenders and create opportunities. I think that's something that is huge. When we won the championship in 2010, we were really good speed at creating back pressure – lifting sticks, transitioning back into offence. That was one of the lasting things that Connor left with us. Guys saw him do it and that sparked them."
4. Embracing greatness
"He doesn't have any fear of being great. He's not afraid to fail and to try new things. From there, he perfects his skill set. I remember being in practice and turning to someone and saying, 'Did he just do that?' You're overwhelmed. Even in games, we'd be sitting there, he'd do something and we'd say, 'Did he just do that?' In Erie, we tell our players, 'Don't be afraid to be great. Try new things. Be creative.' I think that's one of things that Connor does. He's not afraid to be great. He believes in his abilities and skill set. He can implement that in his game.
5. A different view
"I think he sees the game in slow-motion. When we talk about goalies, we some say they see the game in slow-motion, that the puck looks bigger than it is. I think Connor sees it that way as well. He sees what's going to transpire before it even does. I think that's what often creates opportunities for him. He has an elite hockey sense and that has be frustrating for his opponents."