It's game on for J.T. Brown as career path winds back home
When J.T. Brown says "Game On!" he's not messing around.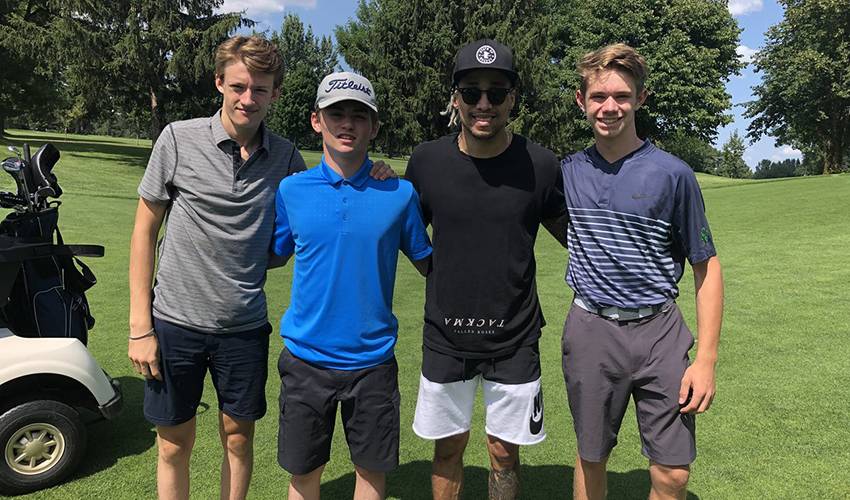 When J.T. Brown says "Game On!" he's not messing around.
Having skated in 309 NHL games since he first broke into the league in 2011-12, playing overtime is hardly a new concept for the 28-year-old Brown.
The same can also be said of the right wing's passion for all things video games.
On July 13, Brown and a handful of NHLPA members teamed up to raise money for charity through their shared love of gaming.
The Minnesota native hosted a 24-hour Fortnite marathon, which kicked-off with a two-hour game featuring NHL players Nick Bonino, Brock Boeser, Johnny Gaudreau, Vladislav Namestnikov and Zach Werenski, along with hockey fans from Twitter who won a place in the contest.
Brown, who played with the Anaheim Ducks and Tampa Bay Lightning in 2017-18 before he signed with his hometown Wild as a free agent on July 1, used Twitch to live stream the event and gather donations for the Hockey is For Everyone initiative.
"I started streaming about 13 or 14 months ago," he started. "When I first started streaming it was with my friends and my brother. It was kind of cool to see your fans on Twitch from all over the place – hockey fans from everywhere – and get a chance to chat with them. To be able to interact with them on a different level was how I began the streaming process.
"Since I love playing video games, I saw it as a great way to raise money for charity. I get to do two things I love to do at the same time. As far as the 24-hour stream is concerned, it just kind of came from different members of the Twitch community. If I was playing with (NHL players) Tyler Johnson or Nikita Kucherov, people would take notice. I thought, 'What if we could get everybody on at the same time, try to get as many players as we possibly can, and from there make it into an event?' It worked out great."
Brown, who has over 28,000 Twitter followers, sees it as a unique way to bond with fans.
"You're seeing it more and more," he noted. "You're seeing more athletes doing it and the popularity of gaming. The fans are able to see us playing video games, but we get that opportunity to chat with them, to be asked questions and to answer them. You wouldn't normally get that chance signing autographs after a game or doing a meet-and-greet event. This way, it's more relaxed and you get to see what we're like outside of hockey."
Fans – nearly 13,500 viewers watched the 24-hour stream on Twitch.tv throughout the day – also got to see the importance players put on giving back to the community.
For Brown, raising money and awareness for Hockey is For Everyone was an easy choice.
"When I partnered with Twitch, there's a separate revenue stream that can come from streaming video games," he said. "Right away, the first thought was which charity we wanted to donate the money to. With Hockey is For Everyone, it dealt directly with hockey and a lot of its core values are the same as mine, the things I believe in. So, it made the most sense for me to work with Hockey is For Everyone. We're still getting the numbers, but it's just north of $22,000 that we have raised (over the past year). I'm thrilled with the generosity of people and their willingness to put money towards a good cause."
Hockey's marathon man gamer managed to make it through the 24 hours relatively unscathed.
"There were a few tough points," Brown said with a laugh. "I had a blast doing it. I did it with no caffeine. I didn't want to have a crash or have too much sugar. I made sure I drank a lot of water and ate normal meals. I had confidence going in that I could do the 24 hours. Just the amount of people that were on with us, chatting with them keeps you going. My brother came over to help stream and he feel asleep. But seeing those fans from different countries, different time zones – to be able to reach that audience at a different level was really cool. I'm excited for what the future holds."
Brown can say the same of his NHL career.
"Obviously, playing in front of family and friends in your home state, I think that's something that's always in the back of your mind, something that you'd want to do," said the forward who played two seasons at the University of Minnesota-Duluth. "When it actually happened, I was pretty happy and excited. They have a good team here and I'm just looking at doing my part to contribute.
"When I told my dad, he thought I was just joking around. Everybody is really happy. I had a good time in Tampa and Anaheim, but when this came up, where I am in career, it's a good time to come home."