J.T. Brown trades in skates for new venture with Seattle Kraken
J.T. Brown may have hung up his skates but he's ready to take on a new role in the hockey world with the Seattle Kraken.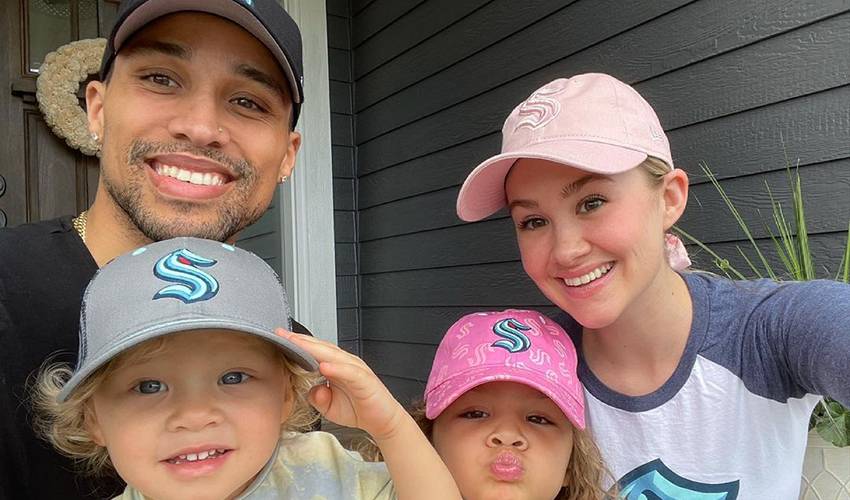 Feature Photo: IG / @jtbrown23
---
One chapter of J.T. Brown's hockey career has come to a close, but a new one is just getting started.
On June 21, Brown announced that he would be hanging up his skates and joining the Seattle Kraken as a television analyst. The Kraken will play in the Pacific Division, starting with their inaugural season in 2021-22.
"I had a conversation with my agent and spoke with my family about what was going to be next for me, whether it was to keep playing or to accept this opportunity that came along," Brown told NHLPA.com. "It was something really good and something that my wife and my family wanted to be part of."
As much as Brown was excited to stay in the game, the ide a of leaving his time on the ice behind gave the 31-year-old some momentary pause for thought.
"It wasn't an easy decision to hang up the skates, but after being able to visit with the Kraken and see what they are all about, it just made it easier for us to make this decision."
I would like to formally announce my retirement from professional hockey.
…
…
…
Ok, now I would like to formally announce that I am coming out of retirement and joining the @SeattleKraken as TV Color Analyst. Let's go Kraken! pic.twitter.com/VcHCYY2eGm

—

JT Brown (@JTBrown23) June 21, 2021
Once the news was out, Brown was a busy man fielding calls and reading a steady stream of text messages. Well wishes came from far and wide – former teammates to old coaches and friends he has made throughout his career.
"The phone, it was non-stop. It was exciting and I'm thankful for all of the support. Whether it was friends and family, or fans of the game posting a message, it was very humbling. That really does mean a lot."
As does the support of his wife, Lexi.
"She's been huge for me. She's been my number one supporter for everything I've done. This is no different and we're both very excited about what lies ahead for us as a family."
Brown, who will partner with veteran TV announcer John Forslund on Kraken broadcasts, played his final NHL season in 2018-19 with the Minnesota Wild. He spent the past year suiting up with IF Bjorkloven in Sweden, after playing for the Iowa Wild of the AHL in 2019-20, and plans to bring his on-ice learnings to the broadcast booth.
"One big thing is knowledge of the game. I feel getting to play so many games, understanding what players are thinking – I've been in those positions. Another one is how relatively close I am to have been playing in the NHL. A lot of the guys I played with and against, that will give me a little different insight than some other broadcasters."
Brown spent parts of seven seasons in the NHL with Tampa Bay, Anaheim and Minnesota. He will also keep in mind some sound advice he received from his father Ted – a former running back who played eight NFL seasons with the Minnesota Vikings.
"The biggest words that have always stayed with me, it was something my dad told me when I was growing up. He told me, 'Play hard. Play smart. Play together.' It went to how I played the game and having a strong work ethic. I think a lot of that can translate into this next chapter."
Away from the rink, Brown has been a champion of diversity and inclusion efforts in hockey. He has supported the Black Girl Hockey Club whose goal is to make hockey more inclusive for Black women and girls. He has also used his efforts on Twitch to raise funds and awareness for the NHL and NHLPA's Hockey is for Everyone campaign, while he was named to the NHL Fan Inclusion Committee in 2020.
The veteran of 365 NHL regular-season games is now counting down the days until the puck drops on his new hockey calling.
"I was very honoured to have had the career I did. But I'm also very excited about what's to come. Now that it's official, we are just really looking forward to making that move. For me, it's time to get to work and do lots of learning. It's going to be different, but I couldn't be more excited."