Yandle credits parents' influence for ironman streak
There is no secret to the success of Keith Yandle's ironman streak.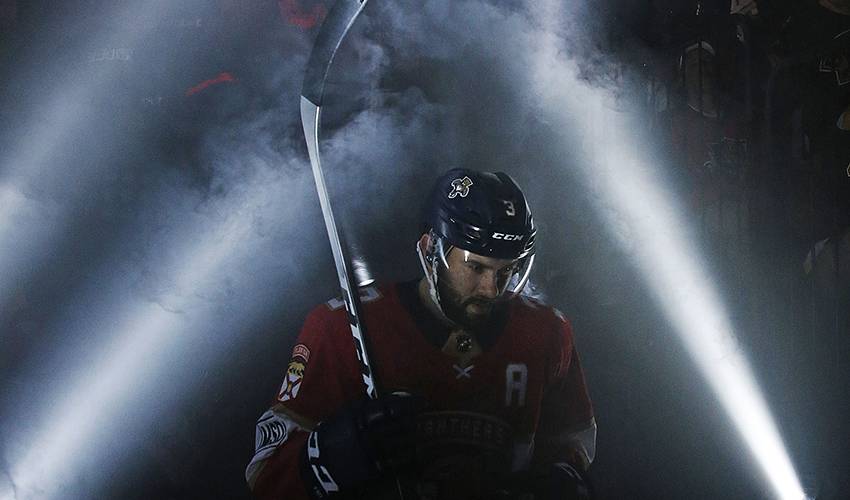 There is no secret to the success of Keith Yandle's ironman streak.
The Florida Panthers defenceman never set out to play 715 regular season games in a row and counting. The 31-year-old Yandle simply subscribes to a lesson his parents set by example.
"Honestly, I don't think about it too much," Yandle said. "I've learned from my parents to just to work every day and do your job and do your best.
"That's something that has been put in my brain as a kid and it's something our family takes pride in. I know my sister and brother do the same. When it's time to do your job, you do it."
Yandle's consecutive games played period is the longest active streak among his peers — veteran Toronto Maple Leafs forward Patrick Marleau is next at 706 — and the seventh longest in league history.
Doug Jarvis 964 (ended October 1987)
Garry Unger 914 (ended December 1979)
Steve Larmer 884 (ended October 1994)
Andrew Cogliano 830 (ended January 2018)
Craig Ramsay 776 (ended February 1983)
Jay Bouwmeester 737 (ended November 2014)
Keith Yandle 715 (longest active)
Yandle's streak began back in his first full NHL season with the 2008-09 Arizona Coyotes. He and teammate David Hale were extra defencemen with the Coyotes that season. Then Arizona head coach Wayne Gretzky would alternate the pair with brief playing stints and a seat in the press box.
"David Hale and I were playing off and on," Yandle recalled. "It was just about being a young guy, it was just about playing in a couple of games and then sitting out a couple. That type of thing."
The Boston native had sat out three consecutive games in mid-February, but when he returned to the lineup on Feb. 28, 2009, in a 3-1 loss to the St. Louis Blues at home, his streak was born. He now has played in every game of his last 11 seasons and played an extra 83rd game in 2014-15 when he was moved by the Coyotes to the New York Rangers before the trade deadline.
What has been remarkable about Yandle's streak is he has maintained his iron-man status even though he plays plenty of minutes, whether with the Coyotes, Rangers or now the Panthers. He led the Panthers this season in ice time at with an average of 24 minutes, 29 seconds a game.
Yandle usually goes up against the opponents' top line as well as performs on both the power play and penalty killing units.
He has had to play in pain and there have been more than a few times in which Yandle has come close to sitting out. Fresh in his mind was in back-to-back games in early December 2016, when he blocked a shot in a game at home against the Boston Bruins Dec. 5.
He left the game after the first period and in his post-game remarks then Panthers coach Tom Rowe remarked that Yandle "is going to be out for a while."
"I remember I got hit with the puck in the ankle," Yandle said. "We had back-to-back games and I didn't think I was going to be able to go in Philadelphia. But right before game time, we were able to get the swelling down and get my foot in [the skate]."
Is catching Jarvis' all-time record something Yandle hopes to accomplish? After all, he would need to play in the next three full seasons plus three more games into the 2021-22 season to match Jarvis' 31-year-old record.
"I really don't think about it much," Yandle said. "I just enjoy coming to the rink everyday and working hard. It's just something that has sort of happened."