After the Buzzer | Keith Yandle
It's Keith Yandle's favourite holiday, and he's thankful to be celebrating in the Sunshine State with his hockey family.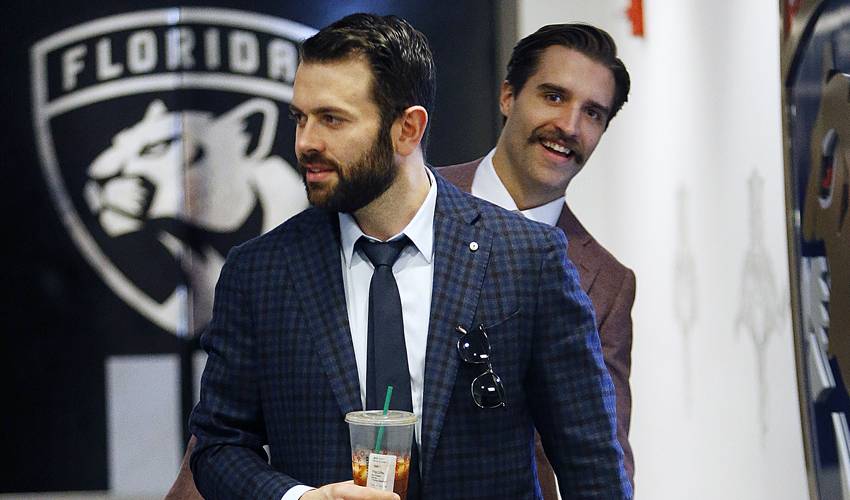 Feature photo: Getty Images.
From their bond with fans to their efforts in the community – and everything in between – 'After the Buzzer' is a weekly series taking readers beyond the rink to shine a light and provide insight on players' lives away from the game.
---
What happens when you lose nine teeth in a hockey game after taking a puck to the face? For Keith Yandle, it means missing one period, returning to play the final frame, and then suiting up again the very next day.
The 33-year-old defenceman, who has played in 821 straight NHL games – the longest active mark and fifth all-time in NHL history – had a date with the dentist on Monday, but that didn't stop Yandle (who couldn't speak) from connecting with NHLPA.com.
Thankful for many things, the veteran Florida Panthers defenceman talks American Thanksgiving, his favourite memories of the holiday growing up, the one time he had a ringside seat for a family squabble, and his minor hockey dual role.

UNSPORTSMANLIKE CONDUCT
While he's best known for an impressive NHL career, there was another sport that took the spotlight on Thanksgiving during Yandle's younger days.
"My favourite Thanksgiving memory is playing football outside on my street at my parents' house where we grew up, and my uncles got into a fist fight. They were adults and I remember seeing my grandmother eating some pie, saying, 'Oh, boys will be boys.'"

NO. 1 DAY
Yandle, selected 105th overall by the Phoenix (Arizona) Coyotes in 2005, has had November 28 circled on his calendar for a long time. Although Christmas is less than a month away, the Massachusetts native is a huge fan of Thanksgiving.
"It's my favourite holiday and since it's during the season, we aren't able to go home and spend time with family. So we always have Thanksgiving with all the guys on the team and their wives, kids or girlfriends."

WATER WORLD
Living in the Sunshine State for most of the year does come with its benefits. Expect Yandle and his teammates to enjoy some of Thanksgiving celebrations in the great outdoors.
"With the nice weather in Florida, we get to sit outside by the ocean and enjoy the weather and food."

THANKFUL FOR…
After suffering his frightening injury on Saturday night, Yandle had plenty of people, including his wife Kristyn, making sure he was taken care of. From teammates, to family and friends, the defenceman is grateful for the support he's received.
"Life is all about friends and family and I am lucky to have the most amazing friends and family. We should always be thankful no matter what time a year it is."

PARTING SHOT
"My dad and the other coach, I remember them having to rip off my goalie pads and put on shin pads really quick. I enjoyed playing both positions. It was just a little hectic trying to do both." Yandle, on playing both defence and goaltender during his early minor hockey days.