The Beantown Blocker
Seidenberg brings his league-leading shot blocking abilities to Boston following Trade Deadline deal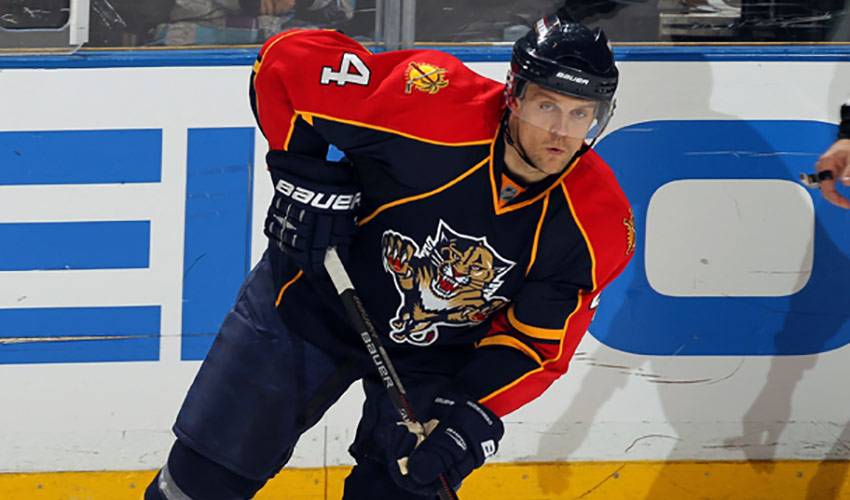 Dennis Seidenberg certainly doesn't mind taking his best shot, but putting his body in front of them is definitely his forte.
Dealt to the Boston Bruins from the Florida Panthers on Trade Deadline Day (March 3, 2010), Seidenberg, the NHL leader in blocked shots, joins his fifth big-league club since breaking into the league in 2002-03.
"I'm definitely excited to be playing with Boston," the 28-year-old defenceman told NHLPA.com just moments after he was traded to the Bruins. "They are in a playoff position and I know they want to have a strong finish to the season."
Selected in the sixth round, 172nd overall by the Philadelphia Flyers in the 2001 NHL Entry Draft, Seidenberg spent three years with Adler Mannheim of the Deutsche Eishockey Liga (DEL) in his native Germany, before he signed with the Eastern Conference club in 2002.
Seidenberg spent the next two campaigns between the NHL and the American Hockey League (AHL), suiting up with the Philadelphia Phantoms. He played the entire 2004–05 season with the Phantoms during the lockout, winning the 2005 Calder Cup.
In both seasons after the lockout, Seidenberg, who took part in the 2003 NHL YoungStars Game, was involved in a midseason trade. On January 20, 2006, he was sent to the Phoenix Coyotes for Petr Nedv?d; the following year, the Coyotes dealt him to the Carolina Hurricanes on January 8 in exchange for centreman Kevyn Adams.
On September 14, 2009, Seidenberg signed a one-year, $2.25 million contract with the Florida Panthers.
Now, the native of Villingen-Schwenningen, the largest city of the Schwarzwald-Baar district located in the south of Baden-Württemberg, will suit up for his first Original Six team.
"Boston has a lot of history and they are a very respected team," said Seidenberg, who has over 350 games of NHL regular season experience. "They have a very solid system in place and although they haven't scored as many goals as they did last year, they are a very creative team."
Seidenberg's main focus will be in keeping the opposition at bay, a role he has proven to be quite effective at.
"Obviously it is nice when you can score a goal or get an assist, but for me, I think what I do best is to take care of things in my own end," said Seidenberg, who has played extensively for Team Germany on the world stage, including recently at the 2010 Winter Olympics in Vancouver. "I like the defence that Boston has. There are some very talented players."
Included in that group is fellow blueliner and team captain Zdeno Chara, a player Seidenberg is looking forward to skating alongside.
"It's going to be nice to be on the same team," said Seidenberg, of last year's Norris Trophy winner as the NHL's top defenceman. "I hear a lot of good things about him. He is the type of player that can make everyone around him better. I know he has a very good work ethic and he works hard every game."
The same can also be said of Seidenberg, who will now share the same uniform as countryman Marco Sturm.
Just don't expect the 210-pound Seidenberg to alter his steady, defence-first style now that he's in Beantown.
"When you come to a new team, I think you just want to try and fit in," said Seidenberg, who missed the majority of 2003-04 season recovering from leg injury suffered in a game versus Edmonton, on January 10, 2004. "You just want to do whatever you can to help the team win. You want to use the strengths in your game in the best way."
Seidenberg, who was a nationally-ranked tennis player in his youth, knows it will take a collective effort to get the Bruins into the playoffs, a challenge he's looking forward to.
"It's going to be intense right to the very end of the season," said Seidenberg, who has appeared in 19 career NHL playoff games, including 16 with the Carolina Hurricanes in 2008-09. "But it's also going to be a lot of fun playing in games that are going to be so meaningful. That's what you look forward to, the chance to play for the Stanley Cup."
It's a chance that Seidenberg is grateful to have.