Runnin' Down A Dream
Dennis Seidenberg was already 20 when he realized the NHL was a real possibility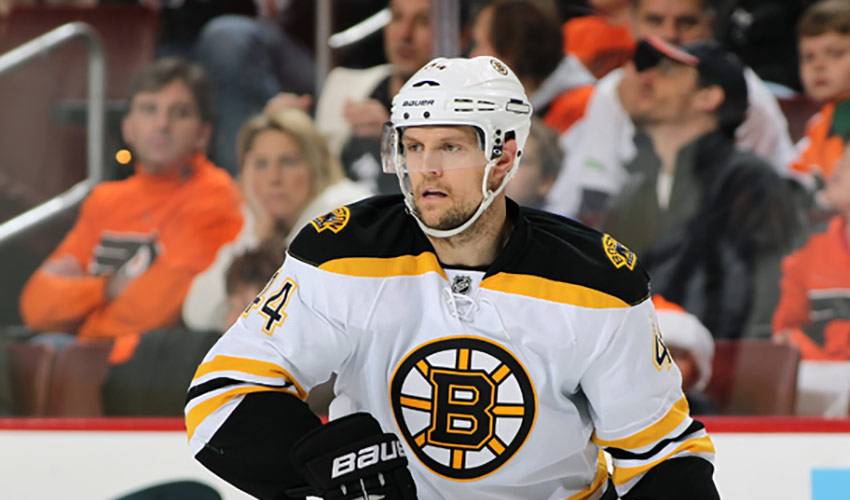 He was past his teenage years when he seriously started thinking about a career in the NHL, but almost 10 years later, Dennis Seidenberg continues to work tirelessly to make the most of the opportunity.
There's no denying Seidenberg, a veteran of over 400 NHL regular season games, relished every chance he had to play hockey as a youngster growing up in Germany.
But the defenceman, who hails from Villingen-Schwenningen, a city of around 81,000 people that lies on the eastern edge of the Black Forest, didn't always dream about pulling an NHL jersey over his head.
"I love hockey," said Seidenberg, who played several successful seasons in his native land. "But I didn't really think about playing in the NHL until I was around 20."
Seidenberg gave more thought to the idea of heading to North America and the possibility of playing in the NHL when he was taken in the sixth round, 172nd overall, by the Philadelphia Flyers in the 2001 NHL Entry Draft.
"I had never really focused on the idea of making a career in the NHL, but when I was drafted, I thought, 'Well, this could be a possibility now.' Then I thought about it more and more."
After spending three years with Adler Mannheim of the Deutsche Eishockey Liga (DEL) in Germany, Seidenberg signed with the Flyers in 2002.
He spent the next two seasons between the Eastern Conference team and the American Hockey League (AHL)'s Philadelphia Phantoms, but played the entire 2004–05 season with the Phantoms during the NHL lockout, winning the 2005 Calder Cup.
"I really liked it from the moment I started playing in the NHL," said Seidenberg, who appeared in 58 games with the Flyers in 2002-03, recording 23 points, while appearing in the 2003 NHL Young Stars Game. "It started out well for me. Sometimes, you wonder how it will go at the beginning because you don't know too much about it. But I felt very comfortable."
Seidenberg points to former teammate, former defenceman and former NHLPA member Dan McGillis as a huge help in his life both on and off the ice.
"I was very lucky to play with Dan," said the blueliner, who on January 20, 2006, was dealt to the Phoenix Coyotes for Petr Nedv?d. "He helped me with everything. You always want to be relaxed and comfortable when you come into a new situation and Dan was great."
Almost one year after he was dealt to Phoenix, Seidenberg was traded to the Carolina Hurricanes on January 8 in exchange for centreman Kevyn Adams.
On September 14, 2009, Seidenberg signed a one-year contract with the Florida Panthers. On March 3, 2010, he and Matt Bartkowski were sent to the Boston Bruins for Byron Bitz, Craig Weller, and a second-round draft pick.
Seidenberg, who has represented Germany extensively in international competition, felt right at home in Boston from the outset.
"My wife and I are very comfortable here," Seidenberg told NHLPA.com, just prior to the All-Star break. "There's a good mix of everything in the city. I really enjoy it."
He feels the same way about life on the ice.
"We have such a great team," offered Seidenberg. "I played with Mark Recchi in Philadelphia and I learned a lot from him then. It's nice to be back on his team again."
Seidenberg also has rave reviews for rookie Tyler Seguin, the second overall selection in 2010.
"He's an excellent skater and he scores some very pretty goals," praised Seidenberg, who was part of the German entry at the 2010 Winter Olympics in Vancouver. "He's very skilled and he wants to be better every game. He's learning every day."
So, too, is a player who didn't always think he'd be sharing the ice with the world's best.
"You always learn, no matter how long you've played in the NHL," said Seidenberg, who has appeared in 19 NHL playoff games. "I'm only 29, but it feels like things have gone by so quickly. I'm happy things worked out the way they have. I don't have any complaints. I'm like everyone else. I would love to say I was able to win the Stanley Cup. That would be nice."