Kunitz Leading March of the Penguins
The Penguins are locked in a battle in Round 2 with the Montreal Canadiens. Kunitz has been through the playoff battles in the past and will need to bring his experience and offensive abilities to the forefront as the Pens look to defend their title.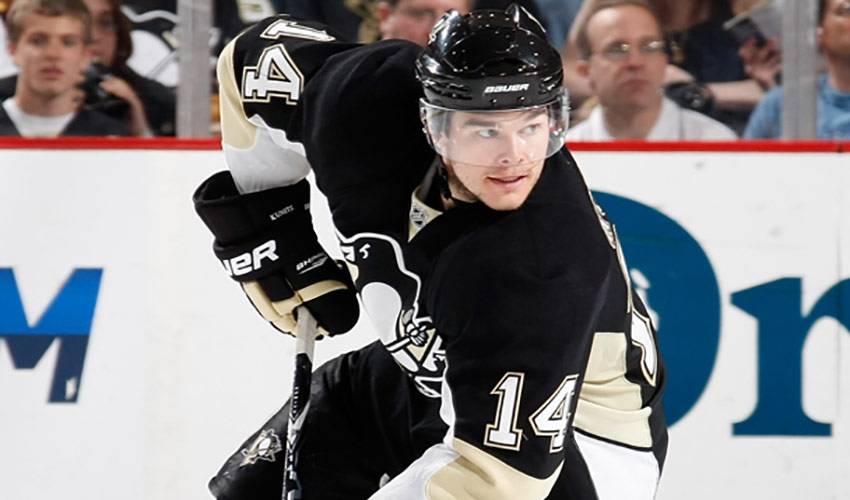 Chris Kunitz formula for his team's Stanley Cup success is simple, but certainly effective: everyone contributes, everyone wins.
With his name etched twice on hockey's most prized team trophy, Kunitz, in his second season with the Pittsburgh Penguins, knows a thing or two about what it takes to succeed come playoff time.
Kunitz is looking for his second consecutive Cup ring in 2010 as a member of the Pittsburgh Penguins, a team that endured an inconsistent regular season and a less than ideal start to the playoffs.
"The one thing in this locker room is that everyone knows what it takes to be successful in the playoffs," said the left-winger, who won the Cup with Anaheim in 2005-06 and Pittsburgh in 2008-09. "We had our ups and downs throughout the season, but we've stuck together and remained focused."
That was never more evident than when Pittsburgh launched defence of the Cup with a Game One home loss to the Ottawa Senators in their Eastern Conference quarter-final series.
What followed, however, was a hard-fought, six-game series resulting in a Pens' ticket to the second round.
"It was a real eye-opener for all of us," said Kunitz, of the Senators' opening game 5-4 victory. "It reminds you that it takes four games to win each series and each game you have to find ways to adapt to the previous one."
That calm approach has paid big dividends for a Penguins club eager to retain their stature as Cup champions.
And while the play of megastars Sidney Crosby and Evgeni Malkin has been key so far in Pittsburgh's 2009-10 post-season, Kunitz is quick to acknowledge the efforts of all.
"There is no doubting the impact of what players like Sidney and Evgeni have on this team," said Kunitz, a finalist for the NCAA's Hobey Baker Award in 2003 (given to U.S. collegiate hockey's top player), the same year his Ferris State made it to the Division I Regional Finals. "They can change the face of a game in a split second.
"But everyone on this team, including them, knows that everybody has a specific key role they fill. And if all of us are doing our jobs to the maximum of our capabilities, we know we can achieve what we want."
Kunitz can point to any of his teammates as being major contributors to the club's success, both last season and this campaign.
"When you're on the bench and see you guys like Craig Adams and Max Talbot sacrificing their bodies and doing whatever it takes, that's when you realize how valuable each player is. It also shows you that everyone knows their role well and is willing to do the little things to make a difference."
Kunitz certainly fits the bill.
His unselfish style has made him a wanted man throughout his NHL career.
Signed as an undrafted free agent by the Anaheim Mighty Ducks on April 1, 2003, Kunitz split his professional rookie season between Anaheim and their American Hockey League (AHL) affiliate, the Cincinnati Mighty Ducks. After spending the 2004–05 NHL lockout with Cincinnati, he was picked up on waivers by the Atlanta Thrashers in 2005–06. Two weeks later, however, he was re-claimed off waivers by the Ducks and went on to play 67 games with them, scoring 19 goals and adding 22 assists for 41 points, surpassing Paul Kariya's club record 39-point rookie season in 1994–95.
In 2006–07, Kunitz netted 25 goals and recorded 60 points. He helped Anaheim defeat the Minnesota Wild, Vancouver Canucks, and Detroit Red Wings, before besting the Ottawa Senators to net his and the franchise's first Stanley Cup championship.
The next season, Kunitz was named one of the team's alternate captains, his first time with the Ducks and his professional career. In 2008–09, he was traded to Pittsburgh along with prospect Eric Tangradi for defenceman Ryan Whitney. In the 2009 playoffs, he recorded one goal and 13 assists as Pittsburgh was crowned Stanley Cup champions after defeating the Detroit Red Wings in the final.
Kunitz is once again playing a prominent role in the playoffs, averaging over a point per game so far.
But it's not just putting up points that motivates Kunitz.
"Getting points is a nice thing, but for me, a good night would mean commitment to all areas of the game, finishing checks, creating turnovers and making sure the work ethic is there every shift."
And when he's not working overtime to help put Pittsburgh back in the finals, Kunitz has found the ideal way to unwind and forget about the pressures of the post-season.
"My son, Zachary, just turned one a little while ago, so he keeps me occupied," said Kunitz. "He's starting to walk, so it's fun to spend time with him."
Still, thoughts of the playoffs are never far away.
"It's great to have an opportunity to vie for the Cup. Any time you have that chance, you want to make the most of it."