Gagne Hopes to be a Spark for the Lightning
After battling some injuries early in 2010-11, the offensive forward is eager to make his mark in Tampa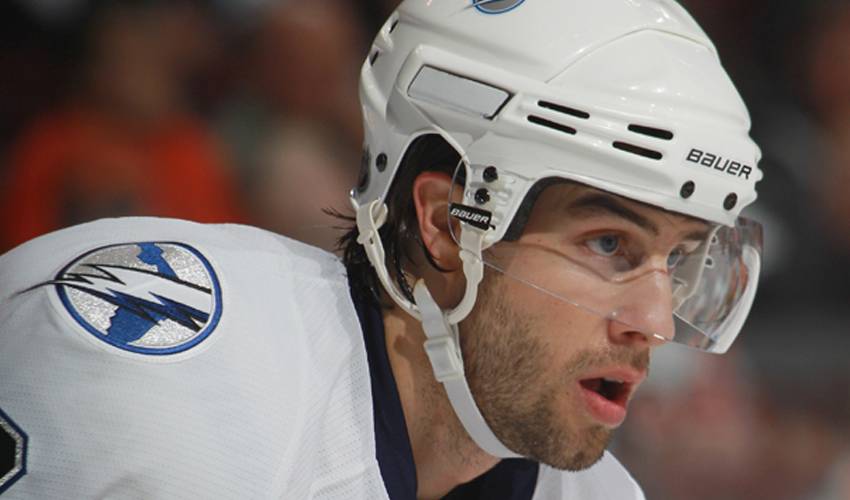 Although it has hardly been the start he'd hoped for in his first year with Tampa Bay, Simon Gagne is eager to be the impact player he's been throughout his NHL career.

It was, by all means, a match made in heaven. When the Lightning acquired Gagne, a two-time 40-goal scorer from the Philadelphia Flyers for defenceman Matt Walker and a fourth-round draft pick in 2011, Vice President and General Manager Steve Yzerman gushed when he spoke of the left-winger.

"In adding Simon to the Lightning, we acquire a very talented player that will play alongside our top forwards," said Yzerman, in his announcement on July 19. "With his combination of speed and skill we are excited to have him with us and grateful he was willing to waive his no movement clause. This trade not only makes us a better team in the short-term, it helps create long-term flexibility for us, which all along has been one of our top priorities."

Gagne was equally enthused about the opportunity.

"Obviously, it's tough to leave the only team you've known for 10 years, but going to the Lightning was something I knew would be good for me," said the forward, who, prior to Tampa Bay, played in 664 career NHL games, all with the Flyers, recording 259 goals, 72 power play goals, 11 shorthanded goals, 47 game-winning goals and 524 points with a career plus-143 rating. "It was a new challenge and a new start."

Injuries, however, have wreaked havoc on his 2010-11 campaign, limiting him to less than half of the games Tampa has played. It would be easy to forgive Gagne for being frustrated at the situation. But it's just not in his nature.

Rather, when he spoke with NHLPA.com, it was an upbeat Gagne who addressed his injury woes without any prompting.

"It's been tough being out of the lineup," said Gagne, who missed 18 straight games with muscle and nerve inflammation and swelling in the back of his neck. "It's not easy being out, but you want to make sure when you come back that you are at your best and able to help the team."

And that he has.

Gagne didn't register a point in the first six games of the year before being sent to the sidelines, but since his return, the native of Ste. Foy, Quebec, has looked very much like the player who was selected to the NHL All-Star Game in 2001 and 2007.

While teammates and management heralded his return, having another offensive stalwart in Gagne isn't what their rivals need.

With second-year superstar Steve Stamkos, along with veterans Martin St. Louis, Ryan Malone and Vincent Lecavalier up front, Tampa Bay possesses some serious firepower.

The Lightning have also shown that they are a much different team than the one that stumbled to a fourth-place divisional finish in 2009-10, a squad that showed some flashes of talent, but little consistency.

While one game does usually not a season make, Gagne couldn't help but be impressed by the Lightning's 5-4 road victory over Vancouver, a team with a legitimate shot at winning the Stanley Cup, on December 11.

Holding the lead for most of the game, the Lightning couldn't fend off the Canucks all night, as the home side knotted the game at four and sent it to overtime. While the momentum shifted in favour of Vancouver, Stamkos netted the extra-frame winner.

The game ended a stretch in which Tampa Bay (16-10-4) played 15 of 21 games on the road and went 10-8-3, including a respectable 6-7-2 on the road.

"Last year, maybe we wouldn't have won that game," said Gagne, who has missed the Stanley Cup Playoffs just twice during his 11-year NHL career, appearing in 90 career playoff games, recording 32 goals and 47 points. "But we found a way to win it in overtime. It's one game, but it shows that we have character and the ability to play against the top teams in the league. Who knows? Maybe we look back at that game as the one that defined our season."

The 30-year-old, who was drafted by Philadelphia in the first round, 22nd overall, of the 1998 NHL Entry Draft out of Quebec of the QMJHL, is simply grateful just to be back on the ice.

"It's just a great feeling, not only to be out there, but to feel that you can help the team win," said Gagne, who won the Gold Medal with Team Canada at the 2002 Olympic Winter Games in Salt Lake City and won the Silver Medal at the 1999 World Junior Championships, where he led the tournament with seven goals. "Hopefully, we have a lot to look forward to."

But it doesn't mean Gagne doesn't enjoy looking back every so often, especially with Christmas just around the corner.

"It's a question that always comes up at this time of year," said Gagne, in recalling his first hockey-related Christmas gift. "I really do remember it like it was yesterday. I wanted Easton hockey gloves when I was young, the kind Mike Modano wore when he was with the Stars. They were leather with Velcro. I really wanted them. My dad took me to a store and showed me how much they cost. He said they were too expensive, so I thought I wouldn't be getting them."

Gagne wouldn't be disappointed.

"I opened my gifts on Christmas Day and there was one box that I'll always remember. I opened it and there were the gloves, the ones I wanted so bad. I just said, 'Wow.' I'll never forget the feeling of seeing them for the first time."

With his return to the lineup, a team that appears to be playoff-ready and a second child on the way in February, life is indeed good for Tampa's No. 12.

While the start of his 2010-11 campaign was nightmarish at best, Simon Gagne is hoping for a dream finish to the season for he and his Lightning teammates.