Gagner & Oilers work to grow together
Gifted young player sees better days ahead in Edmonton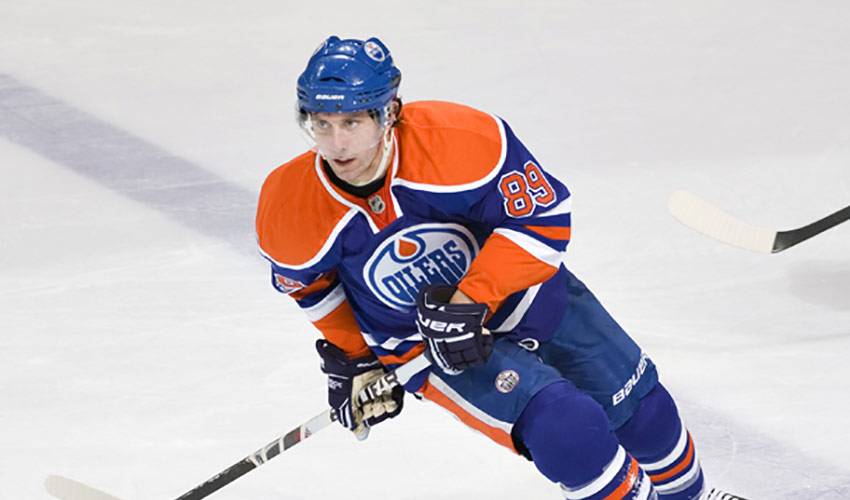 For someone who has been used to winning almost his entire hockey career, the 2009-10 season has been a rough ride for Sam Gagner. But that doesn't mean the young forward is willing to throw in the towel.
Individual and team awards are not a foreign concept to the 20-year-old Gagner, who struck gold with Team Canada at the World Junior Championships in 2007 and then earned a silver medal at the World Championships in 2008.
In 2004-05, his midget hockey campaign, Gagner recorded 173 points and was given the Buck Houle Award – a Toronto Marlboros team award given for outstanding on ice performance and leadership.
"I've been fortunate enough to have been part of winning teams for a large part of my hockey career," said Gagner, the son of former NHL player Dave Gagner, who spent 15 seasons with New York, Minnesota, Dallas, Calgary, Toronto, Florida, and Vancouver. "That's why it's not a good feeling this year."
Sitting in last-place overall in the NHL, the Edmonton Oilers have struggled mightily throughout every part of the campaign and will miss the playoffs for the fourth consecutive season after taking Carolina to seven games for the 2006 Stanley Cup.
"The easy thing would be to give up," said Gagner, who played alongside future NHL stars Patrick Kane and Sergei Kostitsyn on the Ontario Hockey League's London Knights' top line in 2006–07, when he scored 118 points in 53 games, to finish fifth in league scoring. "But that's not beneficial for anyone. We have to keep pushing forward."
Does that mean Gagner can see better days ahead?
"You absolutely have to think that way," said the native of London, Ontario, who moved less than 200 kilometers east to Oakville at a young age. "No one likes losing and that's certainly no different here. And while there is obvious disappointment in how things have gone this season, we know we can turn this ship around."
Having a talent like Gagner on board certainly sparks optimism.
Selected in the first round, sixth overall by the Edmonton Oilers in the 2007 NHL Entry Draft, Gagner signed to a three-year, entry level contract with the Oilers. He played his first NHL game on October 4, 2007 in a 3-2 shootout victory over the San Jose Sharks and earned his first NHL point, assisting on a goal scored by Tom Gilbert. Sixteen days later, Gagner scored his first career NHL goal against the Calgary Flames.
As the league's youngest player in 2007–08, Gagner tallied 49 points in 79 games. During the season, Gagner participated in the 2008 NHL YoungStars Game in Atlanta as part of All-Star weekend and was also named the NHL Rookie of the Month for February.
In a month-long scoring stretch, during which he recorded 13 points in 12 games, he also established an Oilers team record for the longest assists streak by a rookie with nine assists in eight straight games.
In spite of all the personal success, Gagner remained grounded.
"I'll never forget what my father told me after I was drafted," recalled the right-handed shooter. "He said just because I was drafted as high as I was and that I had some pedigree, it was only the first step. That made we want to work as hard as I could. I was pretty happy to have been told that. I don't think I'd be where I am without those words. I really took it to heart and I've never forgotten that."
He also didn't forget what he learned from some of Edmonton's most respected players.
"Before you get to the NHL, you always hear stories of how hard guys work on and off the ice," offered Gagner, who recorded his first career NHL hat trick and added an assist for a four-point game on March 19, 2009, in an 8–1 win against the Colorado Avalanche. "And when you get here, it's just what you heard. The commitment the players have is phenomenal.
"To be honest, it took some getting used to, lifting weights every day. But Ethan Moreau and Shawn Horcoff told me that even if I was feeling tired, it would be crucial in my development going forward. And they were exactly right. I've had some good late-season pushes at the NHL level and I believe it was that advice that made the difference."
And although the 2009-10 season isn't what Gagner had anticipated, it hasn't diminished his love for the game.
"I have always been a great fan of hockey and I always will be," he said. "You have to have a passion for the game, win or lose. I still feel the same way about hockey the way I did when I was playing on my backyard rink with my minor hockey buddies. Those were some of the greatest times you could ever ask for."
Gagner firmly believes better times are ahead for the Oilers, too.
"I know everyone on the team wants to win," said Gagner. "The desire is definitely there."