Same Old for Samuelsson
With a team that looks poised for a strong playoff run, Canucks veteran winger Mikael Samuelsson is once again coming alive for the stretch run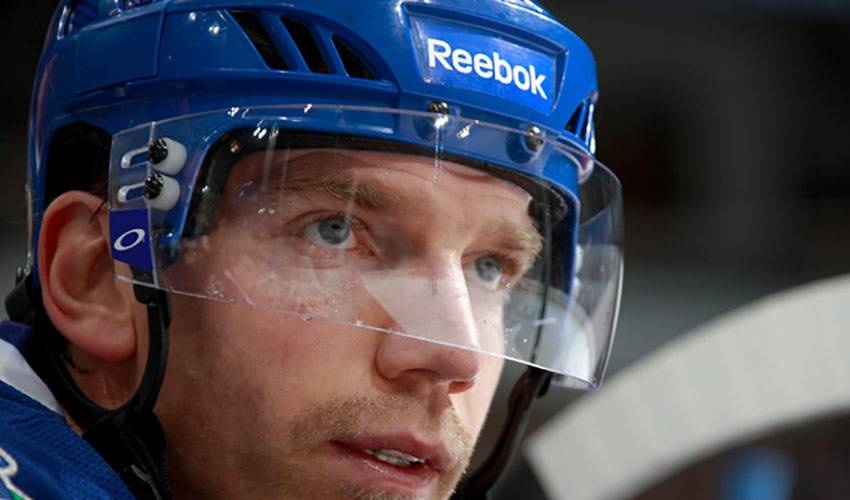 Mikael Samuelsson certainly knew he scored two goals in a key win for the Vancouver Canucks. What the veteran forward didn't know was that he had reached a personal milestone in the process.
It was an important triumph for Vancouver, a 4-2 home win over an equally hot Calgary Flames club looking to secure a playoff berth in the wildly tight Western Conference.
Samuelsson's scored twice in a 2:40 span midway through the second period, earning him first star honours while maintaining his status as one of the team's hottest scorers.
The tallies also gave the veteran forward 300 points for his NHL career.
"Really?" said Samuelsson, who recently took time out to speak with NHLPA.com in the midst of a Vancouver road trip. "This is the first time I learned about this. I had no idea until right now."
And that, for those who don't know much about the 34-year-old, is a perfect illustration of Samuelsson, a player who didn't quite have lofty expectations, at least in the early stages, when it came to his NHL career.
Samuelsson began his career in Sweden, starting with Södertälje SK as a junior in 1994. He went on to play for Swedish teams IK Nyköping, Frölunda HC and Brynäs IF, was selected 145th overall in the 1998 NHL Entry Draft by the San Jose Sharks and launched his NHL career in 2000–01.
"It's kind of funny," said Samuelsson, who was born in Mariefred, Sweden, a town 65 kilometres (40 miles) from Stockholm. "At first, I was hoping I could play in one game and then I could say I played in the NHL. But after you get going, you start to see things differently. You play one year and then you start to think, 'I'd like three years, four years and so on.' I never started out thinking I'd be in the league for as long as I have. But it's been good."
Better than good, most would say.
After short stints with the Sharks, New York Rangers, Pittsburgh Penguins and Florida Panthers, Samuelsson returned to Europe and played in both Switzerland and Sweden during the 2004–05 NHL lockout.
When NHL play resumed, Samuelsson signed with the Detroit Red Wings, winning the Stanley Cup with them in 2008. After four seasons in Detroit, he signed with the Canucks in July of 2009.
Samuelsson scored a career-best 30 goals and recorded a career-high 53 points in his first campaign with the Canucks.
This season, he's hit his best stride at the most crucial stage of the year, as Vancouver looks to keep their status as the No. 1 seed in the West and first overall in the league.
"It's not always about scoring goals," said Samuelsson, who has had a highly-decorated international career, winning gold medals with the Swedish national team at the 2006 Winter Olympics and 2006 World Championships. "Sometimes you have to fight through the hard times.
When you don't get the little bounces going your way, you have to find other ways to help the team. But this is a team game. All that matters is that we are successful as a group."
Playing on a line with Ryan Kesler, in the midst of his finest NHL season, and Mason Raymond, the talented young forward who has battled a slew of injuries, Samuelsson is feeling more and more confident in the trio's ability to create chances.
"You look at the way the Sedins (twins Henrik and Daniel) are when they are on the ice," offered Samuelsson, who is a member of the Triple Gold Club (Stanley Cup, World Championship gold and Olympic gold). "They know where the other one is at all times. That's what you want. With Ryan and Mason, we are in sync with each other. It just keeps getting better as we go along."
And though he might not know how many career games he's skated in (600 and counting), Samuelsson hasn't forgotten the impact NHLPA members can have on their young fans.
Teaming with the NHLPA's Goals & Dreams Fund, the largest program of its kind in the world, one that has provided nearly $20 million since its inception in 1999, in support of grassroots hockey, Samuelsson donated 25 complete sets of brand-new hockey equipment to children in the Mariefred IFK program.
"I first have to thank the NHLPA and Goals & Dreams for letting me part of this," said Samuelsson. "It was a great chance to provide great kids the chance to play hockey. For me, it was so easy to do this. I remember how much getting a new jersey or new skates meant when I was a kid. To see how happy they were was nice to see. It's something I'll always remember."
Recalling his personal hockey highlights, however, isn't likely to happen any time soon.
"I think I'm just like everyone else who plays the game," offered Samuelsson. "I want to contribute and do positive things, but it all comes down to being successful as a team."