J.T. Miller helps NHL alumnus Ryan Malone spread mental health awareness
Established in 2014, the Malone Family Foundation spotlights mental health awareness and suicide prevention.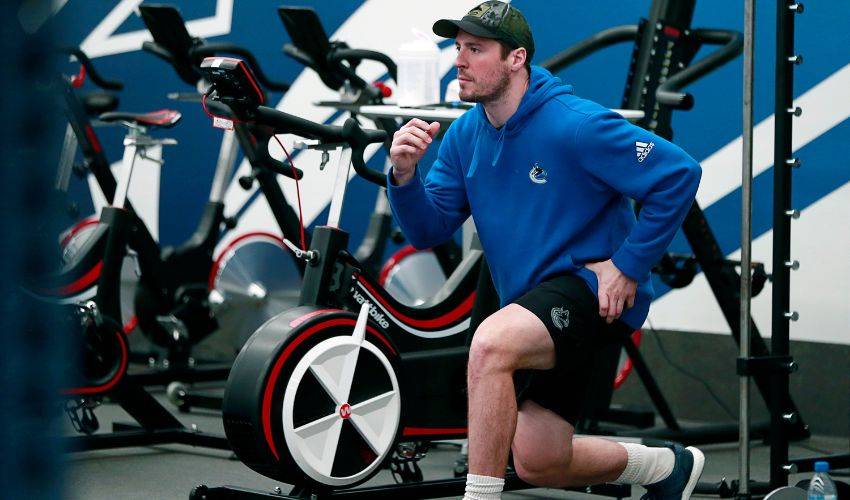 Feature photo: Getty Images
---
For J.T. Miller, a May 18 event to raise mental health awareness, hosted by the Malone Family Foundation, an organization founded by former NHLPA member Ryan Malone, was, in his own words, "eye opening."
When the Vancouver Canucks forward got the call asking him to participate in a special hockey game that would take place in Washington County, Pennsylvania, as part of the event, he quickly accepted the invite.
"I've known Ryan a long time," started Miller. "I kind of lost touch with him a little bit over the years, but as Pittsburgh guys, we always have each other's backs. So, any time that you can help out for a great cause like this, I'm happy to do it. When he reached out, it was a no-brainer to come out and be part of something very important."
The hockey game, dubbed the Malone Family Foundation and Pittsburgh Warriors for the Black and Gold Breaking the Mold, featured Pittsburgh-area veterans and professional athletes. There was also a pre-game panel discussion focusing on mental health.
Established in 2014, the original objective of the Malone Family Foundation was to support community initiatives and those in need. In recent times, the foundation has shifted its mission to spotlight mental health awareness and suicide prevention.
Malone, who played 10 NHL seasons with the Pittsburgh Penguins, Tampa Bay Lightning and New York Rangers, has become a prominent voice in raising awareness about mental health, both in hockey and beyond the arena.
Through the foundation, the now 43-year-old Pittsburgh native, who played for the hometown Penguins for four seasons, is working to minimize the stigma associated with mental health while encouraging others to ask for help.
"Over the years, mental health has been something I've worked at, to try and be better on that side of things. Everything that we do in sports, 100 percent of the people are physically capable of doing it at a certain level, but the mental side is the challenging part. It doesn't matter what level it is, something small or big that you are dealing with. We wouldn't have been talking [about] this years ago, but now that it's unlocked, there are different avenues to help deal with things, and Ryan and his foundation are doing that."
In a recent chat with CBS Pittsburgh, Malone discussed his own struggles with anxiety and depression, and his commitment to helping those who are facing similar issues.
"Hockey has been my life, and I know how much it can help people," said Malone in the CBS interview. "I want to use the game of hockey to help people who are struggling with mental health issues."
The Malone Family Foundation has aligned with several organizations to promote mental health awareness, including the National Alliance on Mental Illness (NAMI) and the American Foundation for Suicide Prevention (AFSP).
One of the foundation's most impactful initiatives is its annual "Hockey for Healing" tournament, which unites NHL players, local personalities and others for a day of hockey and fundraising. The tournament has raised thousands of dollars for mental health initiatives and has helped to raise awareness.
Miller, along with New York Rangers forward Vincent Trocheck, suited up on an all-star squad, who faced off against the Warriors.
"It was great. There was a panel discussion – Vince and I went out a little later because we each had stuff going on during the day – with fans, the foundation and some of the players, which I know went really well. And the game was so much fun. It ended up going to a shootout."
But as Miller pointed out, the night was about much more than an exciting hockey game.
"The team of veterans [the Pittsburgh Warriors], they play a lot of hockey together and spend a lot of time together. It was a humbling moment to be part of that."
Miller, the 15th overall pick of the Rangers in 2011, who has skated in 718 regular season NHL games, shared those thoughts with Malone.
"It makes we want to be aware learn more about the veterans, their situations. I told Ryan that it was fairly new to me, but after meeting them, you can see the passion for the game that we all have."
Another big takeaway for Miller was the opportunity to reconnect with Malone.
"Ryan has gone through a lot in his life. But every time I see him, he has a smile on his face. He's one of the more likable guys to be around. I'm really happy to see him take these steps in his life. He has a lot of support behind him."