A Darkhorse No Longer
Jerred Smithson & the Predators have come from unheralded beginnings to now being legit contenders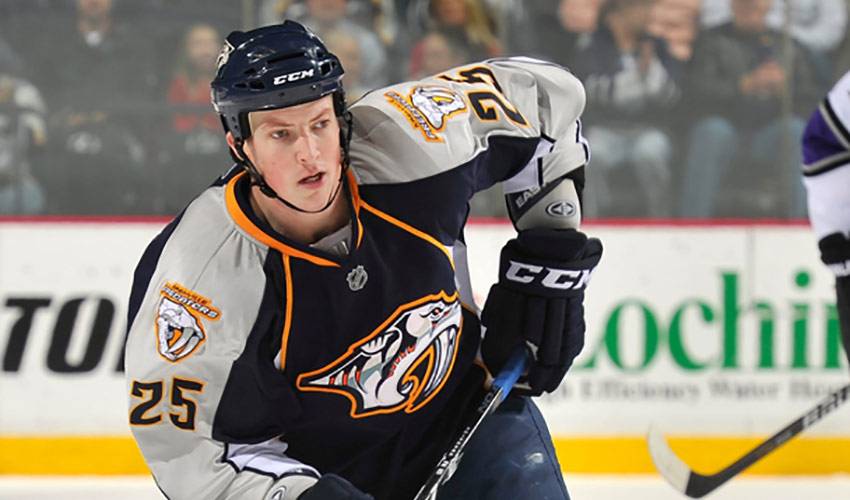 His hockey-named dog might get more attention than he does, but Jerred Smithson definitely deserves recognition for his contributions to Nashville's first-ever playoff series win.
Just one day removed from ousting the Anaheim Ducks out of Stanley Cup contention, Smithson, who notched the overtime winner for the Predators in Game Five of their Western Conference quarter-final matchup, wasn't exactly mobbed by fans when he took his pooch, Reggie (named after Reggie Dunlop from the popular hockey movie 'Slapshot') out for a walk on Tuesday afternoon.
"It's him that usually gets all the attention," laughed Smithson, who has been a major factor in the 2010-11 Stanley Cup Playoffs. "He's a one-year-old bulldog, so lots of people stop and want to give him a little pat."
Smithson, who hails from Vernon, British Columbia, should also get a pat on the back for his efforts in the first round of the post-season.
In fact, his head coach, Barry Trotz, was quick to rave about Smithson's extra-frame heroics, praising his workmanlike performance at both ends of the rink, someone who deserved to score the most important goal of the game. It was also the first overtime playoff-winning tally for Nashville.
"I'd love to score more," admitted Smithson, who just completed his sixth season with the Predators. "But I know that won't always happen. I think, for me, being able to be sound in the faceoff circle, be strong on the forecheck and keep the opposition is check, is a huge part of my game. To be able to score a goal in overtime in the playoffs is something you always dream about. It was a great feeling."
Smithson will tell you, however, that feeling pales in comparison to Nashville's series-clinching, 4-2 victory in Game Six on home ice.
It is indeed happy days in Music City.
"It was great for the fans and for us to win our first playoff series," said Smithson, who played five campaigns for the Calgary Hitmen of the Western Hockey League. "It wasn't easy, but we are confident group. We've really grown as a team. If we have a bad shift, a bad period or a bad game, we don't panic. We know that we are capable of playing good hockey and that we match up well against anyone."
The term 'darkhorse' has been associated with the Predators for several seasons, a team that could jump up and surprise a lot of people.
And while they failed to live up to that billing in seasons past, this edition of the Central Division club has shown they are a legitimate playoff club.
For Smithson, it's exactly what he had hoped for.
"There have been a few question marks in the past, but we feel we have turned that corner and that we are on the right path," said the forward, who went undrafted, but signed with Los Angeles, appearing in 30 regular season games with the Kings. "We really believe in one another and the confidence is there. We do have that steady mix of young guys and veterans, a good balance throughout the lineup."
"Having Mike Fisher come over from Ottawa has been a huge boost. He's a great player that is effective about both ends of the ice. And we have (Vezina Trophy finalist) Pekka Rinne in net. He's been unbelievable the whole year. Shea Weber is just the type of leader you want. Everyone believes in each other."
And while the road to the Cup final will only get tougher, Smithson has faith the upstart Predators are ready for the next step.
"Winning our first-round series and doing it on home ice, it's a good feeling in Nashville. We don't get booed very often and we have the support of our fans. It might not be the most famous hockey city, but we have the greatest fans you could ask for."
Is Smithson ready to play his part and net another overtime winner?
"You don't know how much I'd love that," he said with a laugh. "It's been a long time since I did that. As long as someone does it, that's more than fine with me. We all know what we do well and we all go out with that in mind. It's been so tight the whole year in both conferences, so whoever you play will be tough. But we're ready."
One thing Smithson, 32, won't be worrying about is getting people to notice him when he's away from the rink.
"Not at all," said Smithson. "We'll let Reggie handle that."
No worries. Smithson has a knack for grabbing people's attention when it matters most.