Cam and Jasmine Fowler work to grow hockey in Southern California
The Anaheim Ducks defenceman and his wife launched C4Kids in 2018 to provide youth with opportunities to learn, play and love hockey.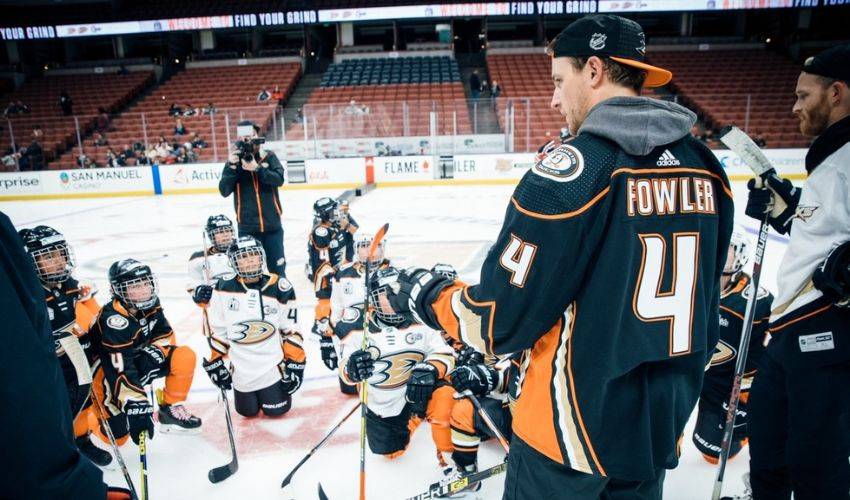 All photos courtesy of Cam Fowler
---
For Cam and Jasmine Fowler, their C4Kids initiative is the perfect marriage between two of their biggest passions.
Launched in 2018 by the Anaheim Ducks defenceman and his wife, the program provides youth with opportunities to learn, play and love hockey. The couple had long talked about ways they could give back to the Southern California community they call home during the NHL season.
While they did not know what the end result of those discussions would be, the couple had two must-haves on their wish list.
"Once we were married and felt that we were settled in Orange County and with the team, we really wanted to figure out a way to make a difference in the community," said Cam, now in his 13th NHL season, all with Anaheim. "It's always been something that is important to us. It's always easier said than done, trying to figure out what to do, charity-wise, but we knew we wanted kids to be involved. Jas was definitely a driving force with that. It's been good and it's something we're proud of."
Jasmine, who is motivated to grow the program even further in the coming years, echos her husband's comments.
"It's been so rewarding to be able to start a program like C4kids with Cam," said Jasmine. "For years, we talked about finding some ways to get more involved with our community here in Orange County and we always knew we wanted to support kids in some way. We are very proud of how much we've accomplished thus far, but it's just beginning for us, there is still so much more we want to do."
Over the past four-plus years, C4Kids has reached thousands of kids and families through various events and functions.
In partnership with THE RINKS Find Your Grind Hockey Scholarship program, C4Kids hosts families at Ducks home games throughout the season, providing them a chance to take in the on-ice action as well as a special meet and greet with Cam. Scholarship recipients also get the opportunity to get out on the ice with the Windsor-born rearguard for an on-ice skills clinic.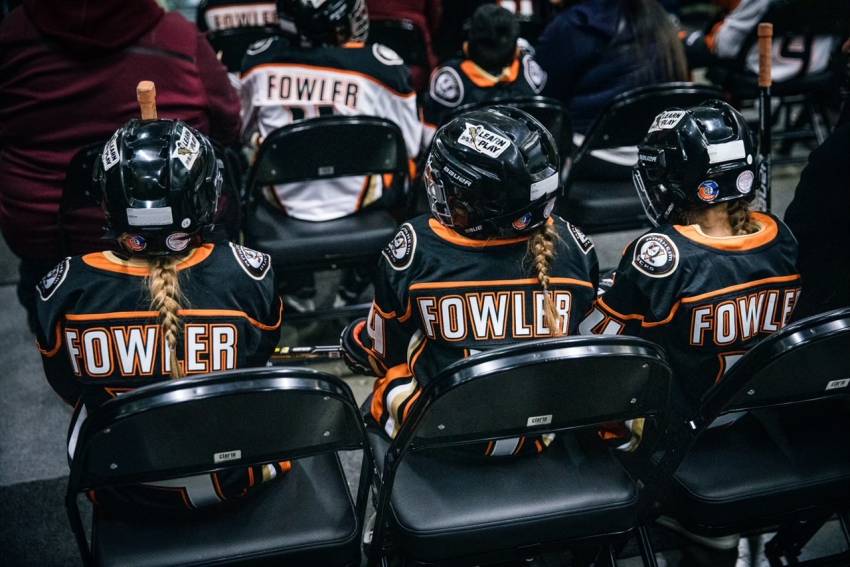 The 31-year-old has also been able to share his love of ball hockey through the program, highlighted by the C4Kids Ball Hockey Bonanza, an event hosted and supported by the Fowlers.
The day at the rink features a 16-team tournament featuring co-ed teams that take to the pavement for some friendly games. All participants receive a C4Kids Ball Hockey Bonanza reversible jersey and commemorative C4Kids hockey stick and ball.
"Those are memories I will have for a long time, the joy of all the kids getting the opportunity to play a game that has given so much to me," said Cam, who launched his NHL career in 2010-11. "One of the main reasons we wanted to do something focused on kids and hockey was because it has given us so much in this life. Hockey had to be the leading factor moving forward in what we wanted to do with the kids. Seeing the joy on their faces and seeing them get that opportunity to play is something Jas and I will hold on to for a long time."
Jasmine does not shy away from participating right alongside the kids.
"For me, my favourite part is being there, playing or skating around – not very well – with the kids," added Jasmine. "I've always felt that we learn so much through play and I believe we make the most positive impact when we are actually taking the time to be there in person. Cam loves to hop into a drill or a game and has always been a leader by example. So, I think by being involved in the actual events and activities, we are all getting the most from the program."
The 12th overall pick of the Ducks in 2010 hopes those who participate in C4Kids walk away feeling like he did after he met an NHL all-time great.
Admittedly nervous at the prospect of meeting the player who would be enshrined in the Hockey Hall of Fame in 2015, Cam has fond recollections of his interactions with former defenceman Nicklas Lidstrom.
"Even though I've been in the league for a little bit, I still remember being a kid and what it meant to meet Nick Lidstrom. He was someone I admired and looked up to. He was so nice to take the time and chat with me when I was a young kid. That's something that has always stuck with me. That's another reason why we talked about this program and bonding with the kids in our community, to give them a chance to not only learn about the rules of the game, but to get a chance to come out with me and some of my teammates. It's a chance for them to get out on the ice, learn the skills and hang out with NHL players. I hope that it ends up being a cool experience like it was for me when I was a kid."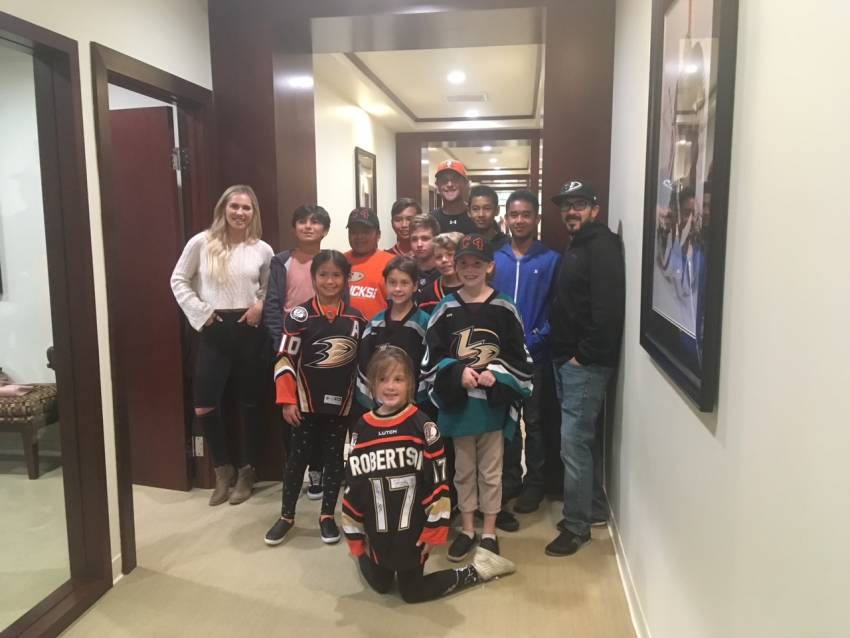 Despite hectic schedules, Cam and Jasmine make time to brainstorm new ideas for C4Kids.
Something outside of the arena has become a bigger focus in recent months.
"Now that we have that and we have some ways to use that to help the community, we are trying to focus on some scholarship programs or things in the educational space because we have good momentum with things related to hockey," offered Cam. "That's what we are looking at moving forward. That was one of the things we had talked about. We're still trying to figure out different ways we can make an impact, but for the first few years we've done it, we've been very happy about what we've been able to accomplish."
Seeing the game of hockey reach more kids at the grassroots level in Southern California, especially in recent years, is a source of happiness and pride for the Fowlers.
The pair has no doubt helped contribute greatly to that trend.
"That's been a big change in the last five to seven years. I remember when I was a rookie here and there were only a handful of rinks in the area. The minor hockey wasn't anywhere near where it is today. The growth in hockey and the interest in it from the kids throughout California, it's really made a big leap. I know that's important to the Ducks, who want to grow the game, especially in Southern California. It's really nice to see … we did a ball and stick program where we passed those out to close to 5,000 kids. We heard stories about these kids passing the ball around with their parents or grandparents in their driveway, learning about the game and spending time with family, which is what it is really all about."
Positive messages from those who have taken part in the program have become a regular occurrence.
Cam and Jasmine, who read every form of correspondence they receive, are grateful for the kind words.
"We've been overwhelmed by how much appreciation the kids and parents involved with C4kids have shown us," said Jasmine. "We've gotten so many thank you cards, letters, and framed pictures. Seeing how grateful they are for what we've been able to do so far makes it all worth it. It's also motivation for us to continue making our program better."
They hope the best is yet to come for the program itself and for those who experience it.
"It's definitely important for the kids to see us giving back to our community," said Jasmine. "Hockey has given us so much and we are so grateful for everyone who continues to support us here. Our goal with the program is for the kids to find the joy that comes with getting involved in something — whether it's hockey or something else altogether. We hope they remember how much fun they had when trying something new and want to continue to learn new things in the future."