Johnny Boston
With the Bruins playoff run, it's harder for players like Johnny Boychuk to go unnoticed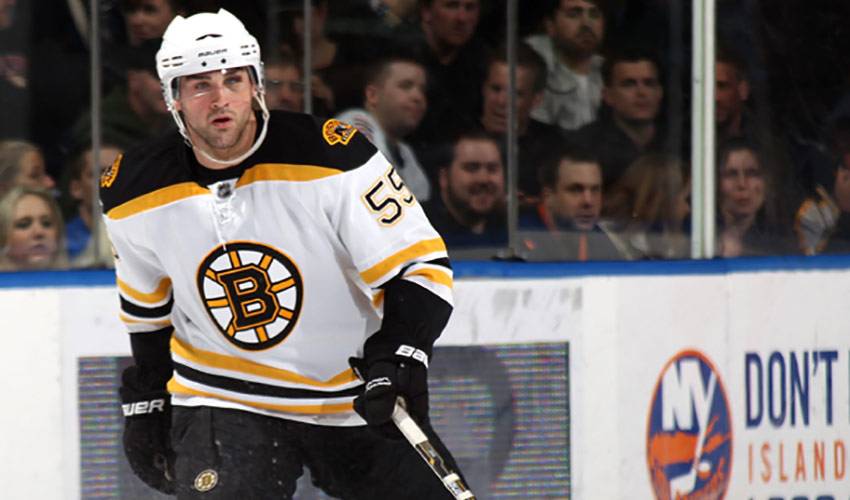 He isn't as recognizable as he was, at least looks-wise, when the regular season was in full swing, but since the playoffs began, Johnny Boychuk has become a well-known figure in Boston.
It's surprising what two playoff series wins and a little facial hair can do for your profile.
After a hard-fought seven-game victory over the Montreal Candiens in the opening-round of theEastern Conference playoffs; and a four-game sweep of the Philadelphia Flyers in their semifinal matchup, the Boston Bruins are the toast of Massachusetts these days.
For Boychuk, who has provided the Bruins with steady defensive play throughout the entire 2010-11 campaign, walking down the street, buying groceries or eating a restaurant has been a decidedly different experience now that Boston is one step away from contesting the Stanley Cup.
"It's amazing, really," said Boychuk, who completed his first full NHL season by appearing in 69 games while posting 16 points. "I think now that I have the playoff beard going, people must know I'm a hockey player. I'll be out and about and people will come up and give you a pat on the back or a kind word. It's great to see everyone so passionate about the team."
And what of that playoff beard?
"Not good," he laughed. "I'm going to give it a four out of 10. It's certainly not the best it could be."
The best, he offers, is sported by the Bruins' captain, Zdeno Chara.
"'Z' definitely has a good beard going," explained Boychuk, the Edmonton native who was the 61st overall selection of the Colorado Avalanche in the 2002 NHL Entry Draft. "He's got it working well. Tuukka (goaltender Rask), his is a little sparse, but I'm sure he'll get there."
The 27-year-old Boychuk, who was traded to the Bruins in exchange for Matt Hendricks on June 24, 2008, is hoping the Bruins get there, more specifically, getting themselves a date in the Cup Finals.
It hasn't been exactly easy so far.
After spotting the Canadiens a two games to none lead, Boston fought back to win the series in seven games, needing overtime to oust their Original Six foe.
In the second round, the Bruins faced the Flyers, a team that roared back from three games down last season to eliminate them in seven games.
This time, however, Boston required the minimum four games to send Philadelphia to the sidelines, to set them up against the Tampa Bay Lightning for Eastern Conference bragging rights.
"It was tough losing the first two games to Montreal," recalled Boychuk, who captured the Eddie Shore Award by leading the Providence Bruins of the American Hockey League with 20 goals and 45 assists among defenceman and was named to the AHL's First All-Star Team. "But we were able to come back and win it."
Their confidence spilled over into their series against the Flyers.
"Obviously, we were reminded a lot about what happened last year, being up three games and then losing," said the 6'2", 225-pounder. "In a way, it was a shock that we beat Philly in four games because they're a great team. But we did everything right and didn't let anything really affect us at all. We really just kept it simple."
The hard-hitting and soft-spoken Boychuk has been a big weapon for the Bruins in the post-season.
It was Boychuk who broke a 1-1 deadlock early in the third period against the Flyers on home ice in Game Four of their playoffs set. His heavy shot propelled Boston to an eventual 5-1 win in front of an appreciate crowd at TD Garden.
"The fans were unbelievable last year and it's more of the same this time around," said Boychuk. "They're really pumped up."
And so, too, is the man from one of hockey's most successful cities when it comes to hoisting the Cup.
"Growing up as a little kid in Edmonton, it was just amazing to watch the Oilers win Cup after Cup," remembered Boychuk. "You always dreamed you'd have the chance to experience that feeling of being a Cup champion someday."
Boychuk's certainly not greedy about the idea of hoisting hockey's most prized team trophy over his head.
"I'd settle for one…for now," he said with a laugh. "I really like our team and I really like how we've been playing. Everyone is doing something to make a difference and we just want to carry that through to the next round."
And one more winning round could just give Boychuk's beard a passing grade.
"There's still some work to be done. But hopefully it starts to look a little better."
Whether it does or not, Johnny Boychuk doesn't have to worry. He already looks great in the eyes of Bruins' fans.