Saving his best for last
Johnny Boychuk and the Boston Bruins are heading to the Stanley Cup Finals and are ready to leave everything on the line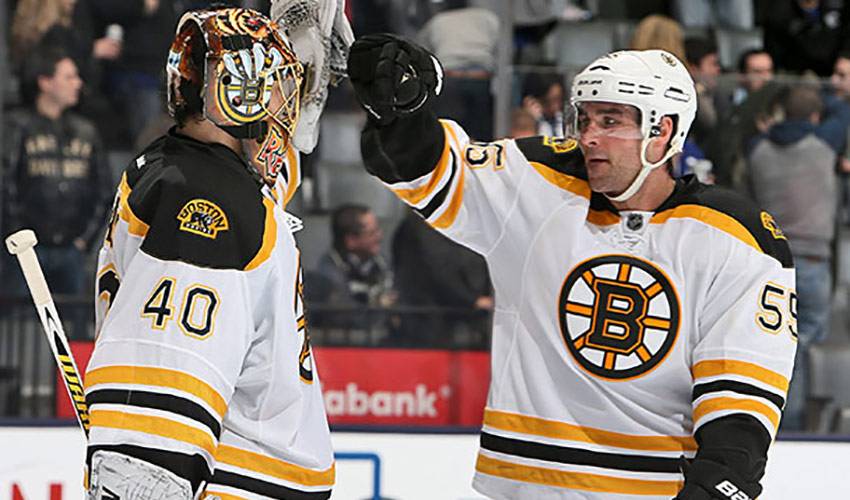 Boston defenceman Johnny Boychuk has five reasons and a couple of great lines when it comes to his offensive contributions in this year's Stanley Cup Playoffs.
It was back on January 29, a 3-1 home win over the New York Rangers, when the Bruins' No.55 netted his lone goal of the regular season.
Oh, how times have changed.
Fast forward to the 2013 post-season and the 6'2", 225-pounder is worth his weight in goals: five of them in 16 games.
"Well, I suppose I got the regular season one out of the way earlier this year and now I'm saving my best for last," said Boychuk, who was drafted by Colorado in 2002, but played in just four games with the Avalanche. "You can do all those other things, block a billion shots, clear the front of the net, but when you score a goal, it's always a great feeling."
And a great sound, so to speak.
"It's definitely better hearing the PA announcer mention your name for a goal, rather than a penalty," quipped Boychuk, who had three playoff tallies when Boston won the Cup in 2011. "Even better if it happens to be a key one."
Just like the goal he scored in Game Two of the Bruins Eastern Conference semifinal matchup with the New York Rangers. Boychuk had the game-winner in a 5-2 triumph.
The 29-year-old was equally impactful against the Pittsburgh Penguins in the East final. In Game Three, on home ice, Boychuk scored, added an assist and was a plus-three.
Heading into the Stanley Cup Final against the Chicago Blackhawks (the series gets underway on Wednesday), Boychuk has five goals and one assist.
The Edmonton native has been just as strong defensively. In the series-clinching game against Pittsburgh, a 1-0 Bruins victory, Boychuk blocked four shots in 26 shifts over 18:46 of ice time.
"If you are going to be successful, especially at this time of the year, you look for any way to skate away with a win," said Boychuk. "That can mean doing things outside of what you are known for. For every player, it's doing those little things, like breaking up a rush before it gets started, winning that race for a loose puck, or chipping the puck out of harm's way. It can determine the outcome of a game a lot of times."
After besting the Leafs, Rangers and Penguins, Boychuk and the Bruins now face their stiffest test, a date with an Original Six rival, a 'Hawks team who had the most points in the 2012-13 regular season.
"From the first game of the playoffs, you recognize nothing comes easy," he said. "It's a long journey to get to where you want to be. We all play to win the Cup, but your mindset and focus is always the next game. You just see it as, 'What can I do to help the team get that win?'"
If you happen to be Johnny Boychuk, that could mean a number of things, including hearing your name called exactly as you hoped.