Boychuk a Big Bad Bruin
Imposing d-man brings a physical element to a solid Boston blue line corps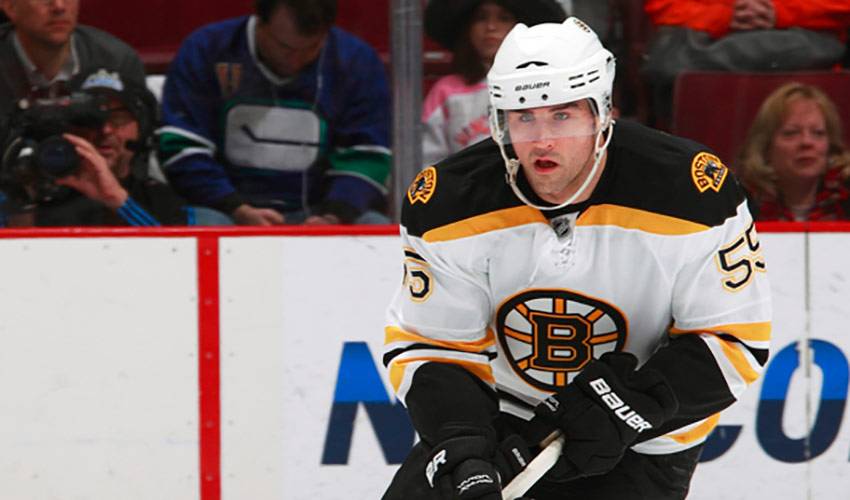 It might not have been a dream start to the 2010-11 NHL season for Johnny Boychuk, but the Boston blueliner has been a big hit, literally, for the Bruins in their quest for Stanley Cup glory.
Just over five games into the start of the campaign, Boychuk, who was selected in the second round, 61st overall by the Colorado Avalanche in the 2002 NHL Entry Draft, was injured in the first period of the Bruins 3-2 loss to the New York Rangers, the end result being a slightly fractured left forearm.
Boychuk was back on the ice in mid-November, returning to one of hockey's premier defensive corps.
"It's never easy being out of the lineup," admitted Boychuk, who came to the Bruins via a trade with the Colorado Avalanche on June 24, 2008.
"All you want to do is get back as soon as you can and contribute."
The solidly-built 6'2" 225-pounder was admittedly a little rusty in his return to action, but he quickly rounded back into form.
For Boychuk, being able to do what he does best, was a welcome relief.
"I'm a little more physical than most defencemen, so being able to come back and throw some hits and use the body was a good feeling," said the Edmonton native, who played for the Calgary Hitmen and Moose Jaw Warriors of the Western Hockey League. "I think that fits well into the physical presence our team has."
Boychuk, however, isn't just all about banging bodies.
Assigned to the Providence Bruins to start the 2008–09 season, Boychuk, in only his first week, was named "AHL Player of the Week". On December 1, 2008, he was recalled to Boston and made his Bruins debut in a 3-1 victory over the Tampa Bay Lightning three days later.
Boychuk was then returned to Providence for the rest of the season where he enjoyed a breakout campaign, capturing the Eddie Shore Award by leading the league with 20 goals and 45 assists among defencemen and being selected to the AHL's First All-Star Team.
Last year, in 51 games, Boychuk collected five goals and 10 assists, while providing his customary blue-collar play.
This season, he's been a significant contributor on a back end that includes hard-shooting captain Zdeno Chara, smooth-skating Dennis Seidenberg, steady defender Adam McQuaid, consistent Andrew Ference and offensive catalyst Tomas Kaberle, who was obtained from the Toronto Maple Leafs in a recent trade.
"It's a very well-rounded group of players," offered Boychuk, who made his NHL debut playing the forward position. "I think it's been about two or three years that we were supposed to get Tomas playing here. We finally got him, so it's not just a rumor anymore."
With less than 20 games left in the regular season, Boychuk knows full well what he and the rest of his teammates need to do in order to secure a prime playoff spot.
"In the West and the East, the difference between being in the playoffs or being out of it, could come down to one or two points," said Boychuk. "You can't let anything slip away from you."
And you can't take teams currently in a non-playoff spot lightly.
"There are no such things as easy games," offered Boychuk. "Some teams have nothing to lose and they go out and play hard-nosed hockey. Our mindset is to go out there as a unit and play our game. We only have to worry about what we have to do to be successful."
While consecutive losses can wreak havoc on playoff positioning, Boychuk and his teammates aren't concerned with the pressures that comes with tight races.
"We haven't really talked about that or thought about the playoff race in those terms," he said. "We know what we need to do and we know that it's going to get tougher as the end of the season gets closer. We just want to be ready."
For Boychuk, his approach doesn't change regardless of the circumstances.
"I think for me, it's best to try and not overthink things when I'm on the ice. The more I keep it simple, the better it works out."
It's that outlook which makes him just the type of player Bruins' fans would appreciate.
"We have great fans and I think they like to see an honest effort. That's what I try to give every night."