The Dream Is Not Over
Corey Perry continues to add to his impressive career list after capturing the 2010-11 Hart Trophy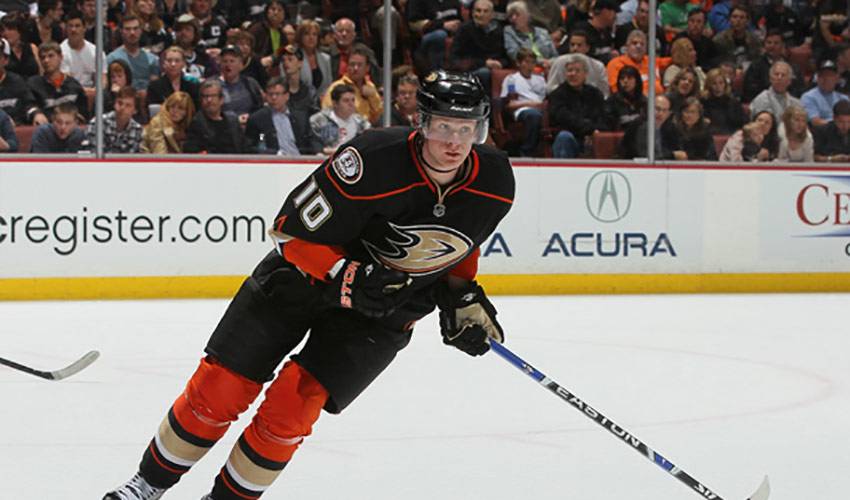 As a kid, Corey Perry marveled at the trophies and the player's names that were inscribed on them when he visited the Hockey Hall of Fame.
Now, he shares the same honour of having his name etched alongside some of the game's greatest stars.
He's had success, both individually and team-wise, at every stage of hockey, including a Stanley Cup, gold medals, and a Memorial Cup to go along with a slew of personal recognition.
But for Perry, the 26-year-old who patrols the right wing for the Anaheim Ducks, the enormity of his latest accolade has yet to truly sink in. He's not even sure if it ever will.
"I haven't sat down and looked at it, but obviously you do hear, and you do know who is on the list," said Perry, in reference to the names of the players who have won the Hart Memorial Trophy, as the league's MVP. "On that trophy, it's a pretty remarkable list. It's going to take some time to sink in and we'll move on from there."
For now, though, Perry, the 28th overall selection of the Ducks in the 2003 NHL Entry Draft, he'll fondly look back on the 2010-11 season as his very best.
Perry led the league with 50 goals, winning the Maurice ""Rocket"" Richard Trophy. He reached the feat with a hat trick against the San Jose Sharks on April 6. Accompanied by 48 assists, he finished the season 98 points, ranking him third in the league. He was also selected to play the 2011 NHL All Star Game, where he won the Shootout Elimination Challenge in the Skills Competition.
"You always want to build on the year before and I think it's a steady increase and hopefully it keeps increasing," said Perry, who captured a Memorial Cup with the London Knights and a gold medal with Team Canada at the World Junior Championships during his major junior career in the Ontario Hockey League. "You don't want to take a step backwards, you want to keep moving forward and that's what I'm trying to do."
And that's just what he's achieved.
In his first NHL season, 2005-06, he registered 25 points. Since then, he's recorded 44, 54, 72, 76 and 98 points, winning a Stanley Cup along the way, in 2007.
"You go out and try to do the same things that got you here and try to do the same things day in, day out and see where it takes you," said Perry, who won the Olympic Gold Medal with Team Canada at the Vancouver Games in 2010. "It's kind of…it's got me to where I want to be and hopefully there is more to come."
That appears to be a sure thing based on Perry's past performances and his ascent to become one of the game's most dynamic offensive stars. His peers recognized his efforts, selecting him as a finalist for the 2011 Ted Lindsay Award (the Most Outstanding Player, as selected by the member of the NHLPA), hockey's most sought-after individual honour.
Perry, however, isn't the type to be complacent.
Just ask his Anaheim teammate Cam Fowler.
"He's someone who works hard all of the time, no matter what the circumstances," praised Fowler. "It's not just that he can he score any way – standing in front of the net getting worked over or scoring those highlight-reel ones that we've all seen so many times.
"That's impressive, but the type of person and professional he is makes you glad he's on your team. At practice, he's fun to be around, always smiling and upbeat. He'll stay after practice is over to work on things, looking to improve his game. He never likes to take a day off. It's good for me to see that."
And it will be good for Perry, on his next visit to Toronto, to check out the Hockey Hall of Fame, where he'll see his own name on a trophy that bears the name of some of the most high-profile players to have ever played the game.
Perhaps then, Perry's fine season and Hart Trophy win will truly hit home.
"I've been there a couple of times and you see all these trophies in there and all of the sudden you're holding one of them. It's pretty cool. It's like a dream come true."
For Corey Perry, it appears, the dream is far from over.