Watching the Red Light Glow
Corey Perry has been on a scoring tear in leading the Ducks down the stretch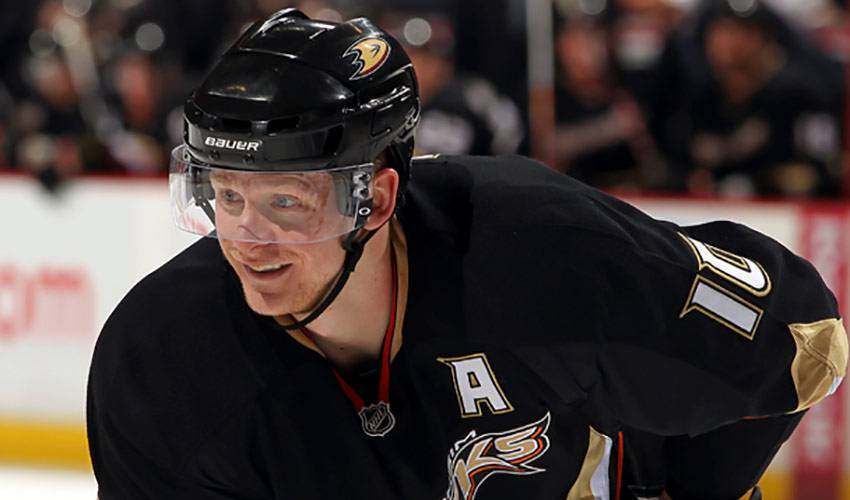 It's by no means a stretch to say that Corey Perry has all his Ducks in a row in 2010-11.
While American college basketball dominated much of the spotlight last month, Perry, Anaheim's offensive star forward, created March madness of his own. The 25-year-old netted 15 goals in March, including four game-winning tallies.
Most importantly, though, Perry's eye-popping numbers helped propel the Ducks into a playoff position in the hotly-contested Western Conference.
Yet even Perry is at a loss to explain his statistical explosion.
"You just go into every game expecting to play well," said the native of New Liskeard, Ontario, who was selected by the Ducks 28th overall in the 2003 NHL Entry Draft. "Things happened in March that doesn't happen very often. It's one of those things where you go out, you play your game, and you see what happens. But you know, March was a good month, and hopefully there's more to come."
Anaheim would certainly like to see Perry maintain his hot play.
The 2007 Stanley Cup champions missed out on the post-season in 2009-10, a year in which they finished fourth in the Pacific Division.
And while there were question marks surrounding a return to the top eight in 2010-11, Perry and his teammates have shown they have the talent to be considered a legitimate threat for the West crown.
Perry's looking forward to seeing how the rest of the regular season drama unfolds.
"It's going to be a lot of excitement," said Perry, who captured a Memorial Cup with the London Knights and a gold medal with Team Canada at the World Junior Championships during his major junior career.
"It's going to be fun. You never know what can happen."
Perry's teammates and opponents, however, do know what they can expect when the right-winger takes a shift.
But the player who scored a junior career high 130 points in 60 games during his final season with the London Knights isn't focusing his energies on winning the Maurice 'Rocket' Richard trophy as the league's top goal scorer.
"I don't know if you can ever say that you're going to win it," said Perry, who won the Olympic Gold Medal with Canada at the 2010 Winter Olympic Games in Vancouver. "I mean, you have to have a lot of great bounces and teammates. I have to give a lot of credit to them. Recently, it's been going well, and I'm just trying to help the team win. That's all I'm worried about."
Perry also points to ageless future Hall of famer Teemu Selanne as an ideal role model, both on and off the ice.
Getting the man known as the 'Finnish Flash' back for next year and perhaps beyond is a top priority for both Perry and his teammates.
"It's just the way he trains himself off the ice," said Perry, of the one part of Selanne's approach he's tried to emulate. "Just watching him over the past six years has been enough for me. You know, he comes in every day with a smile on his face. He loves the game, and the way he works in practice is truly amazing at 40 years old.
"It doesn't seem like he's aging at all, and hopefully he comes back for a couple more years. We have a running joke in the dressing room that we are three-quarters of the way there, getting him to come back, so hopefully he's listening to us."
For Perry, one of the most gratifying aspects of the Ducks' season is how they overcame an unflattering beginning to 2010-11 and turned it around.
"Nobody wants to start the season the way we did. I think we went 0-3 or 0-4, whatever it was. We have gone through some tough stretches. I think we know what it feels like and we don't want to go back there. So going into the playoffs, I think that's just going to help us."
It also helps when you have one of the game's most high-profile scorers at the top of his game.
Perry, who won the Shootout Elimination Challenge at the 2011 All-Star Game SuperSkills Competition, just wants the good times to keep rolling.
"I think I'm playing the same way I did back in London. But obviously, you know, the puck's going into the back of the net. I've got to give a lot of the credit to Ryan (Getzlaf) and Bobby (Ryan). I mean, they have done everything they can do, and they are finding me and I'm just trying to get open in the slot, and things are going in the back of the net."
Which is why Corey Perry, at least when he's on the ice, doesn't mind seeing red.