With Expectation Comes Production
Curtis Glencross's faith in his game and his winning attitude have seen him elevate his game and his stats in the past couple seasons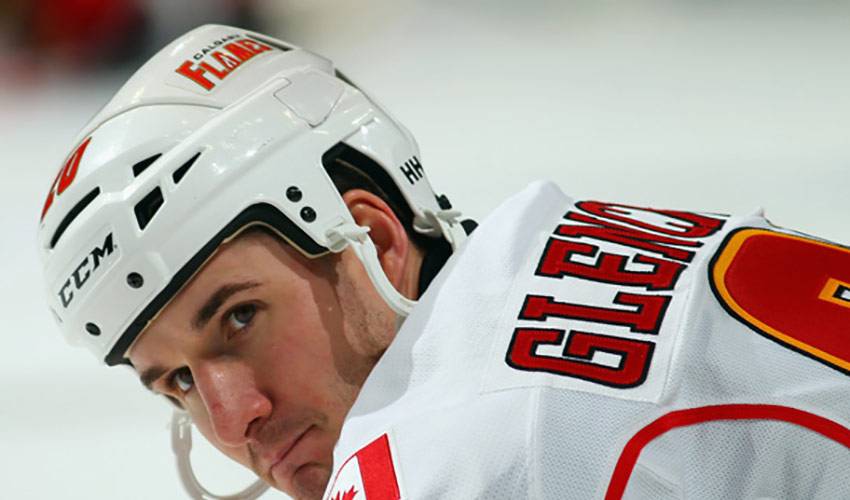 Tough losses and off nights once took their toll on Curtis Glencross. But faith in his game and a winning attitude has made the Calgary forward a force to be reckoned with.
It wasn't so long ago that a missed scoring opportunity or a deflating defeat would get to Glencross, who recently returned to the lineup after missing 13 games with a knee injury. But those days are gone for the player who continues to get better and better each season.
"There were times, earlier in my career, where I'd take things hard and it would take some time to get those feelings out of your mind," said Glencross, who went undrafted, but signed with the Anaheim Ducks as a free agent in 2004 and made his NHL debut with the team in 2007. "When you tend to overthink things, either before, during or after a game, it really can impact what you're trying to achieve."
Simplification of his approach to hockey has made a world of difference.
"I'm like anyone else in terms of being competitive and always expecting a lot from myself," said the Saskatchewan native, who has also played for the Columbus Blue Jackets and Edmonton Oilers, before he joined the Flames in 2008 as an unrestricted free agent. "But you have to be able to deal with the ups and downs within a game and over the season."
In 2010-11, Glencross, who grew up in Alberta and played collegiate hockey University Alaska-Anchorage, scored 24 goals, an NHL career-best number, along with 43 points in 79 games.
This season, he's been even more impressive, well on his way to besting his offensive statistics across the board.
The secret behind his success?
"I don't really know how to answer that because I haven't really done anything that different year to year," said Glencross, who signed a four-year, $10.2 million contract with the Flames on May 17, 2011.
"I think a big part of it would just be confidence. I've been fortunate to get more opportunities here in Calgary, to be put in a lot of different situations and to get more ice time. I think all those factors really help. All you look to do is be consistent and if you have a tough night, you deal with it, let it go and come out with your best effort the next game."
Glencross has worked hard to get where he is, a player who once had a limited role and who split time between the NHL and American Hockey League.
The move to Calgary, however, proved to be a perfect fit.
In his first year with the Flames, Glencross responded with 13 goals and 40 points. In 2009-10, his second campaign with the Flames, he netted 15 goals, including his first NHL hat trick in a win against the Carolina Hurricanes.
The 29-year-old had four game-winning goals last year and was a plus-six, the fourth consecutive campaign he was a plus player.
Glencross, a spokesman for the Special Olympics, is looking to maintain his consistent ways as Calgary seeks to earn a Western Conference playoff berth.
"Your biggest expectation is always to make the playoffs," said Glencross, who made his NHL debut on January 13, 2007, scoring his first goal in a 3–2 loss against the Colorado Avalanche. "That's our focus and that's our goal."
As for what would be a satisfying year, personally, Glencross, who led the Seawolves, his collegiate club, in goals (21) and points (34) in 2002–03, doesn't have any specific numbers in mind.
Instead, Glencross, who scored a goal, dished out three hits and was a plus-one in his third game back (February 27) after missing some time due to injury, has his sights set on making an impact at both ends of the ice.
"It gets more and more intense as you go on and you look at every part of your game and what you can do to make a difference," said Glencross, who stands 6'1" and weighs in at 200 pounds. "Every year, it always seems to come down to a few points that separates the teams that make it in or don't. You really can't prepare for anything more than your next game."
It's why Glencross wasn't talking big after he scored one goal and recorded four points in a 6-3 home win over the New Jersey Devils in mid-January.
"I don't think we played very well, especially after the first period," he noted. "We only had 10 shots on net, which doesn't get the job done on most nights. It was nice to play your part in the win, but we know we have to be better."
Which is precisely what Curtis Glencross strives for in each and every game he plays.