Whitney Still Going Strong
Veteran forward Ray Whitney talks dance moves, golf and focus and determination in this Between the Bluelines feature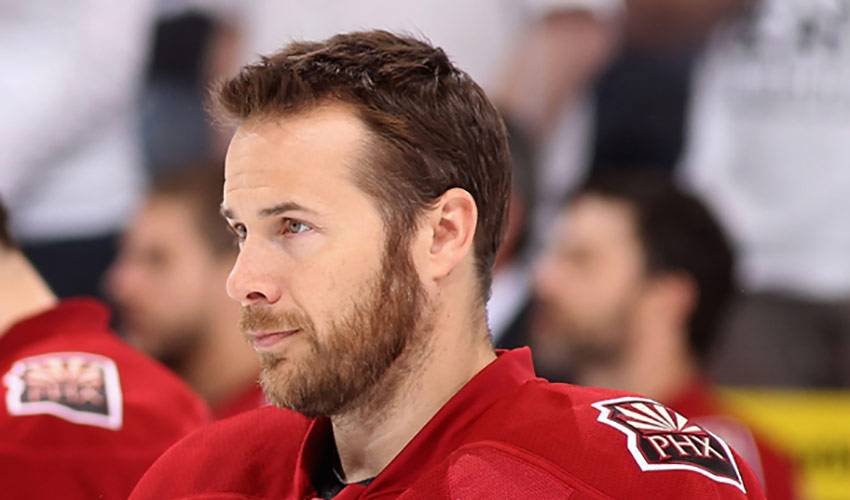 He has his name on the Stanley Cup. He's played in over 1,200
career
big-league games and is one of the most respected veterans in hockey. And at age 40, Ray Whitney is still going strong.
The 23rd overall selection of San Jose in the 1991 Entry Draft, Whitney reached the 1,000-point plateau (an NHLPA-recognized milestone) on March 31, 2012.
The former Edmonton Oilers' stickboy, who has appeared in three All-Star Games, might have some slick moves on the ice, but when it comes to his moves on the dance floor, he isn't quite as smooth.
Find out more about the pride of Fort Saskatchewan, Alberta, in this edition of Between the Bluelines.
DANCING WITH THE STARS?: Speed has always been the name of Ray Whitney's game, using big strides to distance himself from D-men and other opponents. And while his smooth moves usually bring the crowd to their feet, it isn't quite the same on the dance floor. "I wouldn't say Ray's exactly the best dancer around, but he certainly gives it his best when we're on the dance floor," said his wife Brijet, who is an accomplished dancer. "I think he's a lot more comfortable on the ice."
TEEING IT UP: "I've always loved golf. I can't get enough of it. I've always loved playing it and I really enjoy the challenge. It would be great to see how you'd fare against the pros, but I don't think I'm quite there right now."
HIS BIGGEST CRITIC: "I put a lot of pressure on myself to make a difference each time I play. I think that's helped me a great deal during my time in the game. You always strive to be better, to improve and to find ways that can help your team succeed. That's the way it has to be when you're going up against the best in the world."
HEART AND SOUL: "You have to use every bit of what makes you effective. Each player brings something different to the rink. Some guys are great at stopping the opposition from scoring, some guys are great at putting the puck in the net, others are known for setting guys up to score those goals. Everybody is different, but everybody is seeking the same outcome. That's the way I've always looked at it."
WAVING THE FLAG: "You always dream about two things when it comes to hockey: playing in the NHL and for your country. It doesn't get much better when you have the chance to play for Canada. It's always a special feeling."
Ray Whitney has had his share of good and bad throughout his impressive NHL career. Yet through it all, the forward never threw in the towel.
When there were questions surrounding just how long he'd last in the league, the player who recently signed as a free agent with Dallas kept his focus and worked tirelessly at his game.
The end result? A career he has plenty of reasons to be proud of.
"Sometimes you have to fight through adversity and all you hope for is that something good comes from it," said Whitney. "I've always tried to view things that way when tough times happen."