Cooley remains at the forefront of the Coyotes youth movement
The third overall pick in the 2022 NHL Draft, Logan Cooley is preparing for a breakout rookie campaign.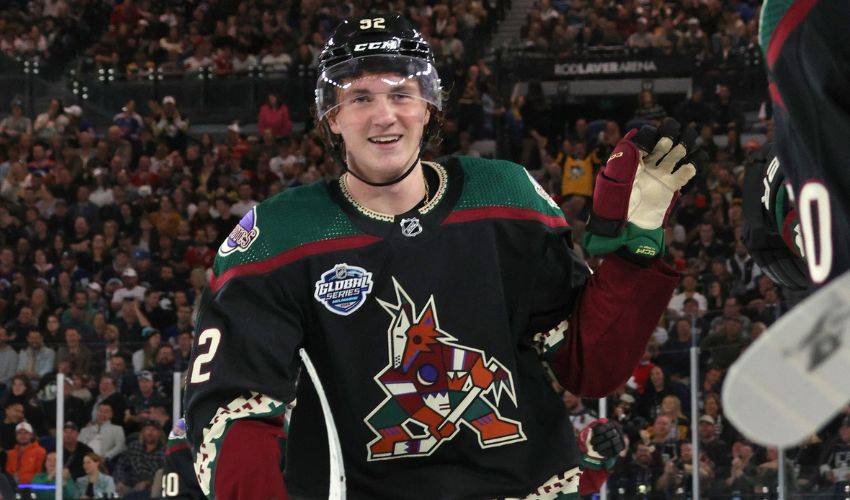 Feature photo: Getty Images
---
Logan Cooley is making sure he is well-prepared for whatever his hockey future has in store with the Arizona Coyotes.
His time at this year's annual NHLPA Rookie Showcase heightened those hopes.
"Putting on that Coyotes jersey for the first time with full equipment at the showcase, that was a great moment," said Cooley. "That really gets you more excited for the year to come."
The 19-year-old centreman is among the players who have veteran Coyotes players excited for the future of the team – something Lawson Crouse touched on in a September interview with NHLPA.com.
"I'm just in awe of the talent the younger guys have, and their love for the game," said 26-year-old Crouse. "That's a great thing to have for a group that wants to make a push and continue to get better."
Cooley was selected third overall in the 2022 NHL Draft, becoming the second-highest draft pick in University of Minnesota history, behind only Erik Johnson (No.1 overall in 2006). He recorded 60 points (22 goals, 38 assists) in only 39 games for the Golden Gophers in 2022-23.
The efforts of the highest-drafted player ever from the state of Pennsylvania did not go unnoticed by the collegiate hockey world, with the forward taking home the USA Hockey Jim Johannson College Player of the Year Award, NCAA Frozen Four All-Tournament Team honours and landing in the top-three finalists for the Hobey Baker Memorial Award.
"Off the ice, learning how to live without your parents for the first time is a big eye-opener," said the Pittsburgh-born centre of his time in Minnesota. "I think I matured a lot being around so many great people. The coaching staff and so many people associated with the team helped me with my life off the ice and with my on-ice game. I feel like I've grown as a person and a player. It was a great time of my life, and I loved being there."
Cooley is looking to have similar experiences with the Coyotes.
Cooley, who won a bronze medal at the 2023 IIHF World Junior Championship with Team USA, worked hard in the offseason to ready himself for training camp.
"Obviously, the NHL is a very fast game, so continuing to get faster is something I continually work at. The other thing I want to work on is my shot, making it harder, and having a quicker release. Those were the two areas I focused on sharpening up before the season starts."
Cooley, who has already wowed crowds in the preseason with some of his shifty footwork, has long dreamt of his first regular-season NHL game and the opportunity to face off against the best players in the world.
"A guy that I'd really like to play against is Alex Ovechkin," said Cooley. "He was my favourite player growing up. Two guys I like to watch a lot are Patrick Kane and Jack Hughes, being similar in height to them, and players who I think I share similar attributes with. I'm a guy who likes to learn a lot. Anything you can do to become a better hockey player is important and that's what I try to do every day."
Fellow first-round 2022 NHL Draft pick, Conor Geekie, is coming off his own stellar campaign with the Western Hockey League's Winnipeg Ice, a season in which he recorded 77 points (35 goals, 42 assists) in 66 games.
The 19-year-old centreman has long had the benefit of learning from a pair of ideal role models, including his older brother Morgan, forward for the Boston Bruins.
"From younger times, I remember watching Morgan and seeing how he carried himself," said the 11th overall draft pick from NHLPA Rookie Showcase. "That always stuck with me. We talked about the game a little bit, but I was always dialed-in on him when he played, watching how he played, but also how he treated teammates and others. He has always been so humble, so kind and incredibly respectful. My other brother, Noah, is the same way. He played baseball and he had the same approach."
The three boys grew up in Strathclair, Manitoba – a town a three hour drive west of Winnipeg.
"It has such a special place in my heart, coming from a town of 130-140 people. It's not too often that two players come out of a small town and have a chance to play in the NHL like my brother and I do. I don't take that for granted. Manitobans love their hockey, and they support their players. I'm very proud to call it home."
Conor's impressive hockey IQ and well-rounded offensive game made him a prized prospect by several NHL clubs.
Geekie is also intent on eventually becoming a key part of the Coyotes lineup.
"For me, it's about getting stronger and faster. I have the size, but I've definitely taken some big strides in the gym. I took it to another level this summer and emphasized putting on good weight and working on my skating. I think part of my game has really jumped up. I'm able to hang in there with the faster guys now."
His wish list of players that he one day looks forward to competing against is long, but a few specific names came to mind.
"I'm just excited at the thought of playing against everyone," said the forward. "You always look at those top-tier guys, like Auston Matthews or Sidney Crosby, which would be amazing. But number one for me would be my brother. To be able to have that rivalry would be a lot of fun. Being able to play against one another like we did in the backyard growing up would be something I would never forget."