Underrated, But Not Underappreciated
Ray Whitney continues to be a valuable offensive element for the Coyotes after nearly 20 years in the NHL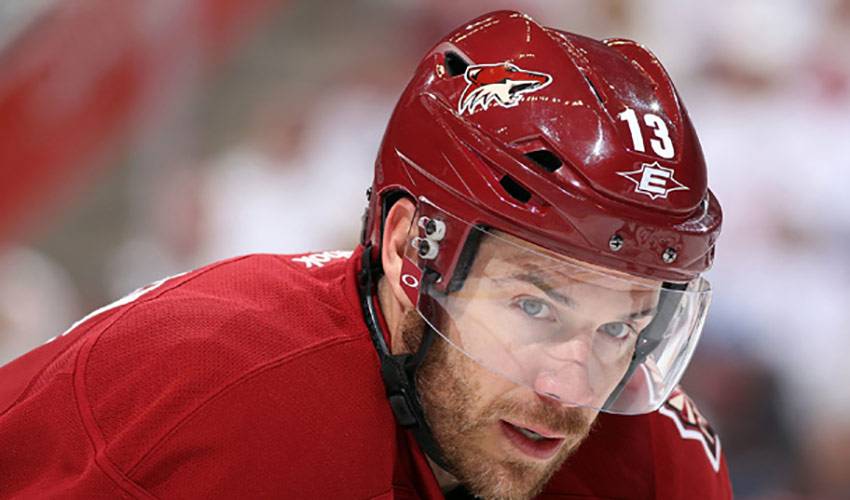 Ray Whitney, Phoenix's savvy veteran, has shown he can do plenty with the puck over his distinguished NHL career and after nearly 20 years, he's never looked better.
If he had ever listened to his critics, hung his head after being bought out of a contract (twice), being put on waivers, or wondering if he had the size to be impactful at hockey's highest level, Whitney wouldn't have lasted half as long as he has.
But now, on the cusp of reaching 1,000 points and nearly 1,200 regular season games, the Coyotes' consistent contributor is doing just fine, thank you very much.
Did the forward, known for his quick shot and quick wit, ever think he'd reach the four-digit mark in points?
"Actually, when I first started, I would have said, 'Definitely,'" quipped Whitney, San Jose's 23rd overall selection in the 1991 NHL Entry Draft. "But that's only because I had a bit of a cocky attitude about me back then. After you get bought out on two occasions and put on waivers, well, that humbles you, for sure."
His accomplishments, however, are anything but humble.
Whitney has played for seven teams during his NHL life, the San Jose Sharks (1991–92 to 1996–97), Edmonton Oilers (1997–98), Florida Panthers (1997–98 to 2000–01), Columbus Blue Jackets (2000–01 to 2002–03), Detroit Red Wings (2003–04), Carolina Hurricanes (2005-10) and the Phoenix Coyotes (2010-present.)
He entered 2011-12 having appeared in 1,147 regular season games and 87 playoff contests. The Fort Saskatchewan, Alberta native had scored 342 goals, along with 926 points.
"You start out hopeful that you'll have a long, prosperous career
," said Whitney, who inked a two-year contract with the Carolina Hurricanes in 2005, helping Carolina win their first Stanley Cup in 2005-06, along with fellow Fort Saskatchewan native
Mike Commodore
. "But, like any walk of life, you have to find a way to endure through tough moments and learn from it. That's what I've always tried to do."
Underrated is a term that has oft been associated with Whitney, one of only 31 players in NHL history to record an overtime game-winner in a seventh game in the playoffs, which he accomplished in 1995 against the Calgary Flames while with San Jose.
Yet, Whitney, who had 15 points for the Hurricanes during their championship run, is far from underappreciated or overlooked by his teammates.
How could he be?
He's already surpassed his point totals of the past two campaigns, as the Coyotes, coming off a fantastic February, are in a fight for the Pacific Division crown and a chance to secure home ice advantage in the opening round of the playoffs.
Whitney, who has already reached the 20-goal plateau, is adamant Phoenix isn't dealing with any overconfidence issues as they prepare for the regular season stretch drive.
"It's difficult to really say what it is we're feeling coming out of February," said the left winger who'll turn 40 on May 8. "We're very grounded, really. We know that in order for us to compete against other teams, we need to pull together and outwork them for 60 minutes or longer. That's been our approach each and every game. I don't think we ever forget that."
Unbeaten in regulation (11-0-1) in February, along with six, one-goal wins, giving up one or less goals in eight of the games, Phoenix showed their mettle, climbing back from multiple goal deficits on some occasions.
"There were some games where we dug ourselves into a hole early, but found a way to come back," noted Whitney, who recently reached the 60-point plateau for the ninth time in his career. "We know we can't do that and always expect to come back and get the win. I think that's why we always look at what we need to improve. We know it will take a collective effort to be successful."
The two-time (2000 and 2003) All-Star participant and player who once recorded 235 points in 71 games for Fort Saskatchewan of the Alberta Major Bantam Hockey League is up for the challenge.
"It's what drives you and what you play this game for," offered Whitney, the only remaining member of the San Jose Sharks inaugural team (1991–92) still active in the NHL. "There will be difficult moments, but hopefully, there will be many more great ones."