Hudella & Hendricks Proud to 'Defend the Blue Line'
From December 11th to 18th, NHLPA member and Washington Capitals forward Matt Hendricks joined his friend Shane Hudella to visit American troops in Bahrain, Kyrgyzstan, Afghanistan, and Germany as ambassadors of the 'Defending the Blue Line' program.
From December 11th to 18th, NHLPA member and Washington Capitals forward Matt Hendricks joined his friend Shane Hudella to visit American troops in Bahrain, Kyrgyzstan, Afghanistan, and Germany as ambassadors of the 'Defending the Blue Line' program. Founded by Hudella, the DTBL program raises funds to purchase hockey equipment and provide financial aid to children of military parents so they can play the sport.
Over the course of their week-long journey to visit troops, where they traveled with Chairman, Joint Chiefs of Staff (CJCS) and the United Service Organizations (USO), Hudella kept a journal to log notes from each day. Experience the eye-opening trip in Hudella's words below:
December 10th, 2012
Hendy and I have a late night flight out to DC for the big trip. Get to the airport and find out our flight is cancelled due to the weather. US Air re-books us on another airline. We missed our connecting flight in Chicago, and the day turns into a total gong show with us finally getting to our DC hotel around midnight. We ended up bumping into Kellie Pickler and her crew in the hotel bar, and find out her husband is from Bloomington, MN.
December 11th, 2012
We have some time during the day so we bum around DC a bit. Back at the hotel at 1500, waiting for USO pick up. USO arrives and takes us out to Andrews AFB (Air Force Base). Amazed that we drove right out to the flight line to a DV (Distinguished Visitor) lounge. Air Force 2 is parked right outside. Agents everywhere, level of security is impressive. We are issued our "secret squirrel book" that outlines the next week's adventures. The CJCS shows up and has a quick visit with everyone. Then, we're off! We're completely amazed with how awesome Air Force 2 is. We make a quick stop to refuel in Shannon, Ireland, and everyone pops into the pub to get a "real" Guinness.
December 12th, 2012
Back on the plane headed for our first stop, Bahrain. We arrive in Bahrain and the security is kicked up a few notches. We are, after all, traveling with THE highest ranking uniformed service member in the US, the CJCS. Motorcades and uber security travel with us everywhere. It's dinner time when we get there so we check into the hotel and head downstairs for a private meal with the Chairman. Gen. Dempsey "coins" everyone in the party, it's a big honor and everyone is very impressed.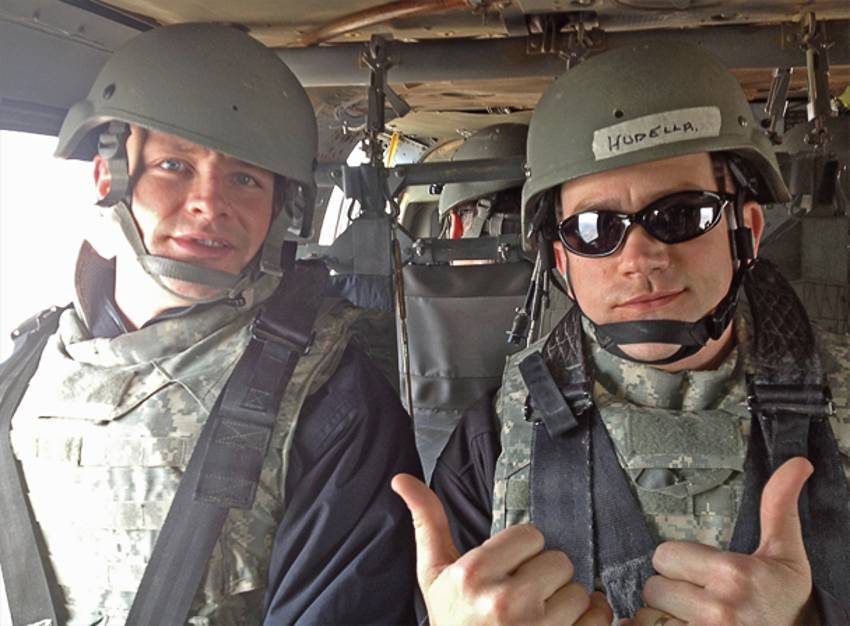 December 13th, 2012
Our group is up early and headed to the flight line. We are about to have our first big rush, and our first big troop visit. We receive some briefings and then board a COD (Carrier Onboard Delivery) to fly out to the USS Stennis, an aircraft carrier that's part of carrier strike group 3 about 30 miles off the coast of Iran. Holy Hannah we landed an airplane on a moving ship…. Talk about a sudden stop when that hook catches the wire on the carrier deck!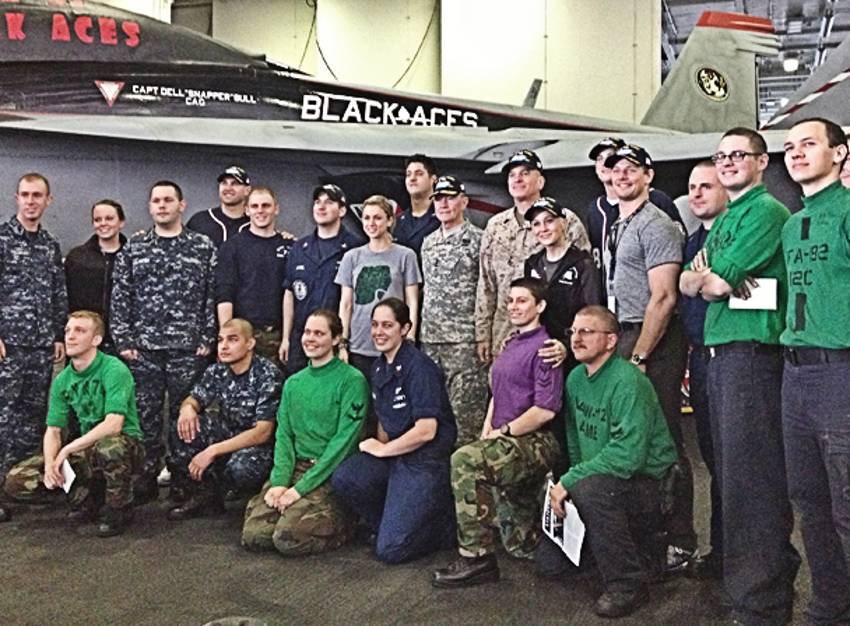 The crew was amazing, we toured the ship and then the USO talent did their first show. Even though the ship is massive, we can still feel it move a little bit, particularly at dinner time. It's mid-afternoon now and time to head back to Bahrain. We board the COD again, and they hook us up to the same catapult that throws the F18 Hornets off the bow. I can't explain what a rush it is to go from 0 to 160 mph in 2 seconds when that catapult kicks in.
Our next stop is at the Marine base. We tour some secret stuff and then meet some more troops, get a K9 demo, and then it's off to the BX (base exchange-store) for another meet and greet. Everyone is getting super tired because at this point the travel and the schedule are starting to catch up.
We finally make it back to the hotel and everyone beds down, completely exhausted but with tremendous memories from the trip so far.
December 14th, 2012
Early wake-up for our group this morning, we'll be heading to Transit Center Manas in Kyrgyzstan. Kyrg is north of Afghanistan and borders Russia. The military folks are saying there is a Russian base not far from where we will be. It's about a 5 hour flight on AF2, lots of folks still trying to catch up on rest.
We land in the afternoon at Manas and you would think we were landing in Bemidji. It's -10, snow, and looks to be a completely desolate place that people would be banished to if they did something wrong. We find out later that, in fact, this region was somewhere that people were banished to in the old Soviet Union!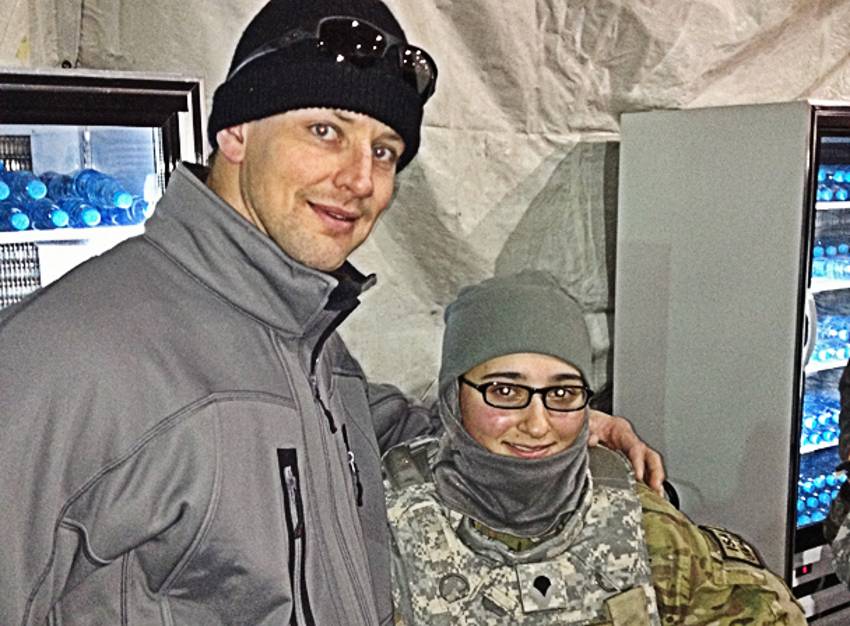 One of the first stops in Manas is a processing station where troops process either into or out of Afghanistan from. Everyone is very moved by the 9/11 painting and piece of the towers in the lounge of this Godforsaken place. We meet some warriors that are leaving shortly to go into AFG. The mixed emotions in the group are very evident: fear, pride, loneliness, toughness to name a few. They seem uplifted by the visit from our group. By now the running joke is how "thick" Hendy is! The CJCS likes to intro him as "the guy who looks like he could kick all your asses". Much like the warriors in uniform, our group is really gelling, everyone gets along, everyone likes to give each other a hard time, and it's like being in a locker room.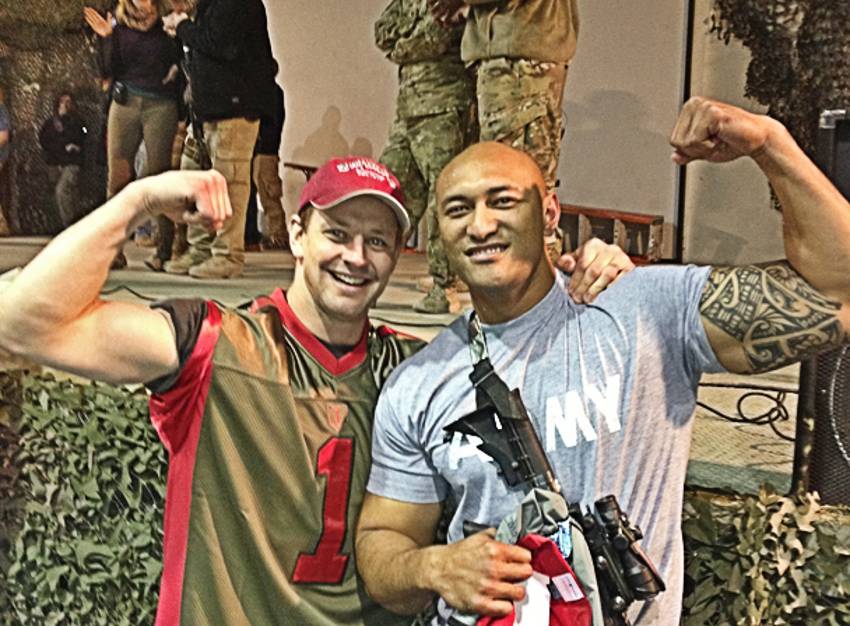 The talent does an amazing show for the troops on base. It was a very intimate setting and everyone had a blast. The highlight of the night was Hendy getting punked on stage by the other talent. At the end of the show the CJCS (Who sings extremely well) went up to sing "White Xmas" with the troops. The other talent lined up next to the stage, Hendy in front, and then said "let's go". Hendy went briskly on stage behind the chairman, but the other talent (Detwiler, Stammen, Pickler, Schlesinger) stood fast behind the curtain! I can't describe the look on Hendy's face as he's standing up there, alone behind the CJCS, with a major deer in the headlights look! The other talent was rolling on the floor in hysterics as I am trying to motion to Hendy to at least start singing! Good times.
After the show we retired to a traditional local tent and enjoyed our first Russian beer with the group. Back to our tiny hooch to try and get some rest. We are sleeping in what is about the size of an ice fishing shack.
December 15th, 2012
Another early wake-up. The grind is starting to wear on some of the folks. Everyone is excited and a little nervous to say the least. Today we are headed into Afghanistan. We will be flying today in the enormous C17 military cargo aircraft. Big enough to haul a couple of tanks in easily. Since we're going into the theatre of operations now it won't be your typical landing. Steep and quick descent to the Bagram Airfield has many ears popping.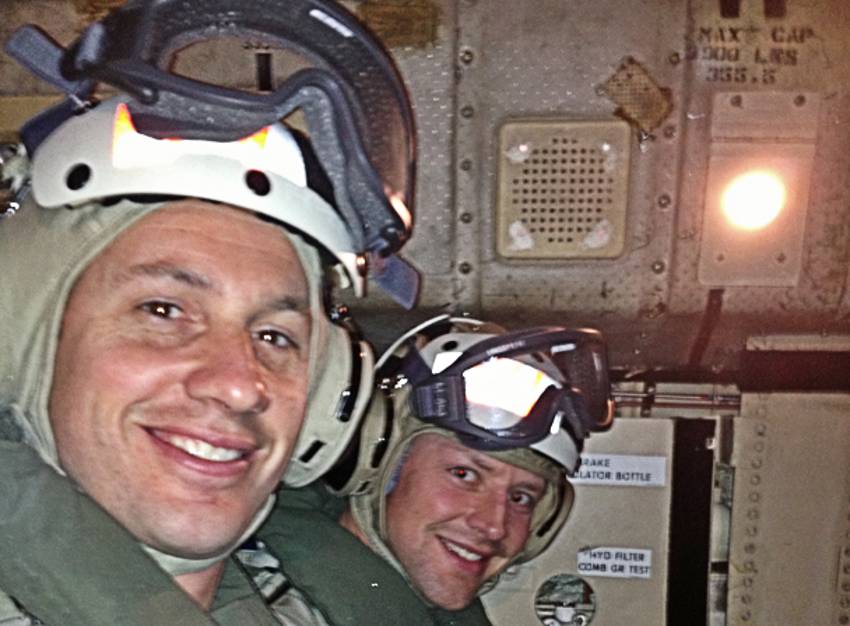 We arrived around lunchtime so we ate with the troops again. Then we toured the local hospitals, both US and Korean. We also saw the JOC (Joint Operations Center). The talent did a huge show that night, tons of service members present for it. Shane got to see a hockey buddy from MN that is serving there with MN National Guard.
It was once again a very late night but worth every minute of it.
December 16th, 2012
Into the fight! We boarded a C130 early this morning and headed south to the "bad part of town". We arrived at Kandahar Air Field and cross loaded over to UH-60 BlackHawk Helo's. Incredible beasts capable of doing incredible things on the battle field.
We departed in the BlackHawks and headed out to visit a couple FOB's (Forward Operating Bases). It's serious business at this point. Patrols from the FOBs we visited (Frontenac & Masum Ghar) had been taking casualties.
We had lunch with a 19-year-old infantry soldier who had recently gone on a mission at 0200 to collect up body parts. Our Lt who was our security guide had a fellow Lt who just lost his legs to an IED. He asked to say hello for him if we saw him in Landstuhl. Unbelievably sobering to visit these heroes living with danger in the middle of nowhere every minute of every day. The soldiers told us stories of how their FOB had come under attack, how they had to fight throwing grenades in their own compound. It was on this very same hellish FOB that we found an ice rink. Imagine that, hell on earth and right there smack dab in the middle is a rink (no ice of course).
The second FOB was on a mountainside. Pretty crazy coming into that one. Same deal with the sobering stories from our heroes far from home. The pilots gave us some demos of aircraft capabilities while we were out, and the aerial acrobatics they can do are unreal. Also the door gunner popped some rounds into a mountainside so we could experience what it's like when they need to put rounds down range. We headed back to Kandahar before dark, which relieved a lot of folks in the party I think, FOB hopping after dark could have been even more dangerous for our group.
The talent had their best show yet at Kandahar on this night. Biggest crowd so far and they were so glad we came. After the show we hopped back on the C130 and headed north to Bagram. Another long night by the time we hit the beds.
December 17th, 2012
Headed out of the fight today and off to Germany. It's a long trip from AFG to Germany. People got some sleep en route though, which was good. We landed in Stuttgart and did a visit with military kids at a gym. That was cool. The talent did their final show tonight in the Patch Barracks Gym.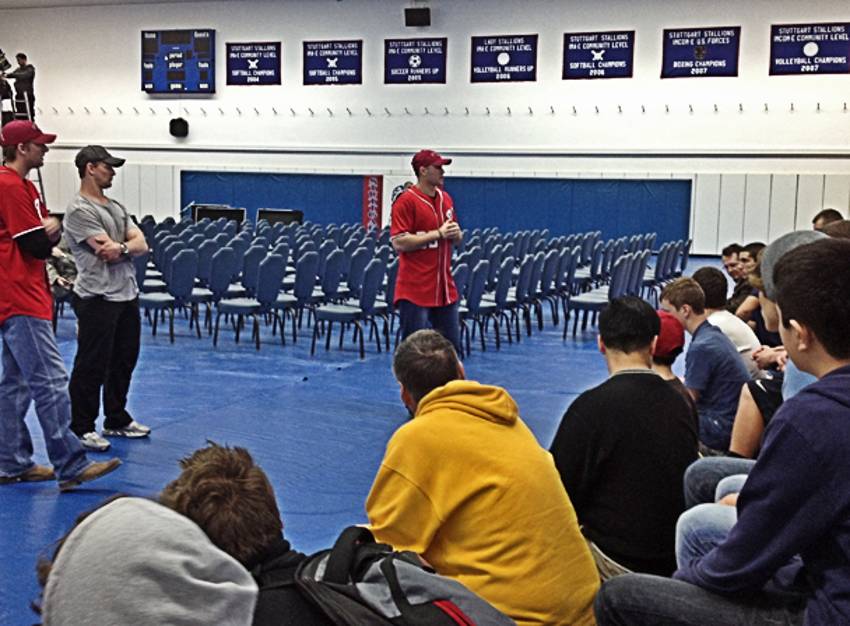 The show was a little different as entire families on active duty came, to include kids. The show was great. We had a private reception and party tonight with the CJCS. Both the Chairman and Sgt. Maj Battaglia recognized every one of us for coming along and doing what we did. It was a great night, special times, immense feelings of pride.
December 18th, 2012
Early wake-up and a 25 minute flight from Stuttgart to Ramstein AFB. Then on a bus to Landstuhl Medical Center, where the troops are medevac'd too from Afghanistan. We looked for the Lt. but didn't see him. The talent visited some wounded heroes in the hospital, then did a signing at the USO center. It was a really sobering way to end the trip. That afternoon we boarded AF2 and headed home.
Amazing trip, tough to put into words how incredible it was. Gen. Dempsey is a tremendous leader, his staff the best in the world, and the USO folks were impeccable. Most importantly though was the fact that we could put some smiles on the warriors' faces, even if it was just for a couple hours.
For more information on the 'Defending the Blue Line' charity and how you can help, visit: http://www.defendingtheblueline.org/