Your All-Star Hero: Lt. Col. Janisch
A special Christmas present for the Janisch patriarch wasn't under the tree. He didn't know what his wife, Ann, had a surprise announcement from Matt Hendricks all cued up.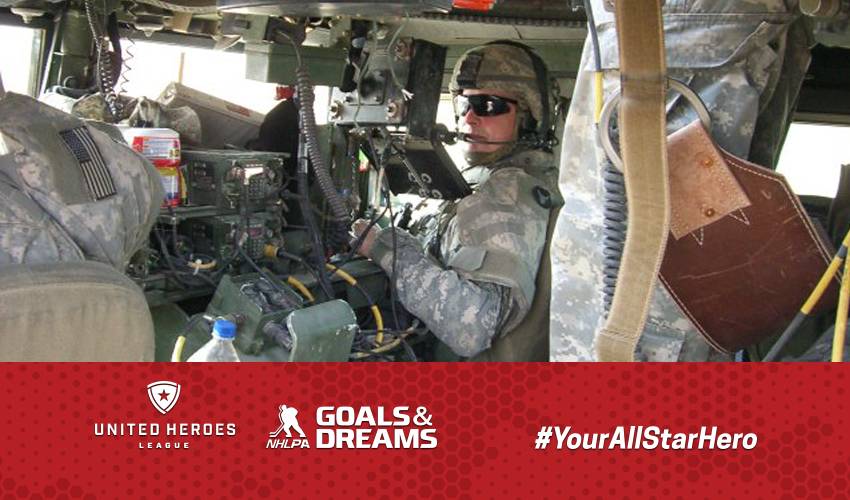 This is the second of a four-part series highlighting the NHLPA and UHL 2018-19 All-Star Hero campaign, which through the NHLPA Goals & Dreams fund, recognizes military personnel and their families for their services.
Today's story spotlights Lieutenant Colonel Darrin Janisch, who has been serving the United States Army for 31 years.
Christmas morning for the Janisches began just as many do around globe. Anticipation has reached its apex as families assemble, children earnestly unwrapping their bounty.
But a special present for the Janisch patriarch wasn't under the tree. He didn't know what his wife, Ann, had up her sleeve – or on the phone.
Cross-legged beside his daughter, Lieutenant Colonel Darrin Janisch hit play, and a familiar voice flooded the room.
"It's the center for the Minnesota Wild," said Lt. Col. Janisch. "And he sent us a message."
"Merry Christmas, Janisch family," the player ambassador and NHLPA member introduced himself. "I'm Matt Hendricks of the Minnesota Wild. Darrin, I read your incredible story that was submitted for the All-Star Hero contest."
"No," 13-year-old Lauren gasped knowingly.
"I'm very honoured to deliver the news to you on behalf of the players and the NHLPA, that you and Lauren will be attending the 2019 NHL All-Star…"
A piercing scream interjected.
"No, really!? You're joking!" Lauren's excitement drowned Hendricks' video message, amid her father's realization of what was happening, as he simply smiled at his daughter.

As one of the four service members selected as part of the All-Star Hero campaign, he'll have the opportunity to further his love for hockey at the 2019 All-Star Weekend.
Darrin Janisch began his military career as a U.S. Army Paratrooper with the 82nd Airborne Division at Fort Bragg, North Carolina. As an Infantry Paratrooper, he served with the Division during Operation Just Cause, the invasion of Panama in 1989 and during Desert Shield/Desert Storm, from 1990-1991.
His brigade was the first United States force on the ground in Kuwait in August of 1990. The group is commonly referred to as the "speed bumps" in the history books – the unit who would face the brunt of an attack if the 10 Divisions of the Iraqi Army crossed the border to invade Saudi Arabia from Kuwait.
Lt. Col. Janisch next deployed in 2001 as a new Platoon Leader to the United States Central Command in support of what would become known as Operation Enduring Freedom. He then served as an Infantry Company Commander during a 22-month deployment – 16 months on the ground in Iraq based out of Al Asad Airbase in the volatile Al Anbar Governorate in Western Iraq. His unit's stay was extended in the country due to the "Surge."
During that time, Janisch survived three IED (improvised explosive device) attacks on his vehicle as well as several more close-range ambushes – within 50 metres of his command element.
Upon his return to the United States, he was diagnosed with a Traumatic Brain Injury and transitional issues. Janisch spent almost a year as an outpatient retraining his brain and to regain his balance.
His commitment to military unwavering, he redeployed in 2011 with a heavy brigade combat team during Operation New Dawn to assist in the withdrawal of personnel and equipment from Iraq. December 17, 2011, he was also on hand when the last combat vehicle to cross the border from Iraq into Kuwait.
In 2012, he redeployed and continues to serve the Army as a member of the Minnesota Army National Guard.
An avid hockey fan, a six-year-old Darrin started playing the game, and continued throughout his youth – part of high school, college and Army teams. He continues to play the game today and credits it with being the one thing in his life that has remained the same over the years, an element of consistency that has helped him through multiple transitions back from combat.
Lt. Col. Janisch, who lives in Savage, Minnesota, currently runs an annual hockey tournament for military teams to ensure veterans who play hockey have a venue to gather, share a love of the game and compete, all while having fun and reconnecting with fellow service members.
---
You can follow Lt. Col. Janisch's story and 2019 NHL All-Star experience on social media by following @NHLPA on Twitter or Instagram, and tracking #YourAllStarHero.