Primary role on the ice, supporting role on the links
James Wisniewski took his love for golf to the next level, caddying for friend and PGA golfer Jason Day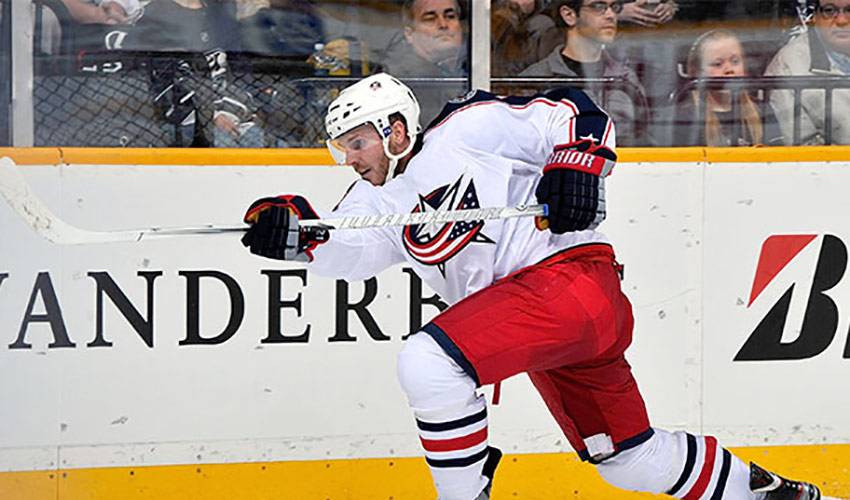 Whether he's on skates or on the links, success is par for the course for James Wisniewski.
Best known for patrolling the bluelines for the Columbus Blue Jackets, Wisniewski recently added a new sports experience to his resume, more specifically, as caddy to PGA golfer Jason Day, during a practice round for The Memorial Tournament taking place in Dublin, Ohio.
The event, hosted by golf legend Jack Nicklaus, draws thousands of spectators annually to watch many of the games top stars, including Tiger Woods, Rory McIlroy, Luke Donald and others.
Wisniewski, who met Day during the NHL lockout, quickly became friends with the Australian-born golfer, eventually leading to an offer that the defenceman just couldn't refuse.
"It was unbelievably cool," said Wisniewski, an avid golfer himself. "To be inside the ropes, to have a chance to see the game in such a unique way, it was unbelievable."
And a real eye-opener, too.
"Jason's regular caddy, Col (Swatton), has these notes that he carries," recalled Wisniewski, who along with Day, are both members at Muirfield Village Golf Club and often play a round together. "There is so much information on them. It's quite daunting at first. These notes take into consideration wind conditions, elevation changes, breaks on the green and a ton more calculations. There's also a range finder Col uses to help determine yardages."
Wisniewski found out early on he wasn't simply there to tote around Day's clubs for the nine holes.
"On the first hole, I could see he was clearly relying on me," he recalled. "He would ask questions. 'What do you think we should do with this putt?' I gave him my thoughts and he agreed with me."
The end result?
"He birdied the first hole," Wisniewski proudly noted. "I became more comfortable as we went along. There was one point, just before he was going to tee off and the wind switched. I let Jason know and he said he felt it, too. He switched clubs and ended up placing it about 20 feet from the hole."
While there's no chance Wisniewski will consider a career change right now, it was definitely something he'll covet for a long time. He even earned praise from Day, who had two consecutive second place finishes at the 2011 Masters and the 2011 U.S. Open.
"The players and the caddies have the game down to a science," Wisniewski offered. "It was neat to see the game from that viewpoint.
"I love the sport because it's so different than hockey," he continued. "Hockey is very reactionary. In golf, when a round can sometimes take 4 ½ to 5 hours, you have all this time to stew over a shot. I can honestly say I learned a lot more about golf."
The only negative? He wished he wasn't caddying at this point in the hockey season.
"A lot of the players love golf, but I'd rather be on the ice playing for the Stanley Cup."