NHLPA and Verizon Launch New Video Series
NHL Players the focus of this new behind the scenes/lifestyle video series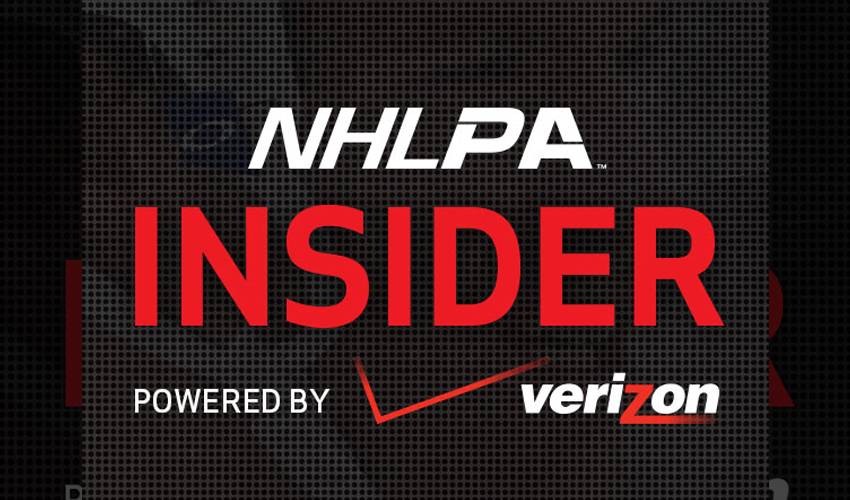 NHLPA and Verizon Launch New Video Series: NHLPA Insider Powered by Verizon
…NHL Players the focus of this behind the scenes/lifestyle video series
TORONTO (February 25, 2014) – Whether it's off the ice, on the road, out and about or relaxing at home with family and friends, NHL players are giving fans an inside, behind-the-scenes look at their lives as professional hockey players. The National Hockey League Players' Association (NHLPA), in partnership with Verizon, has launched the video series NHLPA Insider Powered by Verizon.
The new series features footage recorded exclusively by NHLPA members taking part in this new partnership. Using tablets, and filming in high-definition format, NHLPA players Matt Beleskey (Anaheim Ducks), Dan Cleary (Detroit Red Wings) Tanner Glass (Pittsburgh Penguins), Scott Hartnell (Philadelphia Flyers), Zenon Konopka (Buffalo Sabres), Matt Martin (New York Islanders), Dominic Moore (New York Rangers), Jarret Stoll (Los Angeles Kings) and James Wisniewski (Columbus Blue Jackets) will give fans a look into the life of an NHL player, both around and away from the rink.
"The Players recognize the unique aspect of giving fans a glimpse into their lives, aside from what they see on the ice," said Devin Smith, NHLPA Director of Marketing. "This partnership with Verizon will provide fans the opportunity to get to know players in a different and more personal way. We are excited to develop this connection with the fans, and thrilled to provide them with this level of access."
"NHLPA Insider Powered by Verizon is such a cool way for us as players to connect with the fans," said Matt Beleskey, Anaheim Ducks forward. "I'm excited to share some of the things we do away from the game and also to check out what the other players are filming as well."
Tanner Glass of the Pittsburgh Penguins added, "This is a great platform for the Players to showcase their lives away from the rink."
New episodes are updated throughout the week and can be found either by downloading the Verizon exclusive channel within NHL GameCenter App or visiting the NHLPA YouTube Channel.