Bickell Casting For Cup Success
Avid fisherman Bryan Bickell is happy to be off the water and still on the ice in pursuit of the ultimate catch in hockey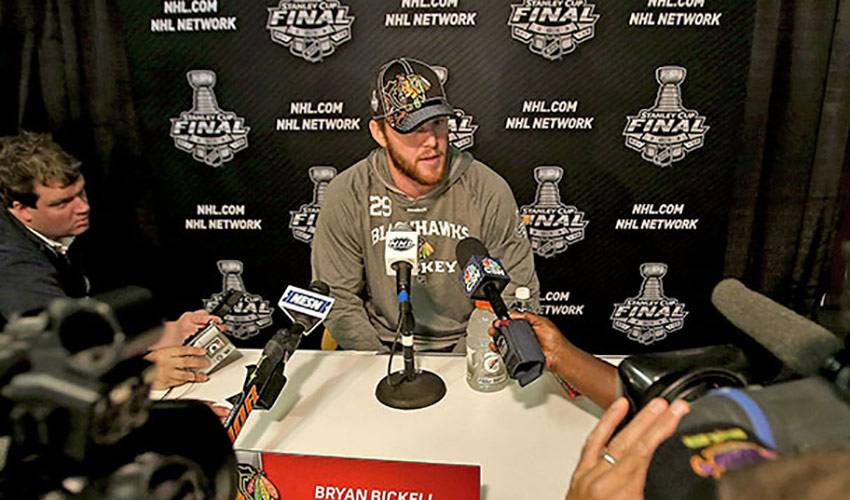 No matter where he found himself prior to the start of the 2012-13 NHL season, Bryan Bickell often thought, 'It's going to be a good year.' How right he was.
Last summer, during one of his many fishing trips (read about that by clicking here), Bickell, the player who has become a Stanley Cup Playoffs standout figured the upcoming campaign would be a memorable one for both him and his Chicago teammates.
He still had those same thoughts over the lockout when he played for Znojmo Orli in Austria. When training camp began, he felt the same enthusiasm.
Now, one step away from hoisting hockey's greatest team trophy aloft, he's putting it all in perspective.
"I was ready," said Bickell, the 41st overall pick of the Blackhawks in 2004. "I had a great summer of training and worked hard. Obviously, it was disappointing with the lockout. But going to Europe for three months and being in that competitive mode, it really helped."
Did it ever.
After nine goals and 23 points in 48 regular season games, the 6'4", 225-pounder has been a difference-maker in the playoffs. Bickell has eight goals, including two game-winners, and 13 points in 19 contests.
The numbers are far from modest, but the man behind them most certainly is.
"I guess it's going pretty well," offered Bickell. "The puck has been going in for me. Obviously, I'm happy to be contributing offensively, but winning is what it's all about."
Bickell's only too happy to contend with the countless phone and text messages that await him after each game, including the ones that come from friends and family in his hometown of Orono.
Located on the southern stretch of Highway 35/115, about 45 minutes east of Toronto, and 973 miles from Chicago, Orono is where Bickell's mom and dad still call home.
It's also where his biggest fan base, outside of the Windy City, resides.
"I'm sure there are people gathered around their TV sets watching the games," said the left-winger. "I know they're all very excited and hoping for a Cup win."
When the 'Hawks won it in 2010, Bickell didn't meet the criteria to get his name engraved on the trophy. But it didn't prevent him from bringing it back home.
"I have a lot of great memories from Orono, obviously, a lot of them around hockey," he recalled. "It was a great place to grow up."
Though he now calls Peterborough (just 40 minutes from Orono) home in the off-season, Bickell often returns to see his family and friends.
And when he's not scoring key goals in the playoffs, Bickell is by no means a man about town.
"It all comes back to fishing," he admitted. "I catch up on fishing shows, or go on the computer and check out fishing sites. That's pretty much what I do. I'm sure it drives my fiancée (Amanda) crazy, but I can't get enough of it."
But he's happy to put his hobby on hold, at least for a little longer.
"The earlier in the hockey season that you're fishing is never a good sign," said Bickell, whose wedding date is August 3. "I'd be happier doing it if I had something extra-special to celebrate."
Like reeling in a 34.5-pound silver trophy, perhaps?
"That would definitely be it," Bickell said with a laugh.