Bickell Coming Up Big For Blackhawks
Bryan Bickell is once again proving that he is the type of player suited for the playoff grind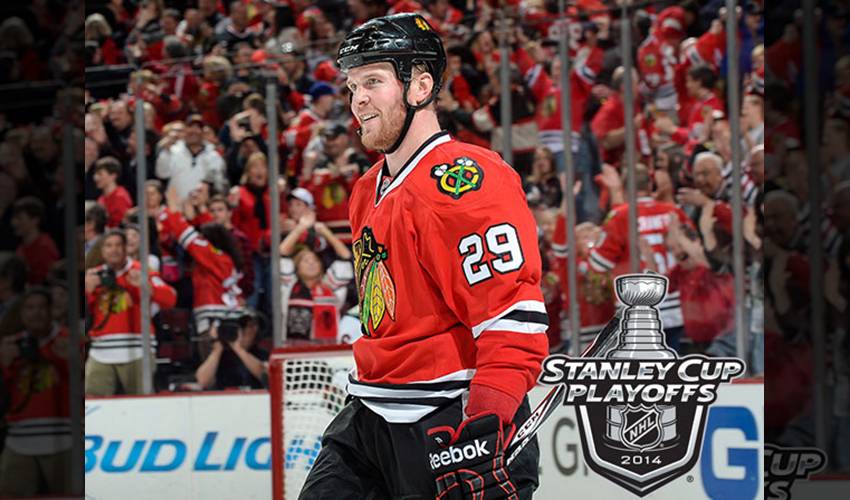 When it comes to lowering the boom, Bryan Bickell is the type of player that can hurt you in any number of ways.
There was no doubt that the first-round Western quarterfinal series between Chicago and St. Louis, two longstanding rivals, was going to be a physical, black and blue matchup.
It certainly lived up to those expectations, with the Blackhawks prevailing in a hard-hitting, six-game triumph.
And it was Bickell, Chicago's imposing 6'4", 225-pounder, who led the hit parade after round one, doling out a league-high 35 hits, averaging nearly six per game.
"I've always brought a physicality to the game," Bickell told NHLPA.com days before they took on the Minnesota Wild in the Western semifinals, a series they lead two games to one, with Game 3 slated for Friday night. "When you look at that aspect of your game, you want to use it to help your team, to provide a boost and to help open up the ice for your linemates."
The 28-year-old, who grew up a Toronto Maple Leafs fan, patterned his own game after one of the most beloved and impactful players to ever don the blue and white jersey.
"I really admired the way Wendel Clark played the game," offered Bickell, who, during his minor hockey days, once met his idol. "He wasn't the biggest guy, but he played the game that way. He could hit hard, he could provide offence and was an amazing leader. He stepped it up even more in the playoffs. Growing up, I wore his number. I did until I got to the NHL."
Bickell is no stranger to coming up big in the big games, too. In 2012-13, he contributed nine goals and 17 points in 23 post-season contests, while dishing out 85 hits.
His contributions went a long way in helping the 'Hawks hoist the Stanley Cup.
Now, Bickell is locked-in on the Wild, who got by Colorado in seven games.
"I don't alter my game based on who we are playing," offered Bickell, the 41st overall pick in 2004. "I think for any player it's about being consistent in every area of your game, working with your linemates to be effective every shift. My main goal is to build off what we accomplished in the first round."
While the intensity and compete levels ratchet up the further teams go in the playoffs, Bickell isn't concerned with how Chicago will handle the ups and downs of their current challenge.
"We are able to stay level-headed, not panic if things aren't going the way we want them to," said Bickell, who has five goals and eight points in nine playoff games in 2013-14. "We have a good system in place and each guy understands their role and what they need to contribute."
For Bickell, that comes in the form of timely scoring and punishing checks.
It's something his childhood idol would be happy to see - that No. 29 has become a big hit for the Blackhawks.