Gone To The Dogs
Bryan & Amanda Bickell are focused on breaking the stereotypes around pit bulls & helping abused kids in the process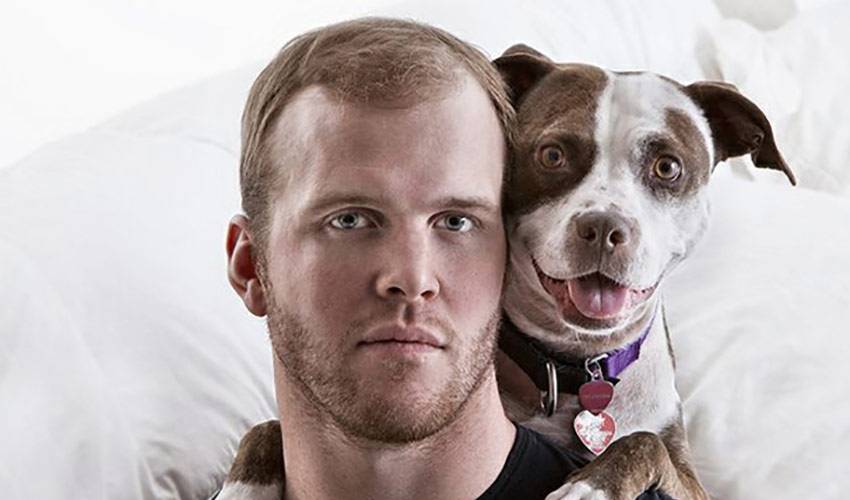 Once again, Bryan and Amanda Bickell's summer has gone to the dogs. And for that, they couldn't be more grateful.
In 2013, when the couple started the foundation that bears their names, the one whose goal is to place pit bulls in need of adoption into suitable homes and bring therapy pit bulls into the lives of abused children they wanted, more than anything, to change people's perception of the breed.
"It wasn't going to be easy, we knew that going in," said Amanda. "With pit bulls, the reaction will be a mix of both positive and negative. We wanted to stop the stereotyping of these dogs, and hopefully in doing that, change people's views of them."
During the NHL off-seasons, Bryan and Amanda can be found hosting various pit bull health clinics, something they recently did in Waukegan, Wisconsin.
"Unfortunately, we've seen a lot of pit bull owners that have treated the dogs poorly," said Bryan, who celebrated another Stanley Cup victory with the Chicago Blackhawks in 2015. "We're trying to educate the public that the dogs aren't the issue, it's the people that have mistreated them that is the problem."
At the health clinics, it's not uncommon for dogs to show up to with cable cords as collars/leashes, chains around their neck, or in some instances, shoelaces as a leash. Through the Chicago Loves "Pits" program, the foundation provides owners, free of charge, with the proper and necessary equipment for their dogs.
The Bickells also work closely with the dogs who have been rescued or adopted, bringing together certified therapy pit bulls together with children who are victims of abuse through their 'Paws for Strength' program.
Bryan and Amanda also assist children who have been victims of bullying, teaching kindness and compassion through interaction with pit bulls as part of their 'Bullies Against Bullying' program.
"It really can be a tear jerker when it comes to working with the children," said Amanda, whose mother was abused when she was a child.
Said Bryan, "When you see the interaction between the kids and the dogs, the smiles on the children's faces, it puts a big smile on our faces, too."
One of the foundation's biggest draws is the 'Bick's Pits' calendar, which launched in 2014.
The couple came up with the idea of showcasing Bryan's Blackhawks' teammates and adoptable pit bulls in a variety of fun photo shoots.
"The response has been unbelievable," said Amanda. "It's become so big. We get orders from literally all over the world. We've had orders from as far away as China. It's crazy how it's taken off, but it's been amazing how people have taken to it."
Another initiative, the 'Stanley Pups,' six dogs (including one named Bickell) who were rescued after Chicago won the 2015 Stanley Cup in six games, has also had similar fanfare.
"We have a lot of goals, including bringing what we do to Ontario," said Amanda, of the Canadian province that has had a ban on pit bulls since 2005. "We want people to stop pointing fingers at the dogs. We know it's a tough road ahead, but we love these animals. If we can change one person's opinion or one hundred, we'll do what we can in trying to make that happen."
For more on their cause, visit their website www.bickellfoundation.org or find them on Facebook at http://www.facebook.com/ChicagoLovesPits.