Record Breaking Rookie
Nathan MacKinnon is making an impact in Colorado & recently broke an NHL rookie record held by Wayne Gretzky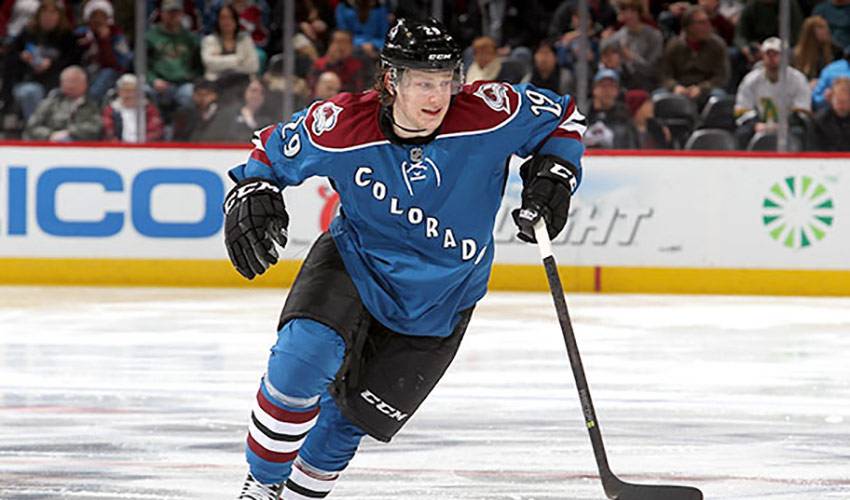 When it came to his recent road performance against an Original Six rival, it's no stretch to say Nathan MacKinnon came up with a 'great one'.
MacKinnon, the first overall selection from the 2013 NHL Entry Draft, provided more proof as to why he's one of the best young talents in hockey, assisting on the overtime winner, as the Avalanche beat the Red Wings 2-1 at Joe Louis Arena in Detroit.
Aside from the hard-fought, extra-frame victory for the Avs, it was also a night the young forward won't soon forget on a personal level.
The assist extended MacKinnon's point streak to 13 games and broke Wayne Gretzky's record for longest point streak by an 18-year-old, a standard the Hall of Famer set in the 1979-80 campaign.
It's been a dream start for MacKinnon, who made his NHL debut on October 2, 2013, becoming the youngest player to skate in a regular season game for the Avalanche franchise. He contributed two assists in a 6-1 Colorado win. Ten days later, he scored his first NHL goal against the Washington Capitals.
And it's only fitting he's making an impact on the team he used to root for growing up.
"I was just a little kid, and I idolized Joe Sakic," said MacKinnon, of the former Colorado superstar and Hall of Famer. "I'm not going to lie, but I switched to Pittsburgh. I hopped on that bandwagon. But, for the first part of my life, I was an Avs fan and I guess it's a little ironic that now I am here, and everything is working out so far and hopefully, it will continue that way."
The Halifax, Nova Scotia native, who played his junior hockey for the hometown Mooseheads of the Quebec Major Junior Hockey League, leads all rookies with 22 goals, including five game-winning markers, and 29 assists (in 64 games).
He's hoping his contributions go a long way in helping Colorado, who find themselves solidly positioned to earn a playoff spot, and hopefully make an impact once the post-season begins.
"I want to try to elevate it as much as I can," said MacKinnon, who was named Most Valuable Player of the 2013 Memorial Cup tournament. "There are so many talented players, and it's flattering that they wanted me to come help. It's to win a Stanley Cup as soon as we can."
That goal seems well within reason, especially with a record-breaking rookie like MacKinnon in the fold.