Backlund Has A Passion For Giving Back
Mikael Backlund was recently honoured with the Ralph T. Scurfield Award for his charity work in the Calgary community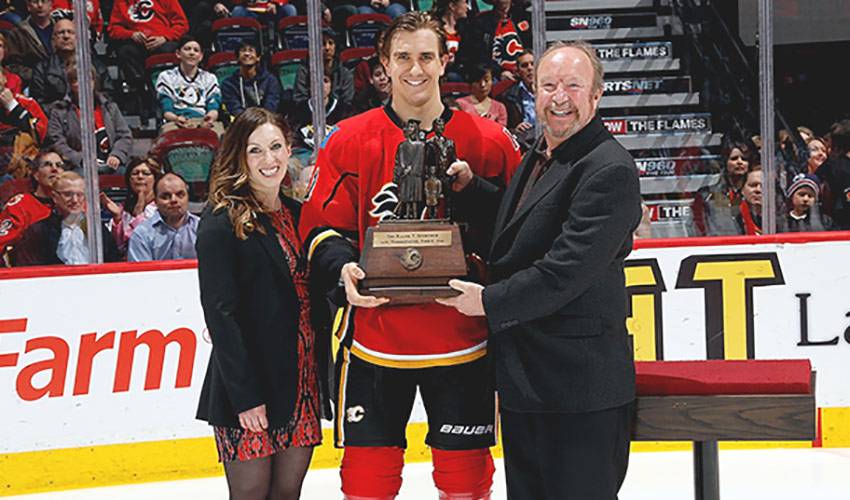 Hockey players might not always get the results they hope for on the ice, but that doesn't stop them from doing a world of good. Mikael Backlund is a perfect example.
He's played nearly 250 career NHL games, dating back to his first one in 2008-09, all with the Calgary Flames. And while he's yet to skate in a big-league playoff contest, Backlund isn't the type to complain.
Rather, the native of Vasteras, Sweden, is one of the most unselfish athletes you'll find, someone who steps up without being asked to, a man who is committed to giving back to others.
On March 26, Backlund was given the Ralph T. Scurfield Award, in recognition of his contributions to the Calgary community.
"It means a lot to me," said the 25-year-old. "I feel very honoured."
Whether it's visiting sick kids in the hospital, attending autograph functions or playing a game of road hockey with children – you name it, Backlund has likely done it.
There's no deep meaning for why he's so passionate about giving back. It's something he simply wants to do.
Certain undertakings, however, particularly one he was part of last summer in his native Sweden, hit home on a personal level.
Barncancerfonden is an organization that raises money and awareness for cancer research and treatment for children in Sweden.
In 2013, Backlund joined Barncancerfonden's Ride of Hope, a bicycle event that takes place over nine days and stretches 1,250 kilometres throughout the country.
The reason he wanted to participate?
"I was in Calgary, but went home for two weeks when I heard my friend was getting really sick from battling cancer," said Backlund, in reference to Victor Engstrom. "While I was home, I started a fundraiser to help bring in money for kids dealing with cancer, as well as in support of my friend.
"About two hours after I released the news of the fundraiser, he passed away," continued Backlund. "But, I wanted to do the ride for him and for the kids. It was tough because I had known him almost my whole life and he died at a young age."
The Calgary forward often thinks of Engstrom, who passed away at the age of 24, on his visits to local hospitals during the hockey season.
"I have a very loving family and fortunately, I have my health, too," offered Backlund. "It's very tough to go into a hospital and see children struggling and know how hard it is on their families. But, for me, it's important for them to know people care."
It's obvious that Backlund does.
He's the spokesperson for Kids Cancer Care Foundation, and donates $150 per point to their cause. He's also a spokesperson for the Special Olympics.
"I hate seeing kids struggling with serious illness, or having to deal with things they shouldn't have to," said Backlund. "The strange part about it is that a lot of the times you meet these kids, they are smiling. That puts a smile on my face. Getting to know them means a lot to me."
There's no doubt they would say the same of Mikael Backlund.