Calgary Flames sign Backlund to contract extension, name him captain
Backlund has signed a two-year, US$9-million extension with the club, and will be the 21st player to wear the "C" in franchise history.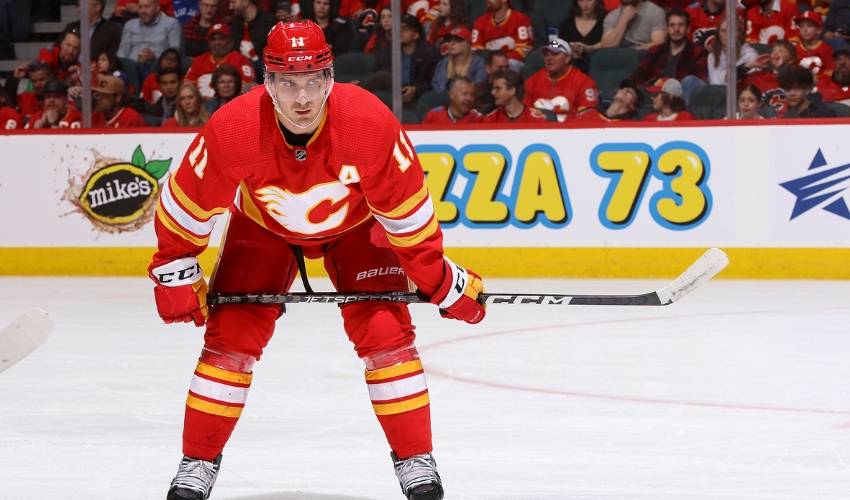 CALGARY — The Calgary Flames didn't have a captain last season, but to many players, Mikael Backlund was the de facto leader of the team.
Now, he's the captain in earnest and is looking forward to leading the Flames back to the playoffs after a disappointing season.
The Flames announced Wednesday that Backlund has signed a two-year, US$9-million extension with the club, and will be the 21st player to wear the "C" in franchise history.
"Just a very exciting time and I'm proud to wear it," Backlund said at a news conference Wednesday. "But it's hard to really take it in, and I think I'll have to take a few days and maybe wear it in a game before I really realize it's there."
The deal carries an annual average value of US$4.5 million. 
Backlund would have become an unrestricted free agent next summer without an extension. 
The 34-year-old Swede posted a career year in 2022-23 with 56 points (19 goals, 37 assists) in 82 games.
"The reason he's still here and he's playing at a high level, had the best year of his career last year was because he does everything right, off the ice, on the ice, to take care of himself," Flames general manager Craig Conroy said.
Backlund has played his entire 908-game NHL career in Calgary and is the longest tenured active skater on the Flames. He made his Flames debut Jan. 8, 2009.
During that time he played under two longtime influential captains in Jarome Iginla and Mark Giordano. He says their leadership style left an impression on him.
"Jarome and Gio weren't the guys that were talking for the full intermission," Backlund said. "But when there was something needed to be said, they said it.
"Everyone respected them so much, and when they talked everyone was listening and we were quiet. So that's something I'm going to gain here with my teammates."
Conroy said Backlund has already shown he's not afraid to ask more of his teammates.
"He's having hard conversations with players," Conroy said. "He's challenging players. That's not always easy. 
"I mean, nobody wants to. You're friends. You don't want to have those hard conversations. But I did hear Backs was having them. And the one good thing is he's not doing it in front of everybody. He was taking them aside and saying, 'hey, that's not good enough if we're going to do well here.'"
The Flames missed the playoffs by two points in 2022-23.
Backlund said he was frustrated after the campaign, and was disappointed to see general manager Brad Treliving depart the team, then head coach Darryl Sutter get fired.
But he says Conroy and new head coach Ryan Huska have brought renewed energy to the club.
"Everyone's always excited for a new season and just the way the way we played last year, and the way things went, everyone's excited come in this year and have a little chip on their shoulder too," he said. "So I think that alone just brings a lot of energy."
"It was so great to see everyone and be around them and the new coaching staff and get, you know, be around the whole organization again," he added. "Just felt really special and I was really excited about it and felt like this is where we belong."
Backlund was asked if his decision to sign an extension might influence defenceman Noah Hanifin and forward Elias Lindholm to do the same.
The two players are entering the final seasons of their contracts.
"We'll see," Backlund said. "Talking to them, they're excited for me and hopefully it'll make them stay. 
"They're great players, but really good guys off the ice. Great teammates. So I really hope they lean toward staying. "
Backlund is the first player to wear the "C" in Calgary since Giordano was taken in the 2021 expansion draft by the Seattle Kraken.
This report by The Canadian Press was first published Sept. 27, 2023.
The Canadian Press