Making Goals & Dreams Come True
Brandon Bollig gives back to his hometown of St. Louis through the NHLPA's Goals & Dreams program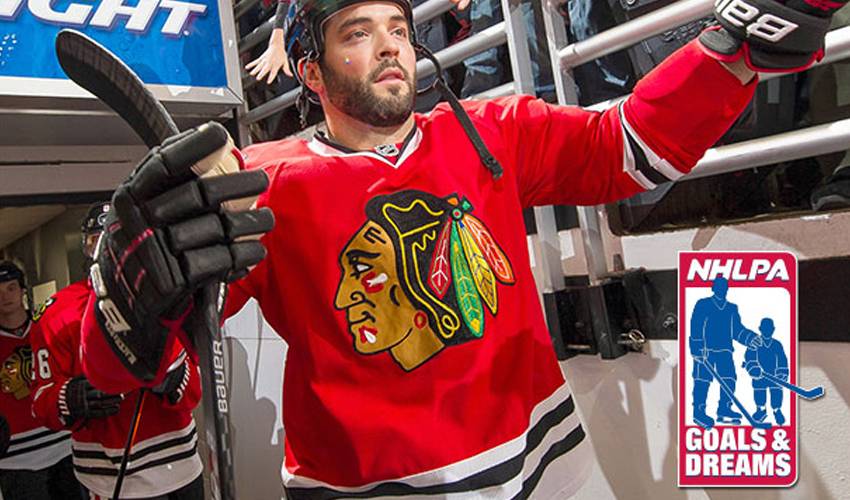 Brandon Bollig has already had some of his biggest childhood hockey dreams come true. Recently, the Stanley Cup winner, through the NHLPA's Goals & Dreams fund, helped members of the St. Peters Spirit Hockey Club realize theirs.
Bollig, a former member of the St. Louis-area Spirit, was humbled by the news that St. Peters will receive a donation of 50 sets of new equipment.
Through St. Peters' Learn to Skate and Try Hockey for Free days, almost 200 kids are introduced to the game each year.
"To be part of something that will help kids enjoy such a great sport gives you a really good feeling," said Bollig, the first St. Louis-born player to see his name on the Cup when the Chicago Blackhawks won in 2013. "I think it's awesome on the NHLPA's part to have a program like this. We were all that kid at one time, wanting to play that game we love."
Bollig has certainly not forgotten his hockey roots.
The 27-year-old brought the Cup back to his home state, a visit that included stops at St. Louis Children's Hospital, the Arch and Busch Stadium. The trip ended at St. Peters Rec Plex, where Bollig's hockey career started.
"Whether it's this with Goals & Dreams, or sharing the Cup with your community, seeing people happy, those that have supported you over the years, is something you always appreciate," said Bollig. "I aspired to play in the NHL one day and I was fortunate enough to see that to happen. You want these kids to have those same goals."
Traded to Calgary on June 28, Bollig is embracing the opportunity to contribute to a Flames squad looking for playoff success.
"I've had talks with the organization about the role I'm expected to play, and I've also heard from some of the guys on the team," said the undrafted winger. "A couple of guys reached out to me. Brian McGrattan went on Twitter and welcomed me to Calgary."
The two have never met outside of the rink, but they did drop the gloves in a spirited tilt last November. It ended with Bollig giving his new teammate a playful pat on the head.
"That's the hockey way," offered Bollig. "Guys you go up against, that's in the past. Everyone has been great. They wanted to know if I have any questions, if I need anything, to let them know. It's not surprising at all."
Bollig's most difficult challenge in changing jerseys might be in convincing others to switch allegiances to his new club.
"People have been great on social media," he said. "I'm trying, but 'Hawks fans will still remain 'Hawks fans. But, that doesn't mean they don't cheer for you individually. It's been nice to have that reaction."
Bollig will face his old team on October 15, when Chicago hosts Calgary at the United Center.
*
In 1999, the NHLPA launched the Goals & Dreams fund as a way for the players to give something back to the game they love. The players' program has donated full sets of hockey equipment that has benefitted more than 60,000 economically challenged children in 32 countries and assisted with upgrades and the building of hundreds of arenas world-wide. To date, Goals & Dreams has donated more than $22-million to grassroots hockey programs around the world making it the largest program of its kind.
Click here for more on Goals & Dreams.