Bollig & Hawks Prepared In Every Way
Brandon Bollig & his teammates know that in order to be successful in the Stanley Cup playoffs you have to be ready for anything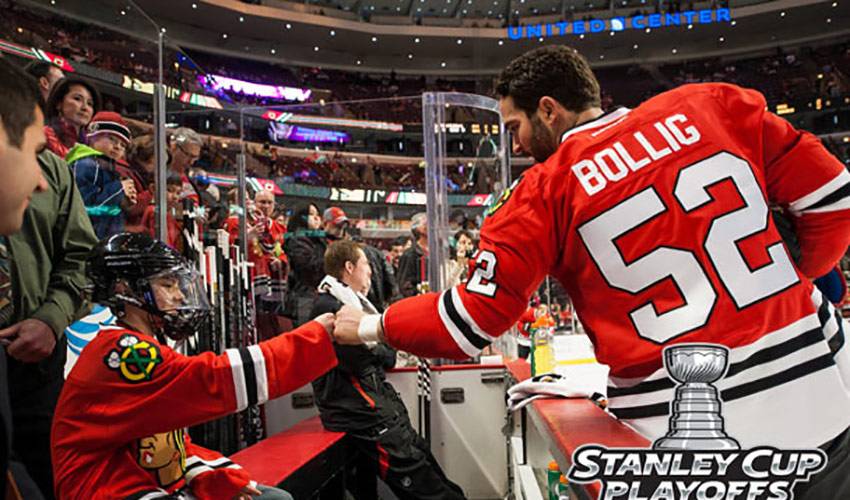 Shortly after Brandon Bollig and the Chicago Blackhawks punched their ticket to the Western Conference final, the power-forward netted the right answer when it came to a little NHL trivia.
When asked which player scored his first big-league goal two years and one month ago, in a playoff game against the Phoenix Coyotes, Bollig had an inclination as to what the answer might be.
"Well, if you're asking me, and I think I've got it right, I'm guessing that would be me," said the 27-year-old.
That tally, on April 14, 2012, came just over a year before Bollig would become the first St. Louis-born player to win the Stanley Cup.
"I was just freshly called up (from Rockford, Chicago's American Hockey League affiliate)," recalled Bollig, of his milestone goal. "It was an exciting opportunity, one you hope for, and one you never forget."
He's appeared in 18 post-season games to date, his most recent action coming against the Minnesota Wild in a Western Conference semifinal that saw the 'Hawks take the series in six games.
There have been plenty of lessons learned along the way for Bollig, including one in particular he often reminds himself of.
"Anything can happen once the playoffs start," said the undrafted left-winger, who played two seasons at St. Lawrence University. "You see that every year and it's something you don't forget. The more experience you have, the more you understand it. A lot of games come down to the wire and you have to be prepared for that in every way."
Still, tight games are never easy on the nerves.
"I don't think I'd refer to it as being nervous," he said. "It's an uneasy feeling, knowing that on some occasions the game could go either way. But, that's what the playoffs can be."
Chicago will have to wait until Friday night to find out if they play Anaheim or Los Angeles next, with the winner earning a berth in the Stanley Cup final.
Bollig will be watching.
"I'll definitely be tuning in to find out what happens," he noted. "We're all hockey fans and this is the best time of the year to be watching it."
It's even better if you are still playing.
"Absolutely," said Bollig. "There was a lot of excitement when we won in overtime (in Game 6, against Minnesota), and everyone was extremely happy on the flight back home. It's okay to celebrate, but it doesn't take long to move on and focus on what lies ahead. You look at what you can do to help make a difference."
It's anything but a trivial pursuit for Chicago's #52.