Bollig Won't Drop His Dream
Hoisting the Stanley Cup overhead is every player's dream & Brandon Bollig wasn't going to be the guy to drop it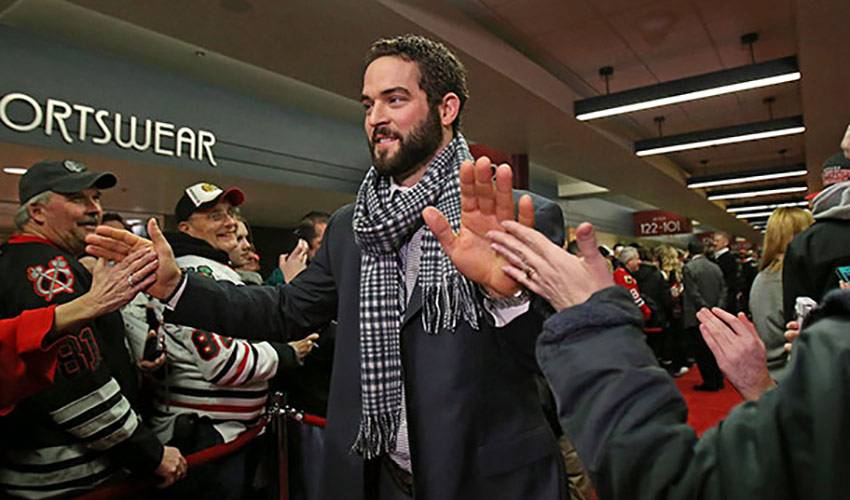 In the seconds leading up to the moment he hoisted the Stanley Cup above his head, Brandon Bollig had plenty of thoughts rolling through his mind. The most important one: "I just didn't want to be that guy who dropped it."
After the buzzer had sounded at the conclusion of game six in the 2013 Stanley Cup Final, Bollig and his Chicago teammates began the annual rite of holding hockey's most treasured team trophy aloft. When it was his turn, the 26-year-old was equal parts panic and pumped.
"There you are, living the dream of any hockey player, and all of the sudden, the reality of it hit me," said Bollig, who appeared in five playoff games with the Blackhawks. "I wanted to prepare myself when they handed it to me, so I wiped the sweat from my hands on my jersey. I knew how much it weighed, but it was pretty heavy."
Not heavy enough, however, to prevent Bollig, the first St. Louis-born player to win the Cup, from completing the task without incident.
"When you have the time to let everything sink in, it's really all still unbelievable," offered Bollig. "When I was young, my parents biggest hope was that I'd get a college scholarship and I was fortunate enough for that to happen. After that, the hope was that I would sign an NHL contract and that came to be. But to win a Stanley Cup, that is just amazing."
Bollig had plenty of familiar faces in the crowd at TD Garden in Boston when Chicago staged a late-game comeback to win the championship by a score of 3-2.
"To share that experience with the people closest to you was great," said the undrafted forward, made his NHL debut on February 29, 2012. "After it was over, there were hundreds of texts and messages from my friends and relatives. You don't tire of hearing and seeing that excitement."
On July 31, Bollig took to Twitter to announce he'll bring the storied trophy to Missouri, namely, the St. Peters Rec-Plex.
He didn't need to be reminded the Blues have yet to win the Cup. He did, however, note that he received a little love from some St. Louis players and supporters.
"I did think about that," he said. "But a lot of fans from the area and a few guys from the team took to Twitter and gave the idea a thumbs-up. I just want people to have that chance to see it. I can't wait."
Once cut by his midget AAA team, Bollig remained undaunted, hoping he'd one day have the chance to skate against the best players on the planet.
And now, mission accomplished, he returns home a Stanley Cup champion. It doesn't get much better than that.
"I couldn't imagine anything better," he said. "It's the greatest feeling in the world."
This time, though, he won't worry about dropping the nearly 35-pound trophy.
"No way," he quipped. "I'm good. I've got it."