G&D 15: Deep Roots In Minnesota
Goals & Dreams 15th Anniversary Tour Begins in Minnesota Where The Program Has Made A Strong Impact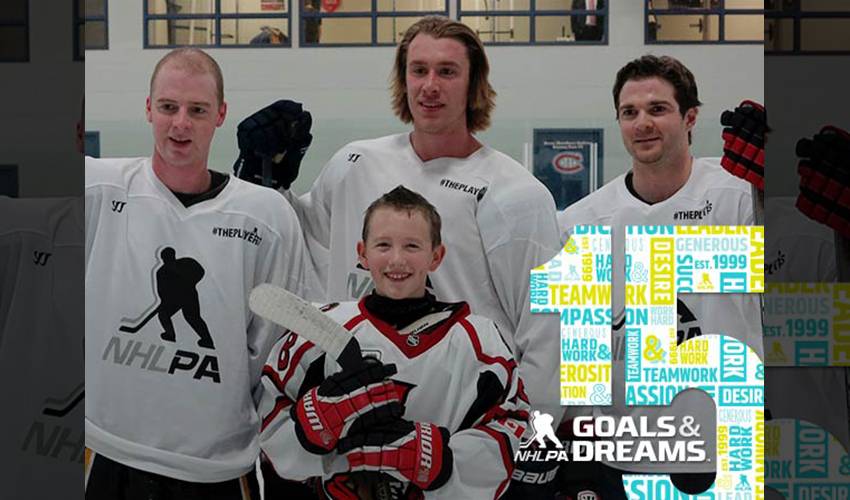 It's perhaps fitting that the first stop on the NHLPA's Goals & Dreams (G&D) fund 15th anniversary tour begins in Minnesota, a place known as the State of Hockey, where the sport has deep roots and a dedicated following.
Consider it Hockey Day in Hastings on November 18, the city where a celebration of the game will be headlined by two major events: a team building boot camp with NHL players captaining groups who'll face off in military-type physical challenges, and later on, the Goals & Dreams Cup between the two teams at the local arena.
G&D, whose grassroots hockey assistance program, the largest of its kind in the world, has contributed over $22 million to grassroots hockey programs and related causes giving more than 70,000 children the opportunity to play hockey in 32 countries since being established in 1999, has developed strong ties to a pair of Minnesota-based organizations, namely, Defending The Blue Line (DTBL) and Hastings Minor Hockey.
When Shane Hudella, the driving force behind DTBL, speaks of the impact that both G&D and NHL players have had on the organization he founded in 2009, the he does so with great passion and pride.
The pair has worked together on several initiatives, including Tuesday's boot camp. It's an ideal association for DTBL, whose goal is in ensuring children of military members are afforded every opportunity to play hockey.
In 2013, G&D donated 50 sets of brand new hockey equipment to the military youth supported by DTBL. Over the last four years, G&D has donated 325 complete sets of gear to their campaigns, including 25 for this event.
"We owe a huge debt of gratitude to the players and the NHLPA Goals & Dreams fund (whose program will have given more than 70,000 children worldwide the opportunity to play hockey, by the end of this year) for making our mission possible," said the man whose 23 years of military leadership include deployment in Operation Desert Storm. "The thing that separates hockey players from a lot of other athletes, is that they would say the same thing about us without any hesitation."
DTBL counts several players as supporters. Brent Burns, Ryan Suter, Patrice Bergeron, Charlie Coyle, David Backes, James van Riemsdyk, Zach Parise, Alex Goligoski, Eric Boulton, Clayton Stoner, Chris Butler, Matt Martin, Paul Martin, Matt Hendricks and others have all lent their time and efforts to the cause.
"DTBL is a great charity and I support everything they do," said Minnesota Wild forward Coyle. "I'm happy to be part of it and I know the other guys are as well. It is awesome to see how the foundation continues to grow and the new players that hop on board to support the cause."
Coyle is appreciative of the impact G&D continues to have.
"I think it's pretty cool for the NHLPA to donate equipment to DTBL," he said. "It shows how much they support the charity and how much they want to be involved."
What is at the root of the relationship between DTBL and G&D?
"Respect," said Hudella, president and founder of DTBL. "The players truly do respect the sacrifices that our men and women in uniform, as well as their families, make on a daily basis. They are sincere in their willingness to help in any way that they can, and genuine in their heartfelt respect and gratitude for those that choose to defend our freedom."
Joe Harris, President of Hastings Hockey Association, found himself at a loss for words when 25 boxes of hockey equipment, courtesy of G&D, recently arrived at the local arena.
"It was as though Santa Claus was here," laughed Harris. "It really took me aback, to be honest. This is a very-hard working city, but there are people who have to take on two jobs just to make ends meet. This is a wonderful gift and it will go where it matters most, to the people who want to give their kids the opportunity to play the game we all love."
New York Rangers alternate captain and Hastings native Derek Stepan, was the one who reached out to G&D.
"I was fortunate enough to have equipment available to me when I was growing up," Stepan told NHLPA.com. "But, in some cases, kids don't. To know that G&D will be giving kids a chance to play hockey is fantastic. Hastings is a great town and a town that loves hockey. I wasn't the best player growing up, but I've always loved the game. I remember biking down to the rink with my buddies and getting out on the ice. I have nothing but great memories of playing hockey back home. You hope that many more will have that same experience."
Harris is hardly surprised at Stepan's devotion to Hastings
"Derek and his family have deep roots here," said Harris. "He has always been part of the hockey community and the community itself. And he's never forgotten where he comes from. During the summer, he's always the first guy to stop by the rink to see the kids. He's a true rink rat."
But, not one to seek the spotlight.
"He's always been there for us," praised Harris. "He's never changed."
As for that equipment, Harris knows just how impactful it will be for the Hastings hockey scene.
"The kids who receive it will be ecstatic," he said. "When I saw the gear, all I could say at that moment was, 'Wow!' It really leaves you speechless. People love hockey here and I hope that through this event with G&D, everyone will see that hockey is alive and well in Hastings."