Hard Work Rewarded
Nick Schultz learned the value of hard work & dedication from his parents & has translated that into a solid NHL career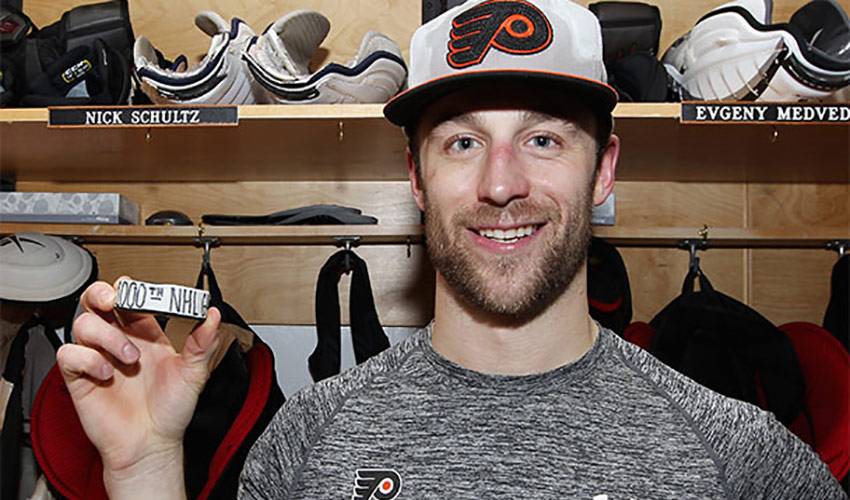 Cleaning out grain bins on his grandfather's farm taught him the value of hard work. Having the key to the local hockey rink heightened his love for hockey. Embracing the opportunity to rejuvenate his career in Philadelphia gave Nick Schultz just what he hoped for.
It didn't involve a goal, a win, or a gold medal draped around his neck, but the recent two-year contract extension he signed with the Philadelphia Flyers might very well be one of the most deeply rewarding hockey moments in a veteran defenceman's career.
"When I came here, I was given an opportunity and I was determined to make the most of it," said Schultz, who signed a one-year free agent deal with the Flyers last July. "I came at it from a pretty simple way. I was going to play hard and work hard."
It's an approach to life Schultz knows well.
Growing up in Strasbourg, Saskatchewan, a town whose population was tabbed at 752 people in 2011, he developed an appreciation for what putting in long hours at the local rink and on the farm afforded him. "I remember the times when you'd pitch in and help out at the farm," Schultz said. "You understood what went into making it a success. As for hockey, I loved watching the games on TV and I loved playing. My dad was the Zamboni driver at the local rink, so we kind of had the key to the candy store. Like every other kid that dreams of playing in the NHL, you knew you had to put in the time to be the best you could be."
He also saw, first-hand, the respect that was earned through commitment to the Strasbourg community.
"My dad and my uncle both had farming land on my grandfather's property," recalled Schultz. "They all worked very hard, never complained and took pride in what they did. My mom worked at a bank, and then went on to be mayor for two terms. It was very important for her to ensure people were well taken care of. For me and my two brothers, it definitely shaped the way we saw the world."
It's also helped him navigate his way through the ups and downs of an NHL career, one that appeared to be at a make or break point not so long ago.
Dealt from Edmonton to the Columbus Blue Jackets for a fifth-round draft pick at the 2014 trade deadline, the blueliner, who played in 743 games for the Minnesota Wild (the team that drafted him 33rd overall in 2000), has found a fit in Philly.
Averaging over 19 minutes a game, Schultz has been a steadying influence as part of the Flyers' defensive corps, embraced as a reliable contributor and a respected teammate.
Gone are the days of having to second-guess where his career, nearing the 1,000 games-played mark, is heading.
And all it took was a combination of fate, good fortune, belief in himself, and the recollection of a simple approach to life.
"There will always be twist and turns you have to adapt to, but at the core of it all is to just work hard. That's what I saw when I was young and that's what has stayed with me to this very day."